Sebastian Fernandez kicked a soccer ball into Victor Bernardez' nuts to earn a corner kick, and the Vancouver Whitecaps proceeded to score off that corner kick en route to a 2-0 win over the San Jose Earthquakes.
Now, there's a whole lot of awesome going on in that lede, so let's break it down, shall we?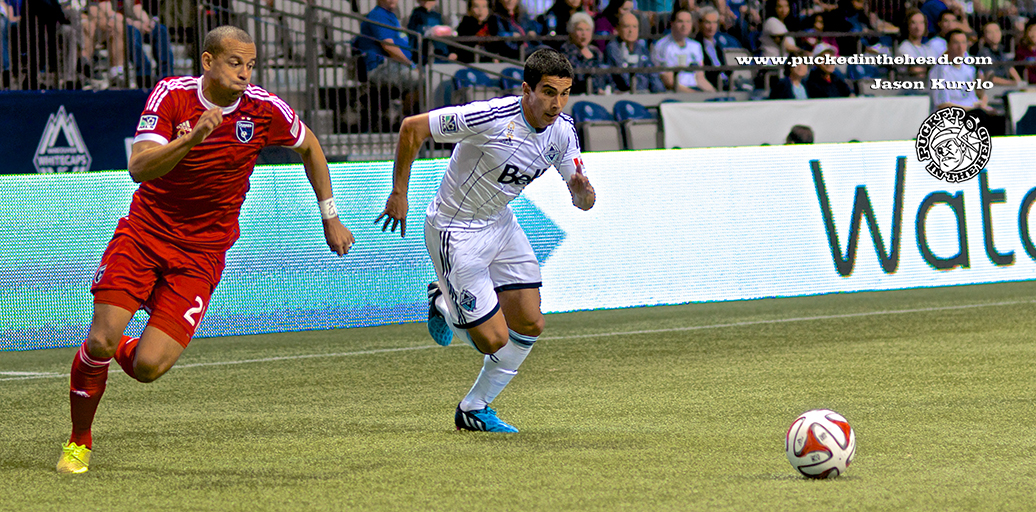 "…the Vancouver Whitecaps proceeded to score…"
Mired in the longest goal-scoring drought of their MLS existence, forced to listen to boos, heckles and songs declaiming their utter lack of prowess in front of goal from their own supporters, the Whitecaps did the recently unthinkable and potted not one, but TWO GOALS! They even scored both of them themselves.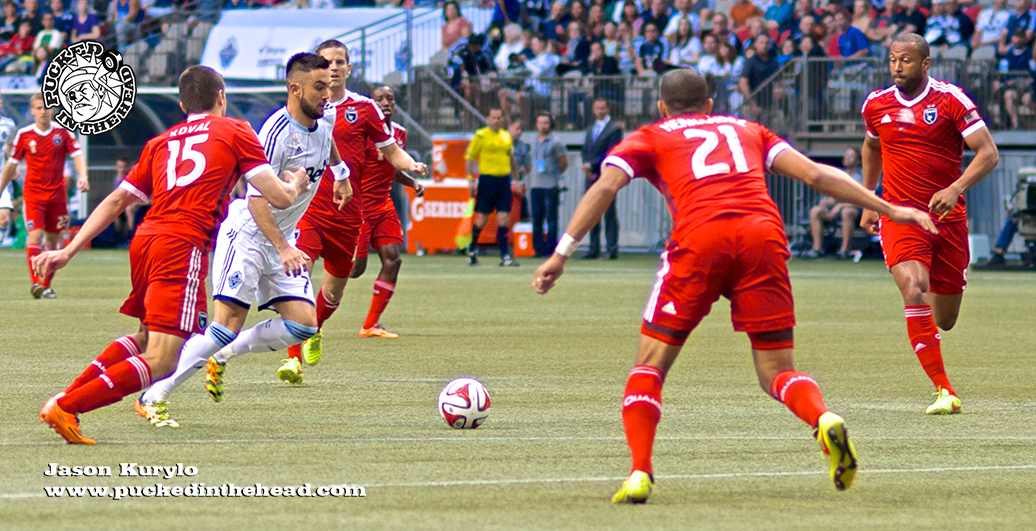 "Sebastian Fernandez kicked a soccer ball into Victor Bernardez' nuts…"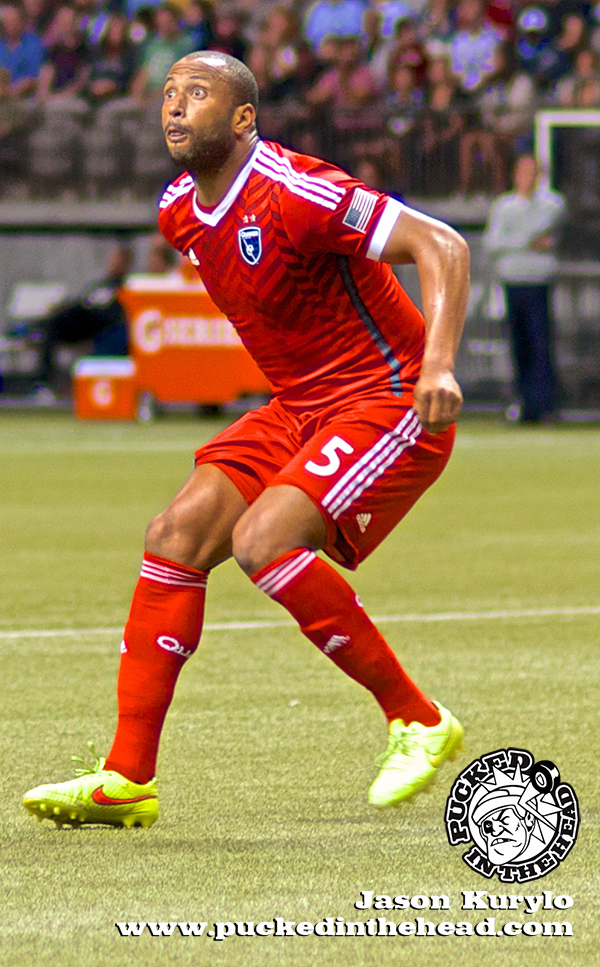 It was not a good day for the Honduran defender, whose aged testicles received two solid blows — one literal, one figurative — both of which led to goals. Referee Jose Carlos Rivero delivered the first in the 39th minute, when he figuratively kicked the seasoned defender in the nuts by awarding a dubious penalty kick to the Whitecaps. Bernardez' contact with Kendall Waston on a Morales free kick seemed  minimal, and I'm not entirely convinced Waston could have got anything on the header even if he'd been unimpeded. (Hey, it bumped the slump, we'll take it.) The second was a literal shot to the cojones from Fernandez, who broke down the left wing, cut to the inside, and attempted to deliver a cross that was intercepted by the Bernardez family jewels.
"…proceeded to score off a corner kick…"
Well. That was refreshing.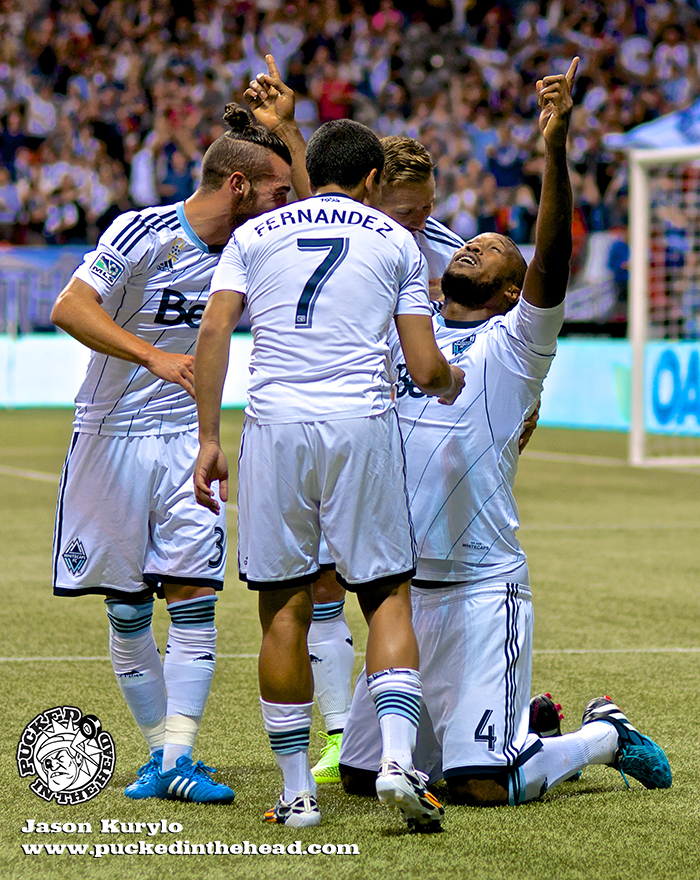 (Editor's note: it was just the second Whitecaps goal off a corner kick this season, and Carl Robinson looked positively teary-eyed when he saw his dream of Kendall Waston heading home this set piece.)
"…a 2-0 win…"
For only the second time in their last 11 games, the Whitecaps won! The win puts the blue and white two points clear of Portland for the final playoff spot, with seven games each to play, and gives them a four-point cushion over Toronto FC for a place in the 2015 CONCACAF Champions League.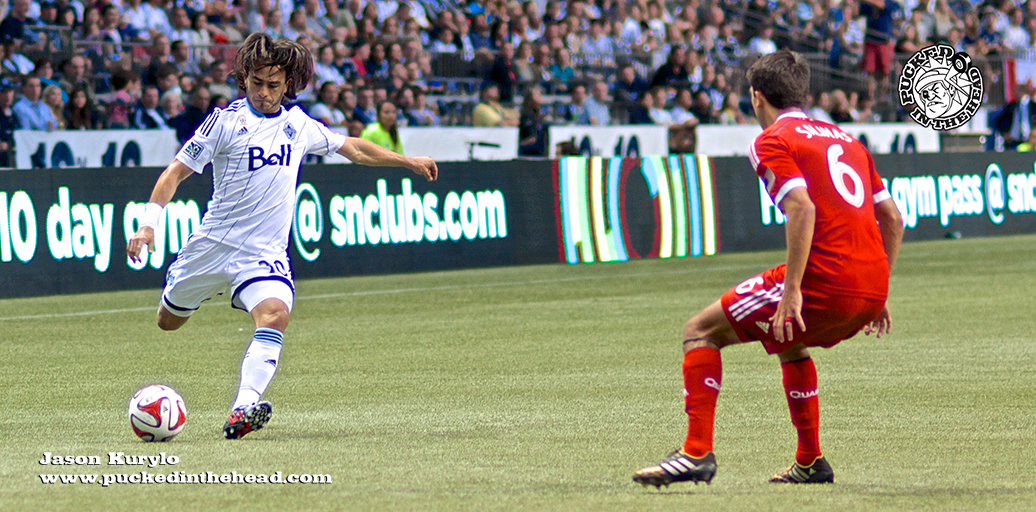 "…a 2-0 win over the San Jose Earthquakes."
As much fun as it was to get a win and see some goals for, we should probably not get too high. Erik Hurtado and Sebastian Fernandez couldn't score on gilt-edged chances, making it more than five games since the Caps got a goal from a forward. The Earthquakes — let's face it — are also pretty terrible: sub-par in every category but the little-known stat, Ugly-ass Black Capris Owned By Goalkeepers, San Jose look like a team playing out the string. Or possibly a team playing their second game in four days, a fate that awaits the Whitecaps as they travel to Dallas on Saturday for what should be a much sterner test.