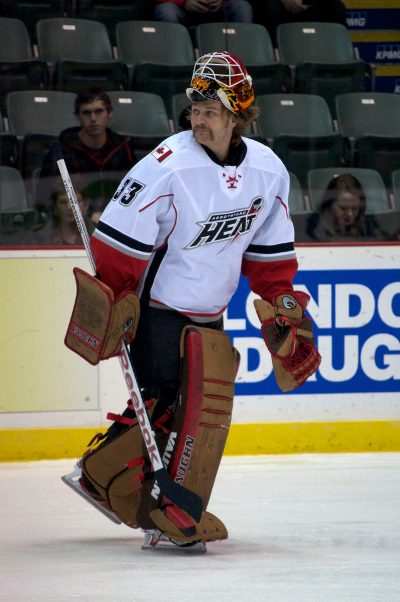 If you paid any attention to the Abbotsford Heat during the recent NHL labour dispute, you took notice of a couple of things:
1) The Heat gave up fewer goals than any other team in the league.
2) Barry Brust gave up fewer goals than any other goaltender on the Heat roster.
It's a strange thing, even for longtime fans of the Heat. I mean, who is this guy, right? Brust came in on a one-year contract, but his name seemed to ring a few bells… And Flames fans are asking questions after looking at the numbers for their farm team.
More on Brust's frustrating dance with the Flames after the jump.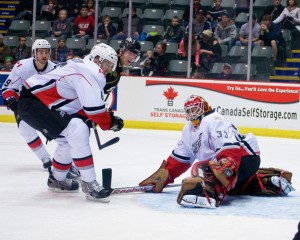 Well, even though Brust has languished in the minors for years, he did have an 11-game stint with the LA Kings in 2006-07. Fans near Abbotsford were paying attention back then, because that was shortly after Dan Cloutier got booed out of Vancouver (more deservedly so than another more recent Canucks #1) and tripped down the coast to LA. Cloutier would get injured, creating a stinky hot mess in the Kings crease. The 23-year-old Brust wasn't able to outplay Mathieu Garon, Sean Burke or the ghost of Beach Ball Cloutier, so he wound up on the outside looking in.
And look in he has. Brust's resume over the past seven years includes teams in the AHL, the ECHL, and even the Straubing Tigers of the Deutsche Eishockey Liga. (Some of you may recognize the DEL as the league that features Chris Withers' lockout team, the EHC Wolfsburg Grizzly Adams.)
This year, again, he's played his pads off, breaking Johnny Bowers' storied mark for consecutive shutout minutes as an AHL goaltender and earning an American Hockey League All-Star Game nomination. The guy's GAA in Abbotsford is a breathtaking .948, for goodness' sake. So why hasn't he gotten a sniff with the Calgary Flames, the Heat's parent club? Because Leland Irving has an NHL contract that pays him just $687,500 (thank you, capgeek.com) while Brust does not – he signed on directly with the Heat. Irving has been the third-best goalie in Abbotsford all season (behind Brust and UK-born Danny Taylor), but it's Leland Irving flying to Calgary to back up Mikka Kiprusoff.
Unfair, yes. Surprising, no. And to be honest, staying in Abbotsford is probably better for Brust's long-term prospects.
The Flames are still riding their superstar Finnish netminder, as they should, really. Whoever is his backup this season will get a handful of starts, with the odd partial game thrown in when the score is out of hand one way or the other. The rest of the time is spent keeping stats and holding the bench door on line changes. Henrik Karlsson, who held Mikka's towel last season, played in 17 games. Curtis McElhinney and Vesa Toskala combined for parts of 16 games the year before.
The fact is, Calgary brass don't trust anyone between the pipes except Mikka Kiprusoff. He's played at least 70 games in every season since the last lockout, and will probably play 40 of this year's truncated 48-game schedule. He and Jarome Iginla have been the only two consistent performers in Cowtown over the past decade, and Jay Feaster has no more intention of jettisoning that duo than Darryl Sutter did. Despite not having a losing season at any level since turning pro, he doesn't inspire any more trust in Flames management than the other #2s to go through Kiprusoff's revolving backup door. To make matters worse, Brust is not a young goaltender in development. He doesn't want or need the tutelage of one of the game's most prolific stoppers — Brust needs to play. He's 29, looking for as many starts as a team can give him.
Let's say he ends up in Calgary, and continues to stop pucks with fervour. Backups just don't frequently wrest the top job away from a big-name starter — Cory Schneider and Roberto Luongo are an exception to the rule, and it took Schneids a lot longer than a few dozen games to wheedle his way into the #1 position in Vancouver — so the chance of unseating Kiprusoff is slim at best. In Abbotsford, Brust gets a ton of ice time, and his act is gaining applause from Heat fans and league scouts alike. Next weekend's appearance at the AHL All-Star Game in  Providence, Rhode Island means he'll get seen by some folks who don't often see the only West Coast-based team in the league.
The Flames may not come calling any time soon — the only way that will happen is if Kipper gets injured, and Irving proves as ineffective in Calgary as he was in Abbotsford — but don't be surprised if Brust gets a few pro tryout offers once his year with the Heat is up.