I know, I know. It's the employer that locks out the Union, not the other way around, but Sunday's result was better for the visitors. On a night when the greatest scare the Vancouver Whitecaps had came from seeing Alphonso Davies go down awkwardly a few minutes from time, the home side played the Philadelphia Union to a nil-nil draw Sunday evening at BC Place.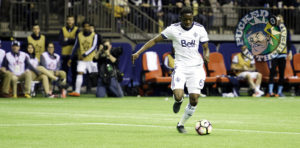 Sunday started much the same way that Thursday ended, with Vancouver content mostly to sit back, letting Philadelphia have as much of the ball as they wanted, so long as they did nothing with it. Unfortunately for the 19,083 announced attendance, Philly had much the same idea.
Vancouver maintained their bunker and counter game plan that's going to delight fans when it works and infuriate them when it fails. For the first quarter hour, the Union tried without success to find a way through the tandem of Matias Laba and Andrew Jacobson, while Vancouver sent the ball wide in hopes that Davies or Hurtado could do something. It wasn't until the 16th minute that either team managed a decent chance, when the Union tried their luck from the outside, sending a low cross through the box which Jordan Harvey did well to deal with.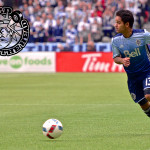 Vancouver's first serious chance didn't come until the 24th minute. Cristian Techera found himself alone in the box after a nice ball by Kekuta Manneh and  a bit of a lucky carom, but he pulled his shot wide of the far post. The carom came off of Erik Hurtado, whose play in the first half was borderline comical. I'm a Hurtado fan. The guy works his bag off every time he's out there. This time, though, he decided to focus his energies almost exclusively on the offensive side of centre. He didn't even consider defending, and spent most of Philadelphia's possessions poised just beyond midfield like a sprinter ready to take a hand-off in the 4 x 100 relay. Sometimes he even positioned himself onside.
Much of the post-match criticism landed on the shoulders of Andrew Jacobson, a little unfairly in my opinion. He got some well-deserved boos for passing back to David Ousted late in the match from an advanced position, when there were better options available, but by and large he did his job well. Matias Laba and his partner, Jacobson tonight, are expected to serve as a shield for the back four, allowing Vancouver's attack-minded fullbacks to get up the pitch and contribute. So let's take a look at the chalkboards for Andrew Jacobson, left, Sheanon Williams, centre, and Tim Parker, right.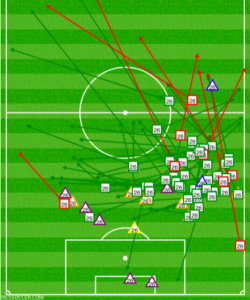 You can see that Williams (middle) is playing very advanced, and isn't very active in the defensive third. This causes Parker (right) to get pulled out to the right, and forces Jacobson (left) to drop back and function quite often as a centre back. Jacobson certainly has his limitations as a central midfielder, but for a team like the Whitecaps, who clearly are looking to play primarily up the wings for now, he functions adequately. He had quite a few more possessions than Russell Teibert did on Thursday, his passing percentage was significantly better, and despite the "he only passes backwards" rap that he's starting to acquire, he sent his share of balls forward as well.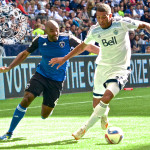 Christian Dean, in for the suspended Kendall Waston, performed admirably en route to a man of the match award. He lacked the thunderous headed clearances that are Waston's signature, but looked much more mobile and was just as positionally sound. He defused one dangerous first-half attack entirely by himself about ten yards from Ousted's net – something Waston has historically struggled with – and he didn't make any glaring errors that I noticed. I don't think he'll be forcing his way into the starting lineup with that one performance, but it's a relief to know that it won't be a fire drill when one of Parker or Waston can't go.
Overall, I think this game is going to change exactly zero minds in Caps land. Many will look at the scoreline and the lack of possession through the middle and be convinced that this team will amount to nothing unless we can sign either a true attacking midfielder or a superior partner for Laba that can play the box-to-box role. Others, and I think I count myself among these latter, will continue to think that the best is yet to come, since we haven't seen a full match from our best front four. Vancouver could easily have poached this game, but for a goal-line clearance of a Jordan Harvey shot or a clearing punch by Union keeper Andre Blake.
Grades*

Goalkeeper: SEVEN Pucks to the Head 

Ousted was as sharp as he needed to be. Handling what few opportunities the Union had easily and distributing the ball well.
Defence: SEVEN Pucks to the Head 

A second clean sheet in a row, a man of the match award to Dean, and nearly a game-winning goal by Jordan Harvey. Solid.
Midfield: FOUR Pucks to the Head 

Laba and Jacobson were solid if unspectacular in the middle of the park. Techera didn't do much out wide and cacked his only shot. Davies again the most entertaining guy on the pitch.
Forwards: TWO Pucks to the Head 

Manneh had some good moments. Hurtado did not. Montero did little. Long balls to Shea could bear fruit, but using him as a 30-minute supersub with no other game plan is ill-advised.
*Yes, I'm doing grades now. Seven Pucks to the Head is the best you can achieve, while zero Pucks to the Head is the worst. I anticipate your objections. "There's no pucks in soccer," you exclaim. To which I say, "You mean 'there're no pucks in soccer.' And shut up, this is my blog." You retort, "But isn't getting hit in the head with a puck bad?" And I say, "Not when I'm shooting. Think of it like getting knighted. Sure, you're being struck with a sword, but the Queen's a little old lady and she's not trying to hurt you."
Next game: at San Jose, Saturday, March 11, 7pm.