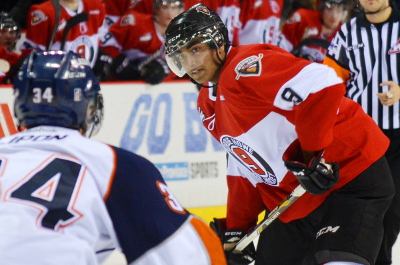 The Vancouver Giants scored three times on the power play and but for one exception kept opposition pucks out of their own net on Sunday on their way to a 4-1 victory over the Seattle Thunderbirds. It was a rare treat for more than 8,500 Sunday afternoon fans at the Pacific Coliseum, as the Giants have had little success this season in either of those areas.
Brett Kulak, Brendan Rouse and Cain Franson each had a goal and an assist, while goaltender Payton Lee stopped 23 of 24 shots to collect his 10th win of the year. Carter Popoff had the other goal for the Giants. Left winger Alexander Delnov scored the lone goal for the Thunderbirds, taking advantage of a two-man advantage in the second period.
More (including highlights) after the jump.

The win is Vancouver's second in the past three meetings with Seattle. While the team has managed just 16 wins on the season, the Giants have been on a bit of an upswing of late, garnering points in five of their last seven games. For his part, Payton Lee had a huge bounce back game after surrendering four weak goals against the Kamloops Blazers — including two on the first two shots of the game — just two nights before. His best save of the night preserved the two-goal lead, as he made a diving save off of Robert Lipsbergs on the second half of that two-man advantage in the second period.
All goals in the game came on the power play, with the exception of Cain Franson's empty-netter with 99 seconds remaining to cap the win for the Giants.
Vancouver is now 1-1 when wearing their commemorative #9 Mr Hockey jerseys to celebrate Gordie Howe's 85th birthday. They will don them one more time, on March 1 vs the Lethbridge Hurricanes. Howe will be in attendance at the game, as will several other Hall of Famers, including Chicago Blackhawks alumni Bobby and Dennis Hull and Los Angeles Kings legend Marcel Dionne.