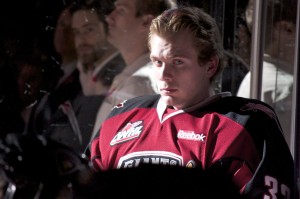 Reports out of the Vancouver Giants camp today indicate that Liam Liston, a 19-year-old goaltender from St Albert, Alberta, has elected to retired from competitive hockey after a rough start to the 2012-13 season.
Liston was brought in from the Lethbridge Hurricanes during the off-season to be the number one goalie in Vancouver, but never found his footing. He gave up five goals on 17 shots in the season opener against the Victoria Royals, and put up similarly weak numbers in following games.
Details are few at this juncture, but in true Pucked in the Head fashion, there will be more after the jump anyway.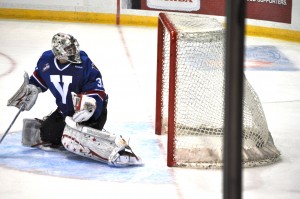 Liston had his best season in his rookie year, when he played 41 games for the Brandon Wheat Kings. He put up a 3.77 goals against average that year (respectable for the WHL, especially on a fair-to-middling team), and won his only playoff appearance that year. He also dressed for the CHL Top Prospects game, manning the crease for Team Orr and stopping all pucks thrown his way.
Since returning from a concussion the following season, however, Liston was not again able to reel in that GAA — 4.77 in three games with Brandon, then 4.22 in 24 games with Lethbridge. This year in Vancouver, Liston managed just one win in 12 appearances, his 4.53 GAA as much indicative of his play as the defense in front of him.
Liston was a popular guy in the dressing room, but it would be understandable for him to have motivational issues in watching two much younger rookies carry the load on a team that sits squarely in the WHL's Western Conference basement.
Having completed two full years in the WHL, Liston is eligible for two years of tuition, fees and textbooks at the post-secondary institution of his choice. (Sorry, I'm not sure if his half-season with the Giants this year gives him a third year of support or not.) As for further options for Liston, according to the WHL website he is able to play collegiate hockey in Canada — he has announced plans to pursue a law degree at the University of Alberta, but there is no word yet on whether or not he will try out for the Golden Bears.
Here's the article in the Vancouver Province newspaper.
Here are Liam Liston's WHL stats on the Vancouver Giants homepage.