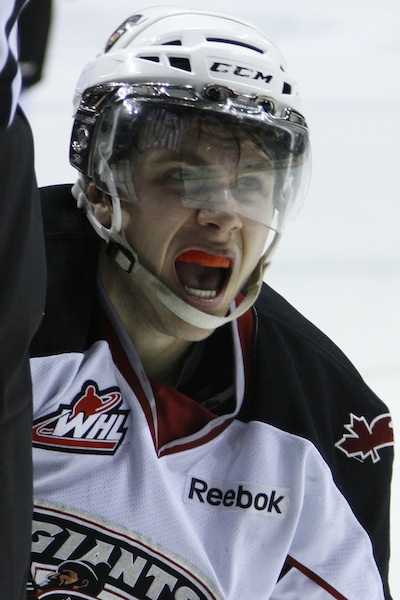 The Vancouver Giants kicked off February much the same way they've spent every other month this season, with back-to-back losses to the Kelowna Rockets. Outscored by a combined score of 10-1 in the home-and-home series, the G-men continue to mess with a troublesome combination: they can't score, and have trouble keeping pucks out of their own net.
In fact, no other team has given up as many goals as the Giants in 2012-13. They've allowed 229 goals in 53 outings, or 4.32 goals per game. Combine that with the fifth-worst offense — 142 goals, or 2.68 per game — and it's a recipe for just 13 wins all season. Sitting squarely at the bottom of the Western Hockey League table, the Giants have been all but mathematically eliminated from the playoff race. With 19 games remaining, they sit 17 points out of a playoff spot in the WHL Western Conference. Keep in mind that this is a system that admits eight of ten teams into the post-season dance. This will be the first time the Giants don't make the playoffs since their inaugural season in 2001-02.
One of the biggest problems for this year's team is a lack of skill. It's a roster full of pluggers — hey, that can be entertaining, if everyone works hard for 60 minutes, but the team has a predilection for mental lapses and facepalm-worthy errors on a nightly basis. Case in point, Kelowna's first goal in the 5-1 loss on Friday night: just seconds into the game, first-pairing defenseman Mason Geertsen whiffed the puck inside the Giants blueline, right onto the stick of Rockets forward Cody Fowlie. In the blink of an eye, a pass went cross-crease to Tyrell Goulbourne, and BAM! Kelowna had an easy tap-in past a hapless Jared Rathjen in the Vancouver net. It's a goal that would break a team's back at the best of times, but in the opening two minutes of a home game? Killer.
Yes, this is a young team, but it's the Western Hockey League. They're all young teams.
More after the jump.


To be fair, the Giants have had an odd season. Look through the NEWS tab on the team website, and you've got a combination of lost talent (Brendan Gallagher graduated, first to the AHL Hamilton Bulldogs, then to the Montreal Canadiens), injury (leading scorer Marek Tvrdon suffered a bizarre blood clot in his shoulder that put him in the press box for the season), weird situations (goaltender Liam Liston had a bad start, then over the Christmas break retired from hockey at the age of 19), and that old WHL standby, ye olde firesale trade (a number of older players, such as David Musil, were moved to acquire Bantam Draft picks).
At this point, the team needs to set some different targets:
1. They need to realize they're not going to score a lot of pretty goals, so they should start by outhitting the opposition. Everyone would love to stickhandle through the opposition a few times a game, lay saucer passes on the tape of a streaking forward's stick, and see red lights galore behind the other guy's goalie. But no matter how many Hall of Fame tribute nights, they hold at the Pacific Coliseum, this team doesn't have any Joe Sakic types on the roster. They spend a lot of time chipping and chasing, but not nearly enough time banging and crashing. Knock the opposing defensemen around a little bit, and they might just wind up with a few pucks gifted onto their sticks for a change. Think Milan Lucic. Think Daniel Cleary. Think Zack Kassian.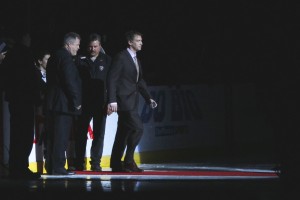 2. Stand around the edge of the crease and pick up some garbage. Dalton Sward was the only Giant to score this weekend, and how did he do it? By taking a few shots to the ribs in the low slot, keeping his eyes open for a rebound, and sweeping home a loose puck from three feet out. All too often the Giants shoot from 40 or 50 feet out with no one making life difficult for the opposition goaltender. On the power play, especially, they need a big, solid player to cast a shadow into the blue paint. He ought to remember to keep his stick on the ice at all times. He'll wind up on the seat of his hockey pants a lot of the time, but he'll draw penalties and pick up some greasy goals along the way. Think Dave Andreychuk. Think Tim Kerr. Think Thomas Holmstrom.
3. Come back twice as hard the shift after a goal, whether it's for or against. Sward's goal came on a pushback shift, 14 seconds after that brutal giveaway by Geertsen. But two quick goals in this game took Vancouver out of its comfort zone, and they allowed a give-and-go down low just one minute later to go down 2-1. All too often this season, the Giants have thrown a wet noodle onto the ice after a goal. Another case in point: on Friday, Vancouver was in the game, down by one early in the third period. They'd had a handful of chances in tight in the second, with All-Star goalie Jackson Whistle making several huge pad saves on point blank shots. They even forced a shorthanded breakaway two minutes into the final frame, nearly tying the game on a backhand deke by Travis McEvoy. But when Kelowna came back up the ice to score a power play goal to make it 3-1 for the visitors, the whole bench sagged. Instead of pushing harder — there were still 17 minutes left on the clock — the skaters on the ice weren't just losing, they were lost. Just 34 seconds later, Vancouver missed a couple of defensive assignments and it was 4-1.
One record the Giants would like to avoid: they're in danger of putting up the worst total in franchise history. In their first season, the Giants finished out of the playoffs with the same number of wins they have now — 13 — but they collected another 10 points from ties and shootout losses that season. (Note that while five-minute OT periods were played at the junior level before then, shootouts were not implemented in the CHL until 2005-06.) This year they've not managed a single regulation tie, so the Giants still need a full eleven points in their final 19 games to steer clear of the ignominious Worst Record, Single Season label.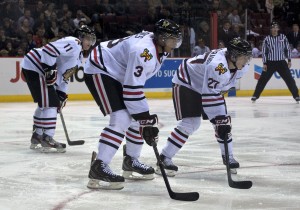 The next Vancouver Giants games are February 8 and 9 in Prince George for back-to-back games against the Cougars.
The next home game is a rare weekday afternoon puck drop, 2pm vs Seth Jones and the Portland Winterhawks.