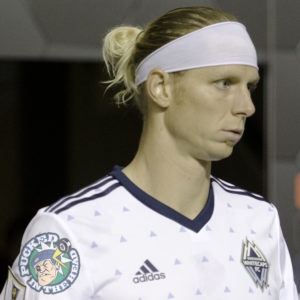 I walked into BC Place Stadium last night with a curious sense of optimism and excitement. For one thing, there are almost no paths to disappointment when you enter the second leg of a series against one of the best teams in North America down 2-0. For another, I'm not cut out for big games. Even routine Cascadian derbies turn me into a bit of a wreck. I was basically useless at being a human for 48 hours before the Canucks' 2011 game seven.  And finally, these are sensations that six plus years of Whitecaps FC fandom has mostly beaten out of me. Like most Whitecaps fans, I can't help but imagine what fresh hell the team will concoct in their never ending quest to find creative new ways to lose cup competitions. So… I was puzzled at my optimism. Then Brek Shea engineered the dream start with a goal in the third minute, and suddenly, against my better judgement, I thought perhaps the optimism was warranted.
I'm not going to be very critical in this post, mostly because I don't have much to be critical of. The fans were outstanding. The Southside was behind the club the whole game, even, somewhat uncharacteristically, after hope was gone. Curva's "Never Tell Me The Odds" tifo was amazing. The rest of the crowd seemed into it, too, getting on the ref who certainly deserved it at times. Kudos also to the front office, who left plenty of overflow room in the away section so Tigres fans who bought elsewhere in the stadium could relocate.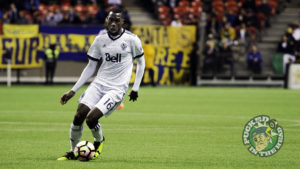 The only surprise for me in Carl Robinson's starting eleven was Andrew Jacobson. I thought for sure after the way the LA game turned when Tony Tchani entered that he would get the start. Jacobson impressed, though. He passed for a respectable 16/19 while covering for Matias Laba, who was everywhere on the pitch. Laba gave the ball away more, but had three times the touches. By my count he was 45/58 for 78% passing on the night.
When the paths to success are as few as they were on Wednesday night, teams often follow the recipe Vancouver followed. Kick the door down right at kickoff and try to grab an early goal, then try not to fuck up for as long as possible while trying to catch your opponent in an error. Sure enough, the echoes of Boundary Road had barely died away when Brek Shea took a sweet touch in front of Tigres' net and slotted home to ignite the crowd. Then, for an hour, Vancouver kept the flicker of hope alive. They conceded some good scoring opportunities, which Tigres squandered, but had some good spells of possession.
In the end, it was a moment of brilliance by a player whose calibre we just don't see much in MLS that ended the Caps' hope for a miracle. André-Pierre Gignac, the French international and former Ligue 1 scoring champion, took a touch at the top of the box after being left too much room and curled the perfect shot into the far corner in the sixty-third minute. The second goal by Damián Álvarez didn't change much.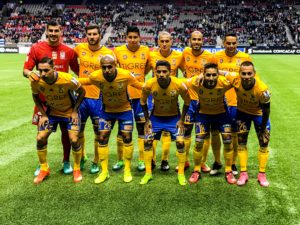 One of my biggest laughs of the night came well after the game, when I saw this quote by Tigres' Guido Pizarro, translated from the Spanish: "The result was already decided. It was very, basically easy for us." Pizarro had a phenomenal game in the midfield, but I will go ahead and call bullshit on his bluster. There was some genuine relief from Tigres when Gignac equalized, to the point that Jorge Torres was down on his knees saying a prayer at midfield.
I don't know what else I can say about this game. Vancouver was outclassed at nearly every position. Only David Ousted looked like he might be able to hang in that company. Christian Bolaños looked like he might have been able to hang in that company five years ago. Alphonso Davies looked like might be able to hang in that company five years from now. If Shea hadn't been injured shortly after his goal, if Davies had been allowed to come on and run at tired legs instead of being forced into the game early, maybe they do knick that second goal and force extra time, but it would have been a miracle, and what mattered on Wednesday is that nobody's effort was found lacking.
Grades