In our latest foray into the wonderful world of hockey-themed tuneage, Jason and Jamie dissect the famousest (yes) hockey ditty of all: The Hockey Song by Stompin' Tom Connors. Want a new drinking game? Take a sip whenever Jamie says "Golden Mean of Songwriting" during this episode of Pucked in the Head.

Intro
Who the hell is Stompin' Tom?
The Hockey Song by Stompin' Tom Connors
Jamie sings Stompin' Tom.
Jason holds his head in his hands.
Comments from the Peanut Gallery.
Time for a Change by the Orchid Highway
Oh crap, there's more.
Note: Jason in fact does know that Jellyfish is a band from San Francisco, California, not a British power pop trio. He also knows Etobicoke is a suburb of Toronto, Ontario, and not a remote northern mining town. It's called sarcasm, people.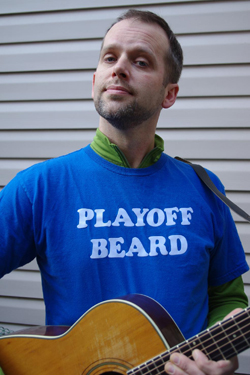 James Macdonald
Right Wing (Guitar, Stage Left)
182 cm
75 kilos
Shoots left
Not afraid to go hard in the corners
Guitarist for Vancouver-based rock band The Orchid Highway, 'Jamie' is a grizzled veteran of many tours across Canada, the US, and the UK. (They took their sticks on tour for the shinny games!) A fan of the game, he began cheering for Swedes back in the WHA Winnipeg Jets days, and was overjoyed when Vancouver drafted the Sedins 2nd and 3rd overall. An opinionated bastard, Jamie always has something to say.
Podcast: Play in new window | Download