I recently reread William Gibson's seminal 1984 cyberpunk novel Neuromancer. The book tells the tale of Case, a drug-addled hacker who succeeds in bringing down an artificial intelligence of vastly superior capability owned by a company of vastly superior wealth. Needless to say, that plot is unlikely to compare to our heroes in blue and white as they trail 2-0 to Tigres after the first leg of CONCACAF Champions League semifinal action. Rather, I'm reminded of a line from the foreword of my copy, penned by Jack Womack. Womack, an accomplished sci-fi author in his own right, relates the time he first read Gibson's work. "It quickly became apparent that, while we were kicking the same groin, we were shod in variant footwear." That's more like it.
It was always a tall order. Tigres are one of the best teams in the Americas. They are certainly the best team remaining in this competition. And MLS teams have won only twice in 53 matches in Mexico. Yet credit must be given to Vancouver for what was, for 65 minutes, an amazing away performance. Their defensive effort would have earned a clean sheet against a lesser opponent, and they likely would have been able to counter more effectively. As it was, they had only two clear cut chances. On the first, Brek Shea stumbled, then chose to dive, badly, instead of staying on his feet to possibly get to the loose ball. On the second, Nico Mezquída pulled a shot just wide of the far post from a difficult angle.
The Whitecaps are now left with an incredibly difficult task. Scoring at least twice against an opponent who gave them only 21% of the ball, while keeping a clean sheet. I would write it off as a lost cause, were it not for tonight's herculean effort by the defenders.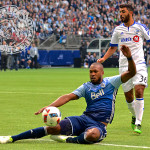 After a solid first half from the Caps that saw the Monterrey side begin to look frustrated, an unfortunate carom off of Kendall Waston slipped past David Ousted for the opening goal. It's the kind of event that can unravel an underdog, but Vancouver responded reasonably well. For the next 20 minutes they continued their bend but don't break mentality, aided in no small part by Ousted, who stood on his head all night. It was the 87th minute when Tigres finally managed a goal of their own, a rebound falling to Eduardo Vargas at the top of the box to cap the night's scoring.
Carl Robinson, after a questionable outing on Saturday, got things mostly right in Mexico. The lineup was close to his first choice, and looked like they were playing a contained game, trying not to make mistakes and not going out of their way to chase balls at the expense of defensive positioning. That might not be the best option for many, but it yielded very few Grade A chances to Tigres, which may be the best we could have hoped for. The real challenge comes on April 5th, when the scoreline will likely necessitate Robinson opening up the return leg at BC Place in an attempt to claw back those two goals.
Were it me, I would keep the back six the same, while replacing Marcel de Jong with Mezquída, shuffling Shea to the wing and Fredy Montero to striker. The only real glimmer of successful attacking play came when Mezquída put pressure on their defenders, nearly earning an equalizer. But it's not me, and I wouldn't be shocked to see the same lineup take the field to try for a comeback.
Grades
Goalkeeper: SIX Pucks in the Head 

I don't think I can give a seven without a clean sheet, but Ousted was phenomenal on the night, keeping the Caps faint hopes alive.
Defenders: FIVE Pucks in the Head 

As I said, this was a solid defensive effort from Vancouver. Jordan Harvey worked his ass off. Waston and Parker were imposing, Waston especially. Williams got caught up the park a couple of times, forcing Waston to clean up for him, but overall there was little to complain about from the back four.
Midfielders: THREE Pucks in the Head 

Matías Laba and Andrew Jacobson were defensively capable in front of the defenders, but they contributed little if anything to the attack, and contributed to the Caps' horrendous possession number. Alphonso Davies and de Jong (later Cristian Techera and Christian Bolaños) did the best they could, but were overmatched, and couldn't break down their checks or generate dangerous chances.
Forwards: TWO Pucks in the Head 

Fredy Montero was invisible until he came off for Mezquida. Brek Shea earned a deserved yellow card for simulation on one of Vancouver's only chances. This would probably be a one if Mezquída hadn't shown the Caps how they might have a way forward by pressing high and forcing a turnover in a dangerous area.