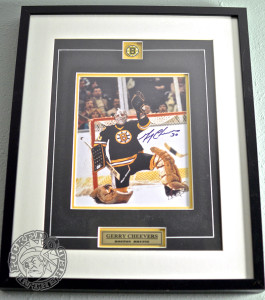 I like my sports stuff. Photos, cards, jerseys… you name it, I've got a few. My favourite piece for years has been an 8×10 Gerry Cheevers signed for me when he was in town for a Vancouver Giants Legends Night— dude, CHEEVERS! Two Stanley Cups, the 1974 Canada Cup, a stint in the WHA, and that iconic mask, are you kidding me? This guy is the very epitome of old timey hockey. He's even got his own three-chord proto-punk song, for crying out loud.
Mrs Pucked in the Head isn't so wild about having 8x10s and pucks littered about the place, however, even if they have been scribbled upon by ageing professional athletes. I have to pick and choose what goes up on the wall, and what goes into storage. (Sure, I'm a sucker for cutesy pictures of our daughter, but we've got plenty of those photos around the rest of the house. I can moon over her adorableness in just about any other room, at pretty much any time, so I stamp this room with my own personal clutter, thank you very much.)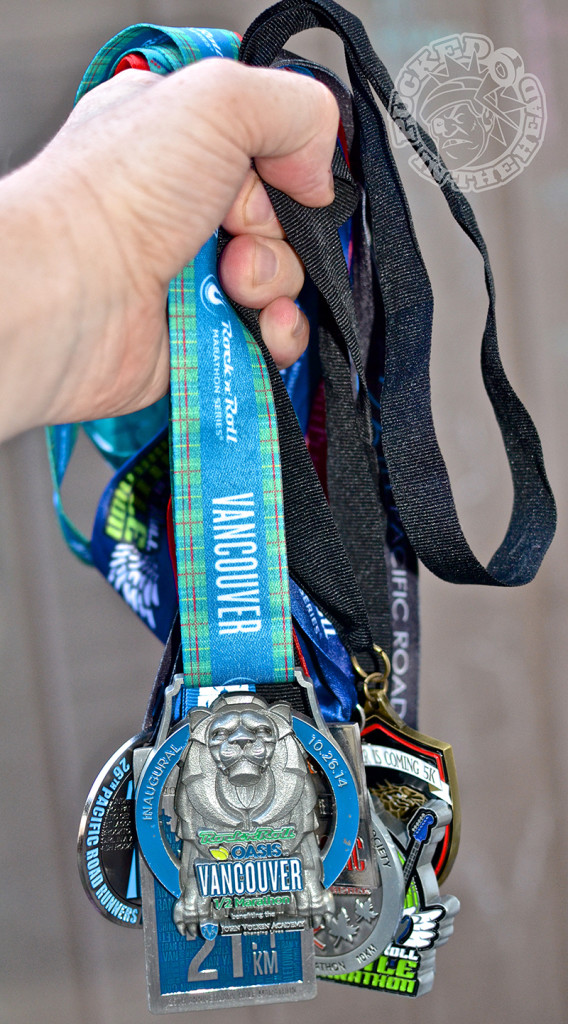 Since I started running last year, for example, I've managed to assemble a fistful of finisher medals from 10k races, half marathons and that one bloody full marathon I did back in May. Throw a few of those on the curtain rod, and they look all right. Add some hockey memorabilia and a small collection of tribal masks acquired during various vacations, and you've got a cosy little office space.