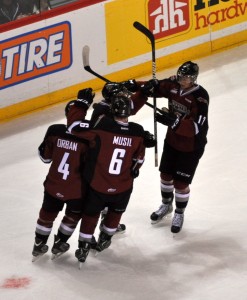 Hallowe'en brought tricks and treats to the Vancouver Giants this year. The treat: the G-men finally got some points on the road — a dramatic 4-3 shoot-out win over the Lethbridge Hurricanes. The two points came just days after beating the Victoria Royals for the first time in four tries this season.
The trick: the week also saw them move their top defenseman, David Musil, to the Edmonton Oil Kings for Mason Geertsen and a first-round pick in next year's bantam draft. Musil has been one of the few consistent performers so far this year, collecting 8 points in 14 games and managing a respectable zero in the +/- department on a team that has far more players in the red than in the black.
In all, the Delta, BC-born Musil put up 92 points in 206 games for Vancouver since 2009-10. He was drafted 31st overall by the Edmonton Oilers in 2011, and will almost certainly work his way into the Oilers system next season.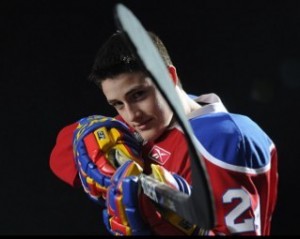 For his part, Geertsen can give the Giants at least two seasons. He's listed at 6'4″ and 203 pounds, huge for a 17-year-old who has a couple of years of muscle yet to develop. Expect some rough stuff despite the baby face. Originally from Rocky Rapids, Alberta (a small town between Drayton Valley and Edmonton), Geertsen has seen his fair share of the penalty box in his 50+ WHL games so far.
That first-round pick next year probably won't be a gamebreaker, as the Oil Kings currently sit tied for fifth in the WHL. That said, the Giants — who are dead last in the league right now — are clearly making moves to bolster the roster for the next few seasons by giving a whole raft of 16- and 17-year-olds plenty of ice time now.