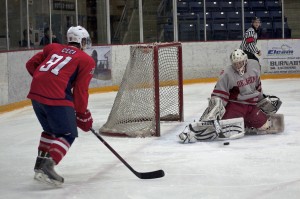 Day one of the inaugural Great Northwest Showcase is in the books, and it was a good day for the boys eating home cooking. Both the UBC Thunderbirds and SFU Clansmen iced winning sides against American collegiate sides — UBC thumped the NCAA's number-one ranked Arizona State Sun Devils 8-2, while SFU shut out the number-six Oklahoma Sooners 4-0.
More after the jump, including a photo gallery for your visual pleasure.

Surrey-born Colin Fernandes mans the pipes for Oklahoma, and had his work cut out for him on Friday. While SFU's goalie Evan Kurylo had more shots on paper — 50 saves for the goose egg, according to the official game sheet — it was Fernandes who faced quality scoring chances. Not to take anything away from Kurylo, mind you. He's a technically and positionally sound keeper who makes saves look easy. But SFU kept the Sooners to the outside for the most part, whereas Clan forwards buzzed around Fernandes's crease dangerously throughout the game.
Saturday's games go at 4pm (UBC vs OU) and 7:15pm (SFU vs ASU).