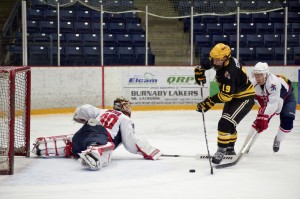 I didn't get a chance to post pictures from the final game of the Great Northwest Showcase, a 5-3 win for the Arizona State Sun Devils over the host SFU Clan. The Sun Devils found their legs between the previous day's misadventures against the UBC Thunderbirds — and chatter by players during pre-game stretches suggested the Americans aren't used to the aggressive forechecks thrown at them by the T-birds on Friday.
More after the jump.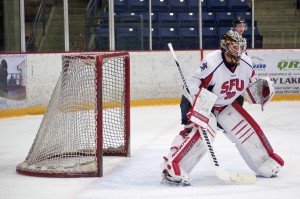 Saturday's game, then, had two distinct differences for the visitors: 1) the Sun Devils didn't sit back and let SFU hem them with a two-man forecheck, which UBC had used to score in bunches in the second and third periods. And 2) the Clan seemed somewhat listless the first half of the game, and by the time they woke up the Sun Devils had both a lead and renewed confidence. It all translated into SFU goaltender Graeme Gordon seeing a lot more quality scoring chances than his colleague Evan Kurylo had the night before. While he played well, he was beaten five times, and the SFU forward corps just weren't able to manufacture quite enough goal support to win back-to-back games.
But on with the picture gallery!