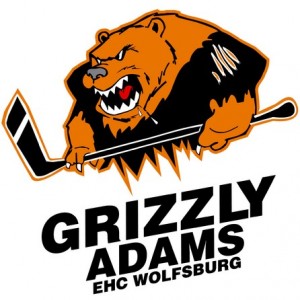 I probably should have done a little more research before I picked my "lockout team". Of course, that would have flown in the face of the pact that Jason and I made early on never to research when sheer speculation and gut instinct could be used instead.
When I settled on EHC Wolfsburg Grizzly Adams, it was primarily based on my German heritage and the team's shall we say distinct uniforms. Little did I know that it would be next to impossible to watch the team.
On Friday, Wolfsburg contested the Niedersachsen (Lower Bavarian) Derby against their local rivals the Hannover Scorpions. With only an hour separating the towns, it was a pretty heated game, with scores of visiting fans rounding out the attendance of over 3,000. It was also the first Wolfsburg game I've been able to catch all year, and I'm completely at a loss as to why. Highlight packages exist of all the games, so they're clearly being filmed. It really doesn't take that much extra effort to make those games available online. Hell, I'd even pay a small amount to be able to watch my team! Yet only one game in the entire league is streamed every week. (Friday, mid-morning, if you're interested.)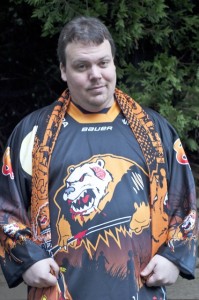 The game was great. The teams traded goals in the first two periods, and were tied at two going into the third period. Six minutes into the third, Kai Hospelt — who by the way is the dude on the back of my badass Grizzly Adams jersey — scored the game winner, and Canadian Matt Dzieduszycki added some insurance with his 20th of the year just two minutes later. American Tyler Haskins had a big night, setting up three of the Grizzly Adams' five goals, and Daniar Dshunussow looked less than solid, but did enough between the pipes to secure the victory. The presentation was fantastic, too. I love listening to German, especially animated German, and the microphones picked up the chants and songs of the supporters, providing a great backdrop to the commentary that I didn't understand a word of. The atmosphere sounded absolutely electric, the game was pretty good (though admittedly inferior to the NHL, and probably even the AHL) and the good guys won. If it's at all indicative of what the average DEL game is like, I would happily watch more, only I can't.
Wolfsburg has been making a nice little run of late. This win was their fourth in a row, and, while they're still thirteenth out of fourteen teams, they now sit only 6 points out of a playoff spot with a game in hand and 16 games remaining on the schedule. Their winning streak will be put to the test tonight, as they play away to Jochen Hecht and league-leaders Adler Mannheim. I have inquired via twitter whether there's anywhere I can watch the game in Canada. I'm not holding my breath.