I don't feel much like waxing melancholic about the Vancouver Canucks doldrumfest tonight, so I'll just ignore the sloppy starts against Edmonton & San Jose and talk about hockey cards instead.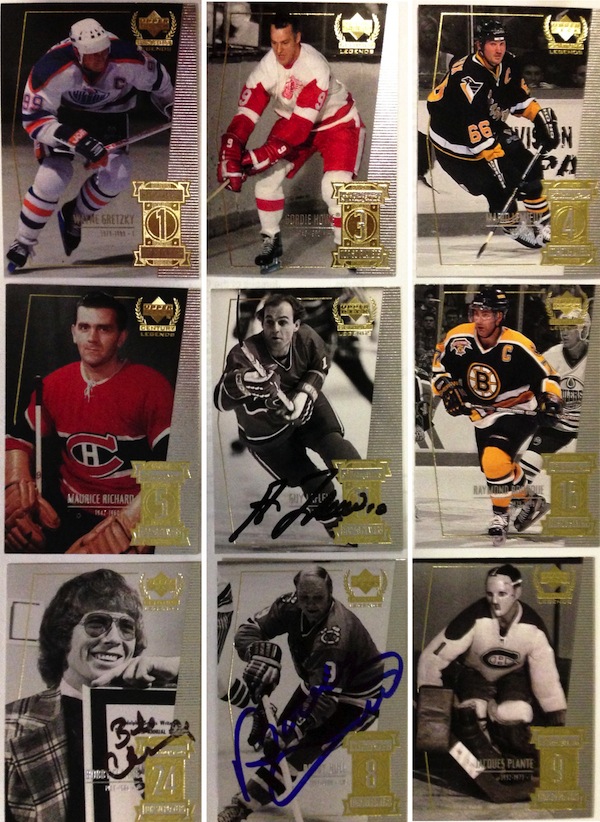 I haven't collected in a long time, but I'm always tempted to get back into the hobby during the midpoint of a campaign. Even in a shortened season, I lose interest for a few weeks before the real playoff races start to heat up. Inevitably I turn my sports attention to memorabilia, like my modest collection of signed pucks, or printed matter like any number of hockey cards on the market.
More, including a completely fictitious card, after the jump.
My favourite set of all time came out in celebration of The Sporting News list of Top 50 Players at the turn of the millennium. Dubbed the Upper Deck Century Legends set, it featured 49 of the top 50 players of all time — Ken Dryden was left out of the set when UD couldn't come to terms with him prior to its publication — as well as a 10-card Wayne Gretzky Player of the Century subset, 20 devoted to then-active superstars (UD Contemporaries) and 10 more for youngsters (21st Century Phenoms).
The set uses foil stamping liberally, and out of necessity when dealing with stars of the 30s, 40s and 50s as well as modern players, oscillates between full-colour and black-and-white photography. Like all modern card sets, Century Legends also offered up short runs of insert cards to encourage overconsumption of boxes and loose packs. Personally I'm not too interested in these, simply because the only way to get a significant number of them is to engage in orgiastic, Gloopian buying frenzies. I may pick up one or two off of eBay someday, but for now I'm more interested in completing the base set.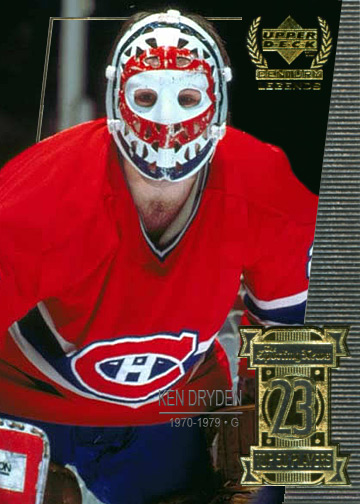 If anyone cares to contribute to my quest for the base set, I'm missing the following:
#2 – Bobby Orr
#6 – Jean Beliveau
#7 – Doug Harvey
#12 – Mark Messier
#19 – Phil Esposito
#20 – Mike Bossy
(#23 – Ken Dryden — as mentioned here, his card is the ultimate Golden Ticket)
#26 – Milt Schmidt
#28 – Henri Richard
#31 – Dickie Moore
#33 – Syl Apps
#37 – Jaromir Jagr
#38 – Charlie Conacher
#40 – Tim Horton
#46 – Johnny Bucyk
#51 – Dominik Hasek
#52 – Jaromir Jagr
#54 – Paul Kariya
#56 – Steve Yzerman
#58 – Pavel Bure
#60 – Mike Modano
#62 – Brett Hull
#65 – Joe Sakic
#67 – John LeClair