Like any year in any sport, the shortened 2013 NHL season has provided some yawns, some gimmes, and some head-scratching surprises. Yawns: Despite throwing buckets of money at Zach Parise and Gary Suter, the Minnesota Wild are still a snoozefest every single night. Gimmes: No one is shocked to see the Calgary Flames and New York Islanders near the bottom of the standings. Head-scratchers: the apotheosis of Martin Brodeur and continued success for the New Jersey Devils.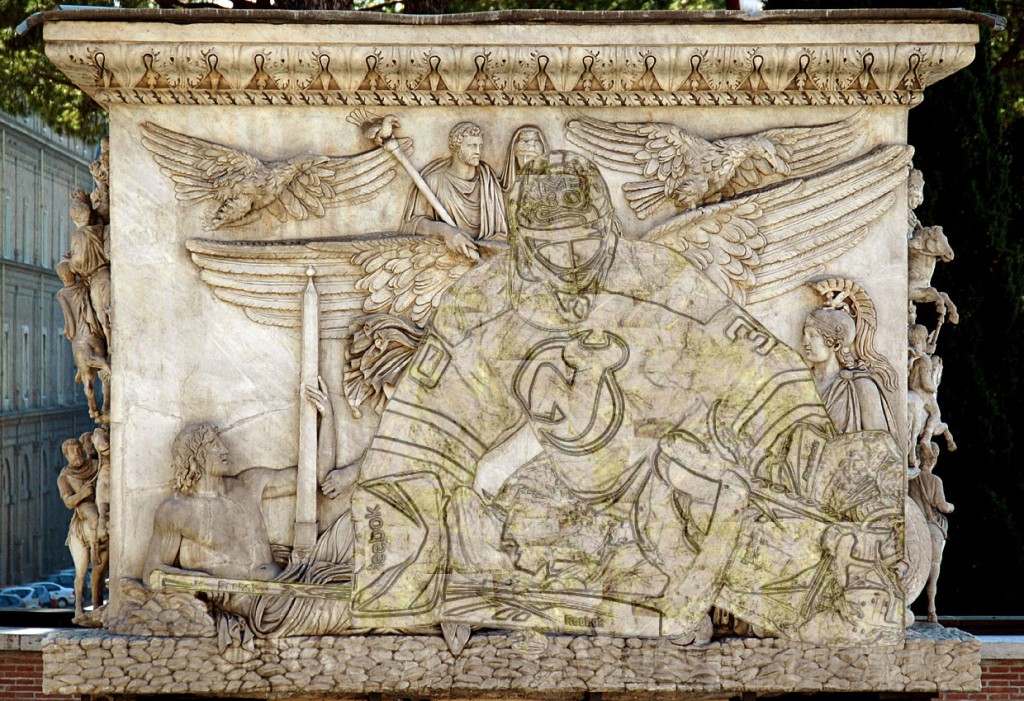 Why would we scratch our heads for Marty rattling off a few more wins, you ask? Read why after the jump.

Seeing Martin Brodeur get off to a 6-1-2 start may not seem exactly like earth-shattering news. Even the goose egg he threw at the Flyers in game two wasn't anything special, right? The man is the all-time leader in both wins (662 as of the writing of this post) and shutouts (120), and he did nothing less than lift his New Jersey Devils to within two wins of another Stanley Cup last season. But Brodeur let in 9 goals in his first 7 periods last year, and looked staggeringly human through much of the first half of the season. Two years ago, he started even worse – by New Year's Eve, Marty was 5-18-1, and on New Year's Day he got yanked after giving up three goals on seven shots against the Hurricanes.
He came on strong for the rest of the year, winning 18 and losing just 8, but 2010-11 was the first losing season in his storied career. Three years ago? Eight goals against in two straight losses. Brodeur hasn't started a season 2-0 in four years. (In case you think it's an age thing, five years ago he went 0-3 to start the season.) That he was able to stay rust-free in the off-season, even with an extra three months tacked on for a useless lockout, is a testament to how much he still wants to play at the age of 40. Like I suggested in Episode 50 of the podcast, maybe Brodeur should just sit until January every season from here on out. It'll add years to his career, and give someone else the chance to start a few games during the first couple of months of the season.
Remember, this team went as deep as you can go in the playoffs last year without actually winning a championship. With apologies to Jonathan Quick, Brodeur was the best player on the ice through much of that series. Quick wasn't really tested most nights, as his teammates pretty much strangled the New Jersey Devils attack every time they tried to move up ice. If you don't think the dreaded Stanley Cup hangover affects a team after a lockout, just look at the Kings bottomfeeding the Pacific Division right now. And losing teams don't have a tough time getting up for the new season, you say? How about Vancouver last year. The Canucks looked tired from opening face-off until the Kings bounced them from round number one. They won the Presidents' Trophy, sure, but they did so mainly because they play in a woeful division where Edmonton, Calgary, Minnesota and Colorado gift them with dozens of points.
The Devils are playing strong team hockey against much tougher opponents: the reinvigorated Pittsburgh Penguins team that features a hungry Sidney Crosby, the new look New York Rangers that has scoring threats throughout the roster, and the wonky but dangerous Philadelphia Flyers. Frankly the Western Conference, and the Northwest Division in particular, doesn't offer that kind of challenge. The Canucks, by contrast, were eviscerated by the Sharks and Ducks, and were lucky to escape with a shootout win over the Blackhawks in the only three decent challenges they've faced so far this year. And by 'lucky to escape', I mean 'glad they hadn't traded Roberto Luongo quite yet'.
Martin Brodeur has more wins, losses, shutouts, shots against and saves — and games played — than any other player in National Hockey League history. Every time he steps between the pipes those numbers grow. And kids, at the start of his fifth decade on this planet, he's still one of the best in the game. Let's hope he takes October through New Years off for the next few seasons. Who knows, maybe he'll pull a Hasek and play into his 50s.