Saturday in San Jose was the type of game in which a manager can earn his salary. As the Whitecaps rolled into Avaya Stadium, Carl Robinson faced a tough decision: to focus on the league, with a daunting challenge against one of the top teams in North America only three days away, or to play some reserves against the Earthquakes in hopes of taking his shot against Tigres. Robinson opted for the latter, and looked brilliant for twenty-two minutes. Then he faced his second challenge: how to react to an in-game disaster, and abruptly his managerial aptitude was once again being questioned by the Vancouver faithful as Vancouver coughed up a 2-0 lead to fall 3-2 to the San Jose Earthquakes.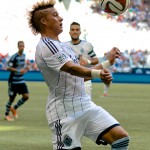 It was a dream start for Vancouver, who generated two chances in the opening two minutes, the second being volleyed post and in by the usually target-averse Erik Hurtado. Then, a quarter-hour later, Hurtado earned an assist by beating his man on the wing and finding Nicolás Mezquída in a gap in the San Jose defence.
Then things went to shit.
An apparent miscommunication between Kendall Waston and Christian Dean sent Chris Wondolowski in alone on David Ousted. The Dane did the only thing he could reasonably do without giving up on the play: he came out of his net aggressively, and ended up fouling the attacker twenty yards from goal, earning a red card from the uncharacteristically-not-terrible referee Drew Fischer. A problem, certainly, but not an insurmountable one with a two-goal lead already amassed. Then Robinson made a baffling decision, removing the hardest worker on the field in Mezquída to get backup keeper Paolo Tornaghi into the match. The difference in play was immediate and striking. The Caps, who had been pressuring the ball and forcing bad decisions by the home side up to that point, sat back and let San Jose have their way with them. The Caps got torn apart, slowly but surely, barely managing to get to the break with a one-goal lead, and conceding again early in the second half.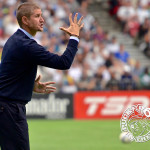 Robinson acknowledged the mistake after the game. I can't decide if I like that or not. I'm glad he realized the error, but it smacks of being either unprepared or inattentive. Knowing little about the vagaries of managing a soccer team, let alone a professional one, I'm not sure if a manager should be going into matches with preconceived notions about who to substitute in the event of a sending off. If such notions exist, Mezquída should surely be staying on the pitch at the expense of Techera, who's slow, or Manneh, who treats defence like an eight-year-old boy treats a girl with cooties. But if you lack such notions for whatever reason, SURELY you need to be able to assess the situation and see that Nico was having an excellent game, while Manneh was being outhustled to balls and then giving up on them.
The tide looked like it might turn in the 60th minute, when the introductions of Fredy Montero and Cristian Bolaños made Vancouver look capable once again of maintaining possession and even generating the odd attack. It was not a coincidence that Manneh was one of the players removed. Vancouver might have at least garnered a point from the affair, but for a moment of individual brilliance from Anibal Godoy, who fired a rocket into the top corner from 30 yards to put the Earthquakes up for good.
This is not the first time Robinson's decision-making has been questioned. He has faced criticism from me and many others several times for not using his substitutions to best effect, or sometimes at all. The identity he's cultivated for this club, if it can be called that, can best be described as uninspiring, and he's never managed to acquire pieces that fit his preferred system, opting instead to force players into positions they're uncomfortable in, unused to, or inept at.
See Pedro Morales as an attacking midfielder, instead of a deep-lying playmaker. See Kekuta Manneh as a winger instead of part of a striker tandem. See Russell Teibert converted to defensive midfielder after a nine-assist season on the wing. When he was hired, Robinson spoke at length about his career plans. He had planned to remain an assistant coach for five more years before trying his luck at the helm of a club. When offered the Caps, though, he accelerated his plans. One wonders if he, and the club, wouldn't have been better served by allowing him to continue his apprenticeship under a more experienced hand. Not for the first time, he cost Vancouver three points on Saturday.
Grades

Goalkeepers: TWO Pucks in the Head  

Ousted got sent off. Tornaghi punched a corner weakly instead of collecting, leading to the first goal, and his distribution was not good.
Defenders: THREE Pucks in the Head  

Nerwinski and Harvey were ok, though Waston had to cover Nerwinski's right side a little too often. Dean and Waston bumbled the ball that led to the red card. Tough to fault them on any of the actual goals, though: scrambled penalty caused by Tornaghi, uncontested shot caused by Manneh's laziness, golazo from 30 yards.
Midfielders: FOUR Pucks in the Head  

This one was tough. Teibert and McKendry were solid in the middle, though they, like the rest of the midfield, didn't pressure nearly enough after the Caps were down to 10 men. Mezquída was excellent before being pulled. Manneh looked like he was already in Monterrey. Techera should have been off for Tornaghi, but that's not his fault. Bolaños single-handedly gave the Caps their form back.
Forwards: SIX Pucks in the Head  

A goal and an assist for Hurtado, and Montero had the only legitimate chance for the Caps in the last 65 minutes of the game. Only complaint is Vancouver could have used a high press more than a long outlet while bunkering. Would have preferred to see Hurtado back more and forcing the issue defensively.