Update: At 11:05 on Labour Day, 5 September 2011, the women from the Longest Game for CF wrapped up their Guinness World Record longest hockey game in history. They surpassed the previous record – see #3 below – by 65 minutes. Congratulations to everyone involved!
1. Between August 26 and September 5, 2011, 40 women in Burnaby, British Columbia will break the Guinness World Record by playing the longest continuous hockey game in history. The brainchild of Val Skelly, the Longest Game is an homage to a friend, Lucia Tavano, who died of CF at the age of 27. They're raising awareness and funds for Cystic Fibrosis research and encouraging people to become organ donors as well. See below for some very sobering facts about CF. Their website is www.longestgame4cf.com. This first picture shows Katrina Dauncey making a save in the 105th hour – at this point, she had personally put in more than 46 hours on the ice.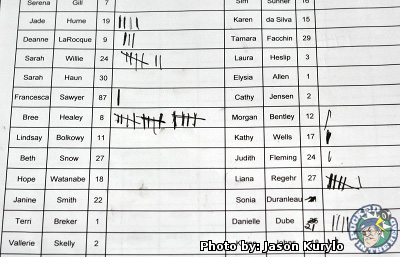 2. The rules. Guinness is very strict about the rules. Once rosters are set, players are not allowed to move back and forth from team red to team white. There must be five skaters and one goaltender on the ice for each team at all times or the entire event is forfeit. There must be regulation referees on the ice at all times, and goals must be tallied and credited to the appropriate players. Even when not on the ice, players must remain on the premises for the entire 10+ days of the event – what sleep these ladies get is in a mobile trailer unit parked behind Canlan 8 Rinks – and are only allowed to leave for documented medical purposes. The game is played with a running clock for one hour at a clip. At the end of each 60-minute block, a 10-minute intermission is permitted to allow for bathroom breaks, equipment repair and a modest ice scrape. A continuous video feed is kept so that all details above can be verified by off-site officials as well.
3. The previous longest game took place in February in Sherwood Park, just outside of Edmonton, Alberta. A group of 40 men played 242 hours – outdoors, mind you – with each team scoring more than 2,000 goals. For a current score in the Longest Game in Burnaby, follow @longestgame4cf on twitter, or look at the feed on the website.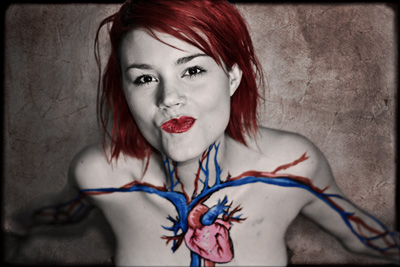 4. The face of the game is one Eva Markvoot, the former Miss New Westminster who lost her battle with CF at the age of 25. She became the face of BC Transplant, and the images of her body painted with various organs are even more striking once you know that this vibrant young woman has passed away. Her Live Journal blog about living with Cystic Fibrosis, 65 Red Roses, became a rallying point for sufferers of CF around the world. A documentary has been made about her life and passing, and it has received numerous awards and commendations from the Toronto-based Hot Docs festival to none other than Oprah Winfrey. This image, Eva Heart 4, was taken by Cyrus McEachern. It is in Eva's name that the Longest Game aims to break the World Record by exactly 65 minutes.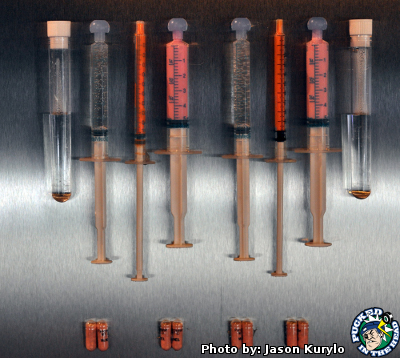 5. Sufferers of CF endure an arduous schedule of medication, physiotherapy and complications. An art installation by Desneige Beckett is on view at 8 Rinks for the duration of the Longest Game to demonstrate this. Each day's meds are given a space on an 8-foot tall calendar to give some idea of the sheer scope of needles and pills involved. Here's what a single day's regimen looks like.
Now, imagine that times 365. Or how about just three weeks in February? Because that looks like this.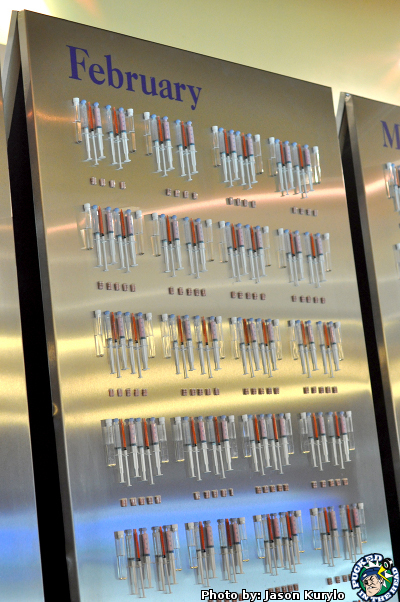 What sobers the viewer the most is the final panel that tells you the poor soul going through all of this is the artist's 2-1/2-year-old son. It's terrifying to think that people are drowning in their own mucous. Now try explaining that to your coughing baby boy. Try watching that as a parent, as a sibling, heck, as a human.
6. Cystic Fibrosis is a particularly brutal disease. First of all, it's a genetic sleeper – if you carry the blueprint for CF in your genes, you probably don't know it. You'll only find out if you eventually partner with another person who carries the gene. For every four offspring of two carriers, one child will have no CF markers at all, two will themselves be carriers, and the fourth will suffer from CF symptoms. What are those symptoms, you ask? Well, CF affects the secretory glands, which are the parts of your body that manufacture mucous and sweat. Sufferers of CF typically experience thicker than usual mucous – among other things, this builds up in the lungs and blocks airways. CF sufferers almost always need a double lung transplant to survive.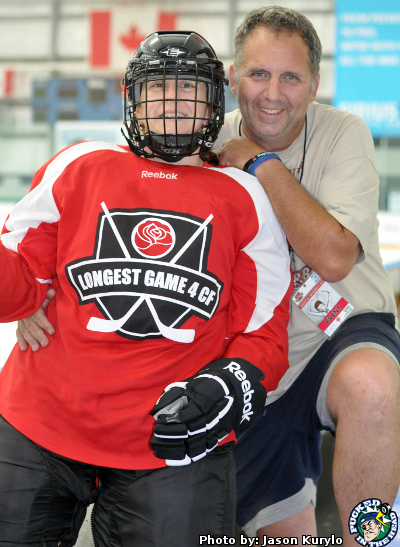 7. Rising above the brutal, macabre disease that has brought the Longest Game participants together is the joy of sport, of life, of helping people. Even after more than 110 hours of grueling time on the ice – or off it for support and volunteers at the event – there are people dancing, hooting, smiling. Here we see Patricia Tait and her husband Scott, who are both on site for the entire event – she's on the ice, of course, and he's behind the scenes providing support for both benches. By the halfway mark of the event, over $100,000 has been raised for CF research. If you don't mind us saying, that includes a $60 donation from us at Pucked in the Head. We challenge you – nay, we double dog dare you – to match or beat that. If you're not able to donate money, donate time. Or become an organ donor. Or just pass along this information to someone who can.
Please note that any inaccuracies in the above article are mine and mine alone. The ladies at the Longest Game have a much greater understanding of CF than I do, and in fact many of the participants and volunteers have friends or family members with CF. If I have made any errors here, I am deeply sorry and would love to have the chance to make things right. Please let me know.