If you've spent any amount of time around the Pacific Coliseum this season, you've heard someone or other mutter that Vancouver Giants GM Scott Bonner has some tough choices to make. With franchise poster boy Tyler Benson back from off-season surgery to remove a cyst from his low back, not to mention three viable WHL goaltenders crowding the crease, the Giants just had too many hands on deck. A good problem to have, you may say, but with just 10 points in the first 12 games, the G-Men needed a change.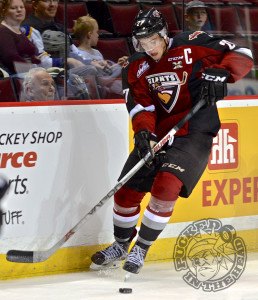 Queue the Well-We've-Made-a-Bloody-Change music. Bonner has pulled the trigger on a five-player deal with the Calgary Hitmen., easing the strain on the bulging roster while bringing in two NHL draftees. Forwards Jackson Houck and Jakob Stukel head to Calgary, along with goaltender Cody Porter. Coming to Vancouver are defenseman Ben Thomas and right winger Chase Lang.
At 20 years of age, Houck is in his fifth WHL season, all of which have been spent in Vancouver. He has scored 91 goals and 108 assists for 199 points in 267 games, good for seventh spot on the franchise's all-time scoring list. While Tyler Benson recovered from off-season surgery to remove a cyst from his low back, Houck wore the captain's C. Houck was not offered a contract by the Edmonton Oilers, who drafted him 94th overall in 2013, and is now a free agent.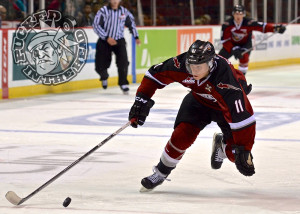 Left winger Jakob Stukel is probably looking forward to a change in scenery after scoring just 16 points in 49 games as a WHL rookie last season. Originally a blue-chip prospect, Stukel has struggled to find rhythm at the WHL level and isn't listed on many scouts' radar in this, his draft year. Cody Porter, for his part, likely welcomes a shift as well; he has made just two appearances in the Giants net this season after playing a full 40 games last year.
Coming to Vancouver are a pair of 19-year-old picks in the 2014 NHL Draft. Chosen 119th overall by the Tampa Bay Lightning, Ben Thomas offers some help to a Giants back end that has had difficulty closing out games in the third period so far this season. His challenge will be to fill the shoes vacated by Mason Geertsen, who anchored Vancouver defensively as well as quarterbacking the power play.
Chase Lang is a sixth-round pick of the Minnesota Wild (167th overall) who was just shy of a point a game with the high-flying Hitmen last season. Hopefully, he'll appreciate being closer to his hometown of Nanaimo, and use that to put up some similar numbers at the Coliseum.
With Houck's departure, the Giants are currently carrying only two overage (20-year-old) players; the WHL maximum is three, and it's extremely unusual for teams to play a full season without taking advantage of those older bodies on the roster. Look for Scott Bonner to make at least one more deal in further efforts to shake up the lacklustre dressing room that has, frankly, lost too many games for too many seasons.
With the Top Prospects game mere weeks away, the full attention of the country's best hockey minds will soon land on Vancouver; it's in Bonner's best interest to give Tyler Benson every opportunity to shine before then.