I wanted to be up in North Vancouver this morning, checking out the view from Hollyburn Country Club and shooting media day pictures for the Odlum Brown Vancouver Open Tennis Tournament. Alas, I'm at home nursing a later summer cold and flicking my way through a variety of on demand movie listings.
So here's my list of Ten sports films you should watch again. I invite your commentary, your judgement and your suggestions. I obviously haven't given a definitive list here, but let's be clear: I'll be damned if anyone makes me sit through Slap Shot ever again. Why so many people like that load of unadulterated shite is just beyond me.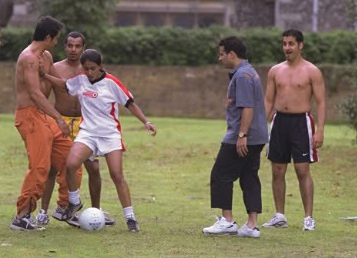 10. Bend It Like Beckham
Buy it here.
Pitting your football skills against traditional parents isn't easy, especially when they want you to hang up your cleats in order to learn how to cook for your future husband, who by the way you don't get to choose for your bad self. Bend It Like Beckham is a weighty little coming-of-age movie that, like Inside Out above, offers strong female characters who happen to be pretty damned good at sport. For most North Americans, this isn't remembered as a football movie — it's a soccer movie round these parts, thank you, and the introduction of that waif Kiera Knightley. Well, she may not have gone on to Pirates of the Caribbean fame, but the film's lead, Parminder Nagra, has carved out a tidy career post-Beckham as well, with recurring parts on shows such as E.R., Psych and The Blacklist. It's worth watching for Jess and her heart-to-heart talks with her confidante: a bedroom wall poster of one David Beckham.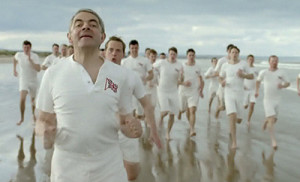 9. Chariots of Fire
Buy it here.
A deep and meditative film, Chariots of Fire won four Oscars in 1981, including Best Picture. It doesn't hold up as well as Raiders of the Lost Ark, and has been referenced so often in the past 30 years that it's hard to give it a fair viewing. It does, however, offer robust commentary on faith, anti-Semitism and the British class system, all wrapped up in a gear-free, PED-free, sponsor-free running duel at the 1924 Olympics. It's also a beautiful experience, both visually and aurally. Chariots of Fire is worth watching to witness just how apropos Vangelis' oft-cited cheeseball soundtrack was in its original form.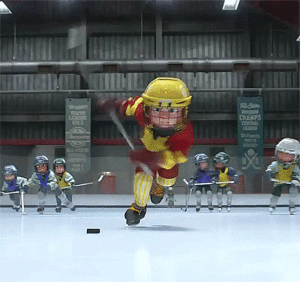 8. Inside Out
Buy it here.
Dude. I know this is an animated feature about a young girl losing her innocent view of the world when her family moves from Minnesota to San Francisco. But come on, one of the central parts of her life is a collection of memories called Hockey Island. Not only is this a place I want to visit, emigrate to and eventually rule as a benevolent dictator, it brings tears to the eye of pretty much every human with a heart or soul — you don't even need both — several times through the course of the film. HOCKEY ISLAND, yo! Inside Out is worth watching for its honest, respectful depiction of sporting women as not eye candy, nor a sideshow, but as what they should be: women in sport.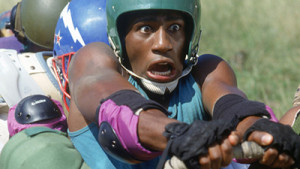 7. Cool Runnings
Buy it here.
Okay, it's ridiculous. It's worth watching for… well, okay, it's not very good. Despite mining cultures as rich as Canada's and Jamaica's, this film features poor writing, bad direction, awful acting and atrocious music. The film holds up about as well as Hammer pants. But let's face it: an SCTV star coaching the Jamaican bobsled team through Olympic competition is a hilarious concept, and people still love John Candy.
6. When We Were Kings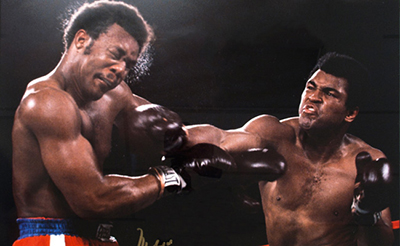 Buy it here.
An ageing Muhummed Ali prepares for the 1974 Rumble in the Jungle with 24-year-old heavyweight champion George Foreman in Zaire. This picture forays from political observation (Zaire was a borderline dictatorship at the time) to music festival (BB King and James Brown, among others, were flown down to create an "African Woodstock"), literary exercise (Norman Mailer and George Plimpton wrote volumes about it) to sportsmanship (Ali pontificates; Foreman broods; both, of course, train). The footage was locked up for decades before being cut together for this 1996 documentary, so history offers perspective to the filmmakers. Rope-a-dope wasn't just a passing fancy. Ali's remarkable ability to take a punch — well, hundreds of punches, actually — to tire out his foe before surgically removing Foreman's heavyweight belt is now legend that transcends boxing. This film is worth watching for its soundtrack alone. Like the Godfather of Soul, you're Gonna Have a Funky Good Time with this picture.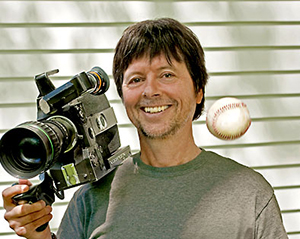 5. Ken Burns' Baseball
Buy it here.
Okay, if you don't dig documentaries, there are a few entries on this list you'll want to pass on. But if you do… have I got a doc for you. Ken Burns does his magic on the Boys of Summer in what he calls "a complicated, passionate love letter to the game of baseball". You know, if love letters lasted 20 hours and involved thousands of still photos, film clips and voice overs. It's worth watching for the observations about American immigration and race relations throughout baseball's history, and (especially for longtime Mariners fans) for the considerable praise heaped on Ichiro Suzuki in the 10th inning.
4. Forrest Gump
Buy it here.
"Run, Forrest! Run!"
Football plays a small but important part in this American epic. It represents the first time Forrest Gump moves away from his home in Greenbow, Alabama. It also connects his tragic past (physical difficulties, IQ shortfalls, bullying, etc.) with his remarkable adult accomplishments. It's worth watching for so many reasons, but let's stick to sports. The entire pro sports industry is boiled down into one 15-second clip. Forrest is scared and confused as he runs off the filed. The fans, staff and coach are elated: "He must be the stupidest son of a bitch alive, but he sure is fast!"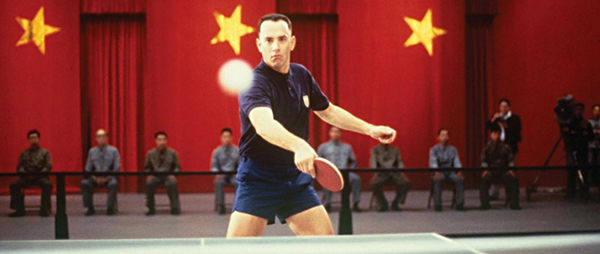 Bonus: Forrest Gump is given the credit for the extreme running fad of the early 80s that eventually turned into ultrarunning. Hey, I've run a marathon before, but 100km or more at a time? Yes, shit happens, but no thank you.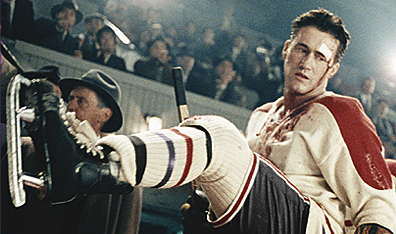 3. The Rocket
Buy it here.
Possibly the most ambitious film on this list, The Rocket deals with reluctant heroism, separatist politics and seemingly the most difficult cinematic trick of all: realistic, entertaining depiction of hockey on screen. Roy Dupuis is note-perfect as Maurice Richard, and modern hockey stars Mike Ricci and Vincent Lecavalier nail legends Elmer Lach and Jean Beliveau, respectively. It's worth watching for Richard bareknuckling Bob Dill (a lovely cameo by real-life hockey bad boy Sean Avery) with an apathetic fury seldom seen since the Rocket.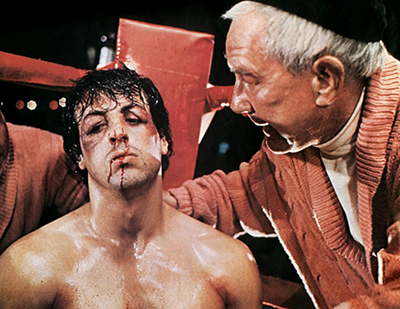 2. Rocky
Buy it here.
Is it full of cheese? Sure. But Rocky is much deeper than just Sly Stallone slurring YO ADRIAN between hideous black eyes. Hindsight tells us Taxi Driver, Network and All the President's Men were jobbed for Best Picture, but did any of THOSE pictures spawn five sequels, several video games and decades of poor impressions? Well okay, we still hear idiots at parties pulling out "Are you lookin' at me?" and "We're mad as hell!" quotes — but neither Taxi Driver nor Network inspired video games that let you knock the bejesus out of Mr T. Rocky is worth watching for Burgess Meredith growling, "You can't win, Rock. This guy will kill you to DEATH!"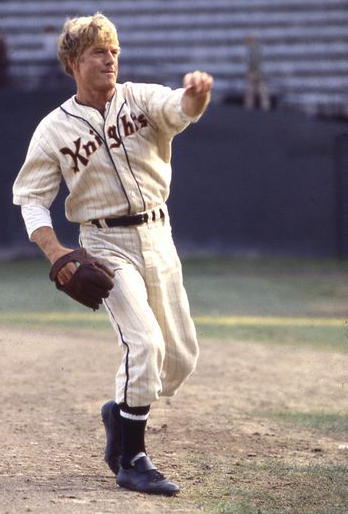 1. The Natural
Buy it here.
It starts as just a movie about pinstripes and rigged games, then takes a strange, dark twist before returning to a baseball narrative. Redford is perfect as an all-American kid who can do it all, and for the most part the film holds up 30 years on. It's worth watching for the iconic home run swing alone — this is the picture that made people realize boxing wasn't the only sport that can produce good cinema.
Clearly, this list won't include everything you think should be here. Think Raging Bull ought to put a beatdown on Cool Runnings? (I frankly agree. If I weren't this lazy I'd swap those two right now.) Want to argue that Slap Shot deserves more than my introductory jabs? (Nobody will every convince me of that.) Comment here, tweet me @Puckedinthehead or write your own bloody sports blog!