Over the next few months, I'll be sharing some of my photos from the 2012-13 Vancouver Giants season that didn't wind up attached to a story. Here's the first, capturing a penalty shot on March 1 — 15-year-old Alec Baer was awarded a penalty shot with 2:27 remaining in the third period that could have won the game for the home team. He was stopped by Lethbridge Hurricanes goaltender Ty Rimmer, but the Giants went on to win in overtime. Read our original piece on Gordie Howe night here.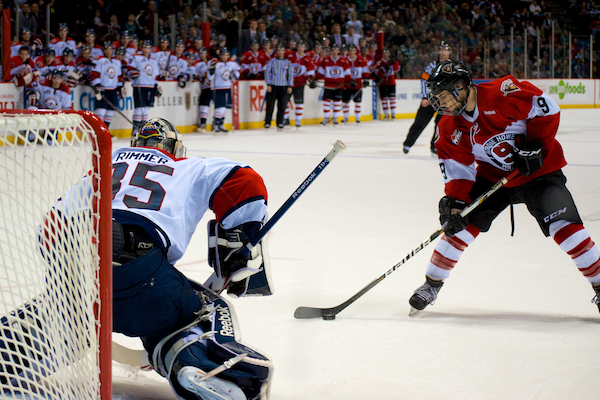 Alec Baer is largely regarded as one of the top high school-aged prospects out of Minnesota. As many American teens are not picked up in the bantam draft, it is not a big surprise that the Giants were able to sign him to a WHL Player Agreement (the junior equivalent to a free agent contract in the pro leagues). He was invited to the Giants rookie training camp at the beginning of the 2012-13 season, and left as the top scorer. He joined the Giants for six games late in the season, scoring once (March 8 vs the Victoria Royals) and adding an assist.
You don't think two points in six games is anything to write home about? Well keep in mind this is a 15-year-old playing against 18-, 19-, and 20-year-olds.
Baer was introduced to Hall of Famer, Stanley Cup Champion and Olympic Gold Medalist Joe Sakic exactly one month before this picture was taken, by Giants part-owner and ambassador Pat Quinn. Quinn said, "Joe, this young man just may be the next you."
That conversation is one of the main reasons Baer decided to sign with the Giants instead of taking any one of numerous standing offers to join NCAA college clubs south of the border.