If there's one thing I hate about soccer, it's diving. It's rampant at pretty much all levels of the game, and the MLS is no different. Sadly, faking injury is not only a major part of the FC Dallas game plan, it seems to frickin' work. Saturday's referee crew bought into FC Dallas's every whimper, whinge and writhe, handing the visitors free kicks and set pieces galore, and allowing lengthy delays in game play.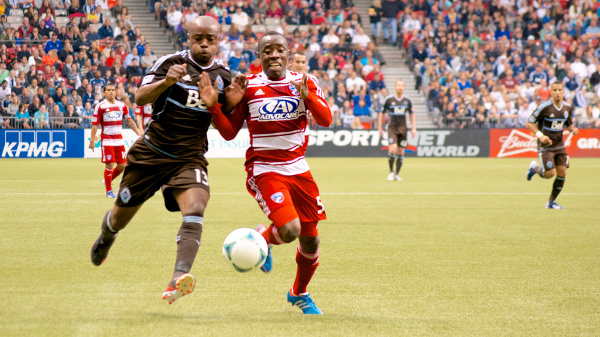 Dallas players went down like red-shirted ensigns on Star Trek. They stayed down like my two-year-old daughter, bawling because they fell down went boom. Come on, you wailing tart — you're a professional freaking athlete, in prime physical condition. Are you seriously telling me your tummy wummy hurtsy wurtsies because the bad man in the brown jersey bumped into you? Get up, you whining sack of sheisse, and play the game.
More after the break.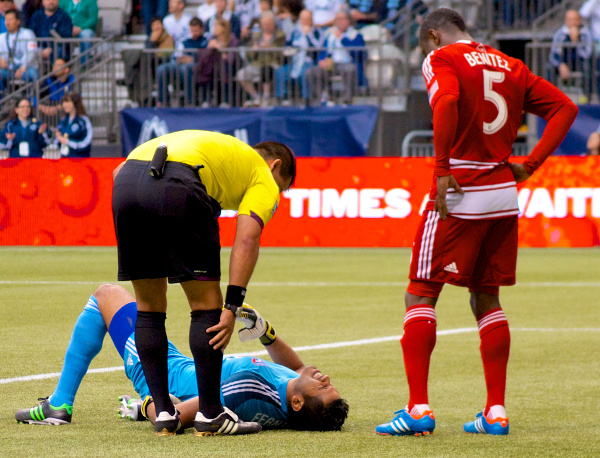 The home crowd at BC Place booed lustily at each and every instance of Dallasing on Saturday, but was treated to a spirited Whitecaps comeback as two late goals salvaged a single point for the good guys.
My question is, what can be done by leagues — from MLS to FIFA international, from the BPL to the Bundesliga — to curb the fakery that embarrasses players, fans, referees and sponsors alike? Some suggest that any player who stays down long enough to draw a stoppage in play should have to leave the pitch for a minimum of five minutes, putting their team down a man. Others, myself included, would like to see after-the-fact punishments meted out by the league; let the MLS review videos of egregious dives, and fine or suspend players and their coaches.
What do you think?
Highlights from Saturday's 2-2 draw: