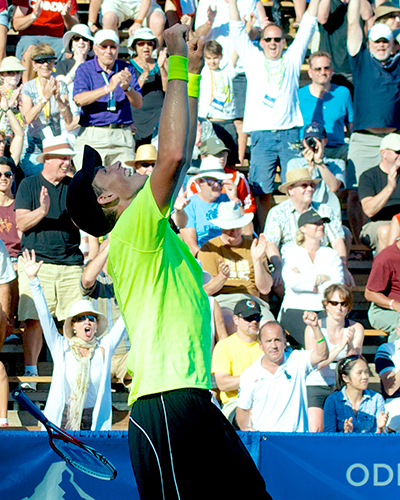 The 2013 Odlum Brown Vancouver Open ended with as much drama and suspense as you could possibly cram into a three-set match. There were twists. There were turns. There were swizzle sticks. There were sunburns.
Rising Canadian tennis star Vasek Pospisil (@VasekPospisil) outlasted England's Daniel Evans (@Evo151216) in a see-saw battle to win the men's singles title 6–0, 1–6, 7–5 to become the first BC-born player to win in the 12-year history of the event.
"My eyes were wide, I was a pretty innocent 15-year-old kid," said Pospisil of his first time playing the Vancouver Open back in 2005. "At that age, you're just excited to play against all of these amazing athletes, and happy to get a game or two off of them in your first pro event."
Eight years later, the Vernon-born Pospisil came in as the number two seed in the tournament and ranked 85th in the world. He brought consecutive Davis Cup wins with Team Canada with him in his equipment bag, and led the list of prominent Tennis Canada stars to appear at the event-opening press conference. "Because I started here, you know, it's always been a dream of mine to win the Vancouver Open," said Pospisil, "and it's great to do it with all of these people here. I think I personally know half of the people in the stands today."
See my Flickr set of pictures from the 2013 Vancouver Open here.
More after the jump.
Pospisil got through the first four rounds of the men's draw without dropping a set.  Okay, sure, none of those eight sets were blowouts — he won each by the slimmest of margins. But the highly partisan crowd wasn't surprised when Pospisil won the first set in the final 6–0. Evans (unseeded in this tournament, but ranked #3 in the UK and #194 in the world) was so disgusted with his play in that first set that he initiated a wardrobe change. Twitter banter joked about it (all right, all right, I'm guilty, okay), but it seemed to do him a world of good.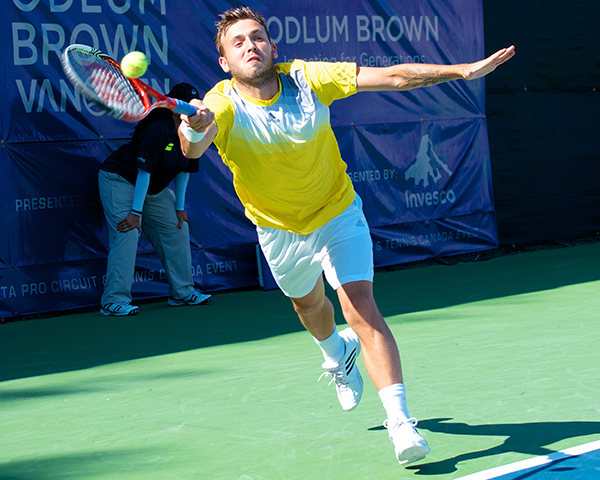 The second set — and a blue shirt — brought a reinvigorated Evans to the court — he started running down everything Pospisil threw at him, and quickly grabbed a couple of service breaks of his own. Pospisil seemed sluggish now, making numerous unforced errors and looking like it was he, not Evans, who was punching above his weight class.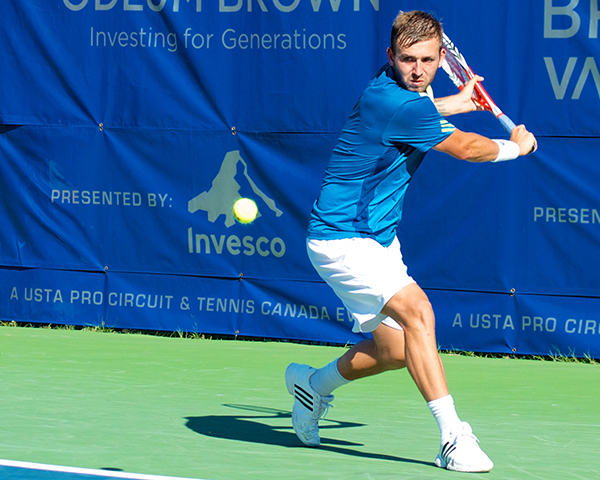 Pospisil changed his shirt after the second set, prompting some (okay, me again) to suggest that the match was as good as over — clearly the shirt change is the key, so Evans should just give Pospisil the match now. But it wouldn't be so simple.
"Let's be honest, there is a lot of pressure to win in front of a home crowd," said Pospisil. "I'm not sure why I came out as flat as I did in the second, but it took me a while to ride the wave of the crowd again. Luckily I got some big serves in there in the third set and was able to turn it around."
I'm not sure how much luck had to do with it. Pospisil's serve is normally a huge part of his game. But it is true that six of his seven aces on the day came in that third set.
"Yes, I changed, but it was just because I was sweaty," said Pospisil of the wardrobe changes. "Some players will use a new shirt to give them new energy, but I haven't developed any superstitions that way myself. For me, it's just… when you're sweaty sometimes your legs feel a lot heavier than they are."
"Maybe if I'd changed the colour or style of my shirt, it would have meant something psychologically," he admitted, nodding to Evans' earlier switch from yellow to blue. "But no, today it was just a comfort thing. Whatever, it worked, right?"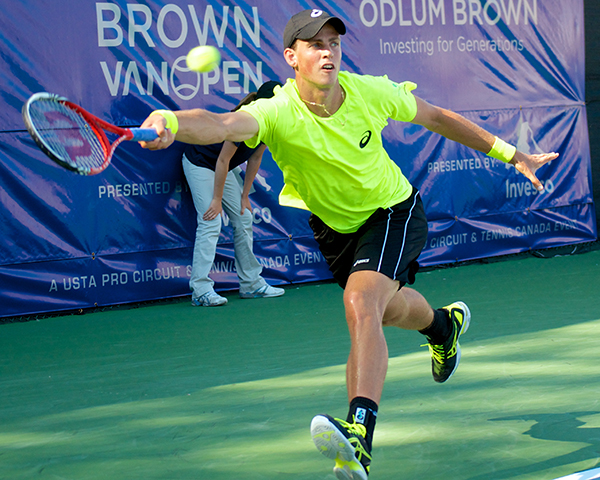 Of course, at any tournament like this the men's singles final is the marquee event. That said, hometown pressure was even higher as Canadians in the other two finals on the day had lost in straight sets. Sharon Fichman (who to be fair, won the women's doubles crown the day before with Ukrainian partner Maryna Zanevska) dropped the women's singles final to Brit Johanna Konta; third-seeded Adli Shamasdin and American partner James Cerretani dropped the men's doubles title to the #4 Israeli pair of Jonathan Erlich and Andy Ram.
The audience was hungry for some CanCon in the winner's circle.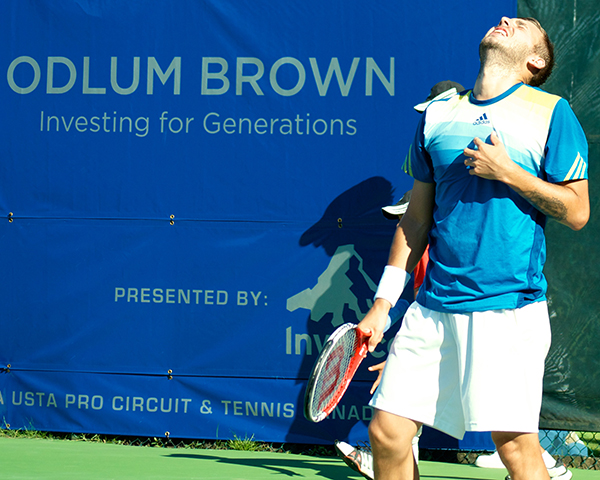 Throughout the second set, Pospisil struggled to dictate the play as he'd done in the first, and when he was able to get to the net he hit volley after volley into the net or uncharacteristically long. Down 4–1 in the third set, however, he converted a break point opportunity and gained back the bounce in his step. Balls started falling inside the lines for him, and the service winners came back shortly thereafter.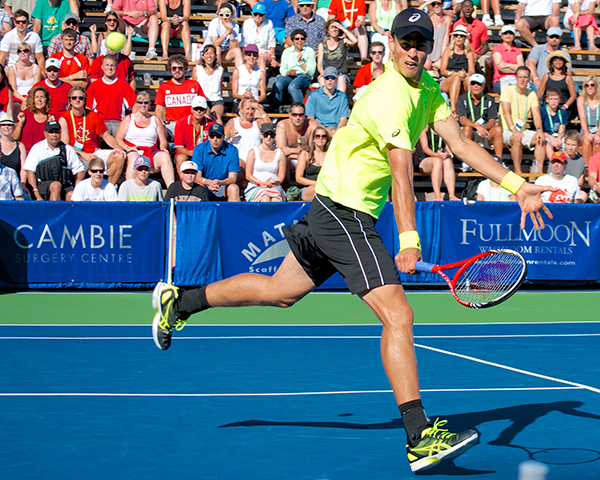 As he closed out the match with an ace, Pospisil tossed his racquet into the air and raised both fists to the sky. Eight years after playing at the Vancouver Open as a 15-year-old qualifier, he was just the second Canadian man to win the tournament. Sherbrooke, Québec's Frédéric Niemeyer was the first, winning the men's title in 2007. Canadians have won two women's titles — Stéphanie Dubois in 2009 and Aleksandra Wozniak in 2011. A handful of Canadian women have hoisted the women's doubles trophy, but men's doubles at the Vancouver Open has eluded Canadian players thus far.
All match, Englander Daniel Evans ingratiated himself to the crowd with tireless running — he actually deserves that overused play-by-play cliché "this guy never gives up on the ball" — and a great sense of humour. When two teens slowly made their way out of the box seating area between his service points, he simply stood, waved at them to take their time and mocked, "No, no, there's no rush."
Later, he questioned the chair umpire because he thought one of his own shots had been improperly called in. "That ball was clearly out," he challenged. He didn't want to win a point on a badly refereed shot. "It was [near the doubles line]. There's not a single person here who thinks that ball was in."
Though obviously disappointed by the loss, Evans managed to get a couple of laughs from the crowd during the post-match interview. Asked about his strategy coming into the match he deadpanned, "Well, first of all it didn't work…"
The 23-year-old from Birmingham has the work ethic and personality to make him a threat for years to come.