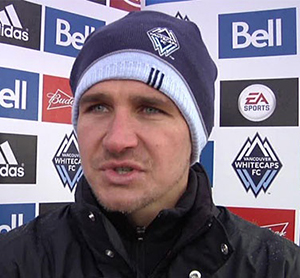 This morning, Vancouver Whitecaps FC ended a protracted search for a new manager and settled on Carl Robinson as the 15th head coach in club history. Well-liked by his players, the former assistant coach under Martin Rennie brings a wealth of experience at both the highest levels of English soccer, having played in the Premier League for both Portsmouth and Sunderland, and the lowest levels of Canadian soccer, having spent several years at TFC.
More snark (and press conference video) after the jump.
In a complete departure from industry standards, the Whitecaps took six weeks to look for a new head coach after sacking Martin Rennie on October 30. Rather than hire the consensus best available coach on the market within the accepted 3 minute, 47 second window after firing the old guy, the Caps' revolutionary process saw the club approach multiple different people with head coaching experience. These people were pitted against one another in a cut-throat process involving an hours-long meeting where every aspect of their personality, tactical acumen and vision for the club was examined. The process was widely derided by pundits and analysts as amateurish, even shambolic.
Perception of these so-called "job interviews" was not aided by the Whitecaps' unique management structure. Unlike virtually every other professional soccer club in the world, Vancouver does not grant its 1st-team coach unilateral authority to spend unlimited sums of money on whichever players he desires. The Whitecaps prefer instead to have what they call "financial oversight". Under their system, the coach has the freedom to construct the roster as he sees fit within the salary cap. However, if he wants to spend, say $3 million of somebody else's money, to splurge on a  new designated player, he is first required to present a case outlining the potential benefits of such a move to a committee which includes the person charged with overseeing the finances of the club. This committee also contains a person intimately familiar with the game of soccer, and is responsible for evaluating the job performance of the manager. When the existence of this committee came to light, howls of indignation were raised in the soccer community. How could one work, people asked, when a sort of hierarchy exists and people above you could, if they felt it was justified, discontinue your employment?
There are unconfirmed reports that owners of a variety of non-sport-related businesses have been lighting up the Whitecaps' phone board, hungry for details on how they, too, could implement a structure wherein a single person is incapable of flinging the entire company into insolvency.
Speaking on condition of anonymity, a front office staffer confirmed to Pucked in the Head that the club is currently the laughing stock of the entire league. "The Re-Entry Draft was horrible. Everyone on the conference call kept making snide little remarks about getting fired if we made a bad pick, and having to have somebody besides the coach pass on the first round. There's definitely a lot more pressure being, like, the only organization in the world where employees have to report to their superiors before making really big, company-changing decisions."
Watch the thrilling press conference video here. (Note, Whitecaps FC President Bobby Lenarduzzi's first words in this video are, "Thank you, Carly." He is not referring to Carl Robinson sitting on his left. He's referring to the Director of Communications & Broadcast Carly Jokic. There is no word on whether or not Robinson will answer to the name 'Carly' in future, and no truth to the rumour that Lenarduzzi simply adds a '-y' to everyone's name. "That's a hockey thing," says President Bobby. — Jasony Kuryloy)