Last week, the Vancouver Canucks held a couple of town hall meetings with season ticket holders, in which President Trevor Linden and GM Jim Benning outlined the direction of the team, such as it is, and defended themselves against accusations of general incompetence.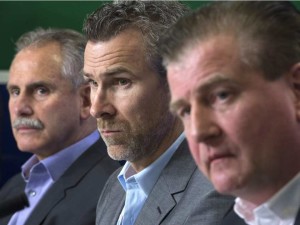 Notably absent from accounts of this meeting was any discussion of head coach Willie Desjardins. The Canucks bench boss seems to me to be coasting along in the wake of terribleness left by the front office. Lost amid the annoyance of the stupid money given to Derek Dorsett is the fact that Dorsett is getting more ice time than youngster Jake Virtanen, with no benefit to the club at all. Sven Baertschi is only barely ahead of Brandon Prust.  Jared McCann is dead even with Adam Cracknell. For an organization that's prioritizing youth development at the moment, these decisions are incredibly odd, but with Benning flushing assets down the toilet on the waiver wire every week and blundering through trade after trade, nobody seems to pay attention to the coach.
Desjardins is not a tactically strong coach. He was roundly out-coached in last year's playoffs by Bob Hartley. His stubborn refusal to deploy the Sedins for offensive zone faceoffs to maximize their output, as Alain Vigneault did during his tenure, has cost the club countless scoring opportunities this season.
Desjardins was this regime's guy. He was the anti-Torts. The one to nurture the kids after a year of neglect. It's no surprise, then, that odds-makers don't favour him to be shown the door any time soon. If, though, the Canucks are really serious about making the playoffs every year during this rebuild, he'll need to be replaced sooner rather than later.