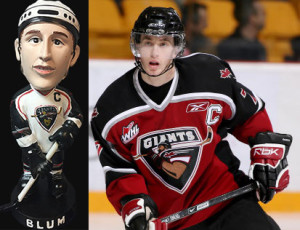 Bobbleheads are weirder than a kissing cousin convention, but their creepy kitsch is almost universally appealing. For years, figures bore little resemblance to the target athlete, but of late, the sculpts are getting better every season. No matter how lifelike they are, though, who doesn't get a kick out of an oversized head waggling away on a teensy, tiny body? I mean, just look at Kelly Ripa's numbers. (Seriously, how does she keep that blonde balloon afloat? There's gotta be wirework involved, or a complex system of pulleys and gears…)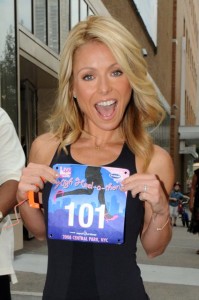 At the Vancouver Giants game on Friday night, 1,000 fans will walk away with a bobblehead of former team captain Jonathon Blum.
The Giants are just two points behind the slumping Tri-City Americans, who are coming off a 7-1 loss at the hands of the class of the WHL Kelowna Rockets. The Amerks have won just thrice in their last dozen games, while the Giants have garnered points in twelve of their last fifteen.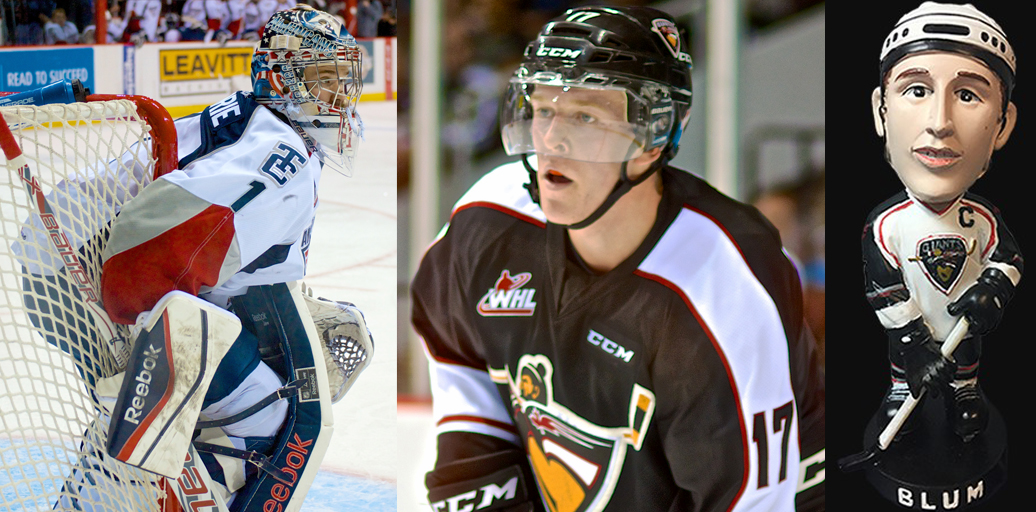 One of the most decorated players in the Giants record book, Blum won the 2006 WHL championship and the 2007 Memorial Cup. He played 248 games for the G-Men, scoring 204 points in that time, good for fifth in franchise history — pretty damned impressive for a defenceman! His 155 assists is flat out number one all-time among Giants alumni, and his +53 career rating is third best.
Blum was named the 2008-09 CHL defenceman of the year after being chosen 23rd overall by the Preds. While he's had a hard time sticking with the Nashville Predators and Minnesota Wild — he's played more games for AHL affiliates than for the big clubs — he's considered a decent depth D-man at the NHL level.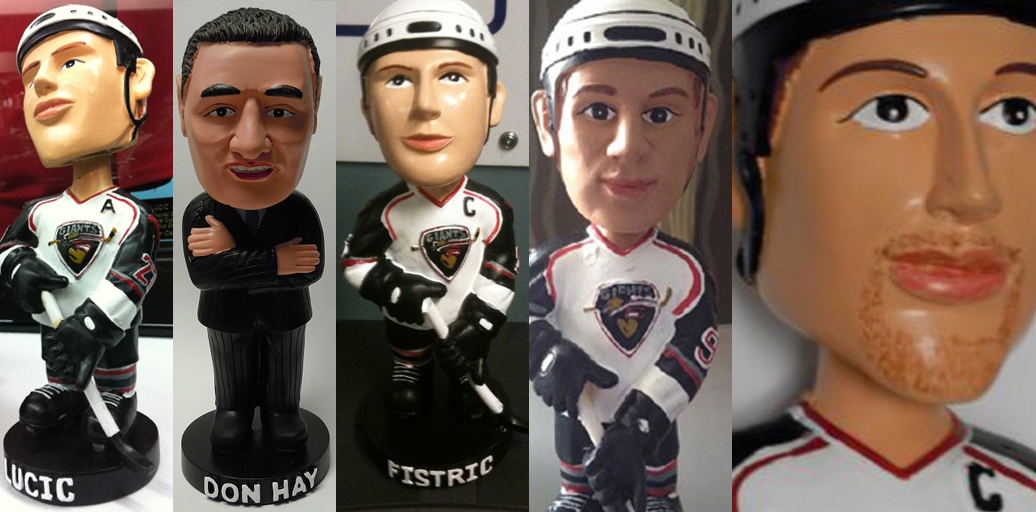 Previous Vancouver Giants who have gotten the bobblehead treatment: Brett Festerling, Cody Franson, Gilbert Brule, Evander Kane, Andrei Meszaros, coach Don Hay, and the man everyone loves to hate, Milan Lucic. Part-owner Gordie Howe, deservedly, has bobbled for the Giants at least once as well.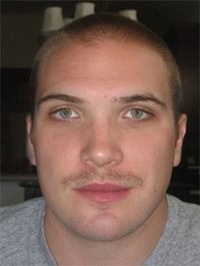 Former team captain Mark Fistric, honoured by the team in 2011, is renowned for being the only player whose bobblehead features a head matching his actual physical proportions. For reals, have you seen this guy? Fistric's skull is so heavy, it's used as a standard of weight in 17 countries. Palau and Eritrea, among others, require all industrial trade to be recorded in Fistrics. One standard Fistric is equivalent to roughly 12.7 kilograms, or 28 pounds — this is why the defenceman wears number 28 in NHL play.