File this under B for BWA HA HA.
Toronto FC has not been a good club over their short stint in MLS. Jermain Defoe was a bloody big bust, and Michael Bradley has delivered more sketchy challenges with cleats up than highlight forays up the field.
The team is reviled around MLS circles. Like most everything in Hogtown, TFC steeps in unfounded confidence — their lack of humility in never having made the post-season is only matched by a complete dearth of on-field results. They've got just one win on the season, a lucky opening day win against our own Vancouver Whitecaps that was somewhat marred by Jozy Altidore's smarmy taunting of the Southsiders (and a certain now-famous bird-flipping photograph that circled the globe).
During last night's loss to Dallas FC, with the scoreline showing 3-0 against, Michael Bradley took down a Dallas midfielder with a vicious challenge for a yellow card.
Michael Bradley, you flippin' goon. You're too talented to make plays like that. #TFC #CleatsUp

— Jason Kurylo (@PuckedInTheHead) April 19, 2015
Perhaps not surprisingly, responses didn't come from TFC fans defending their bald, ET-nogginned captain, but rather from other soccer fans who wanted to dig the blade in deeper than that.
@PuckedInTheHead If he's so good, why is TFC still a dumpster fire rolling down an abandoned alley? Hmmmm?

— Paul S-H (@Subhedgehog) April 19, 2015
And can I just say that Paul S-H is one of my favourite soccer commentators on the mighty Twitter?
@PuckedInTheHead The rest of the "world class" talent around him should supposedly help but doesn't. So he's garbage. They're all garbage.

— Paul S-H (@Subhedgehog) April 19, 2015
But I digress. The purpose of this post is to share a brilliant entry to Toronto's Banner Challenge. The team asked fans to submit designs for an internet banner; they chose the best ones, tweeted them from their official account, and hosted them on their bloody big website. On April 13, they tweeted this: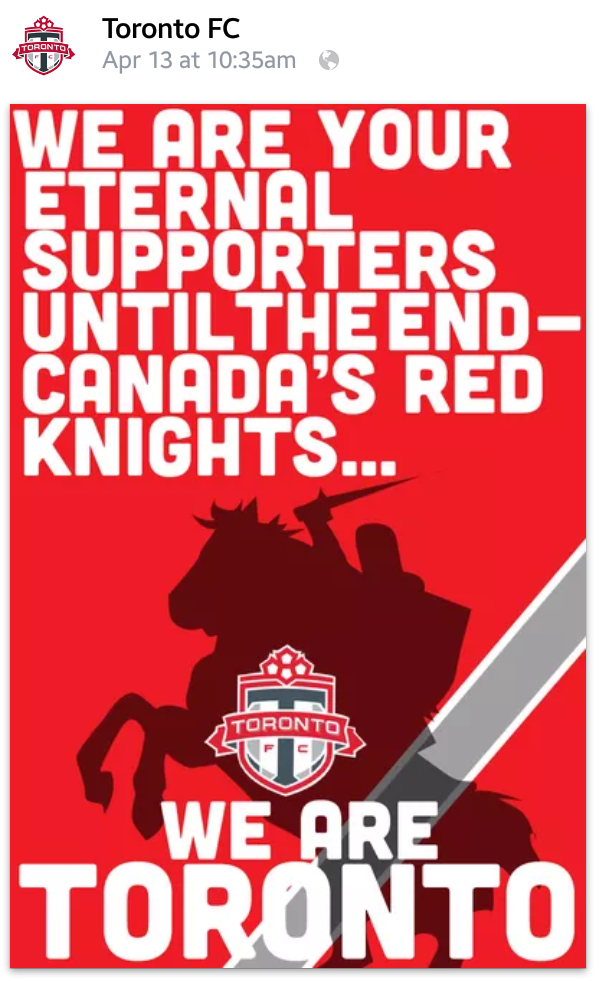 Looks great, right? Yep. Until you read the leftmost letters from top to bottom. Turns out a Columbus Crew supporter pulled one over on the TFC marketing chumps, and got them to broadcast their suckitude all over the bloody big internet.
Now where is that B file…