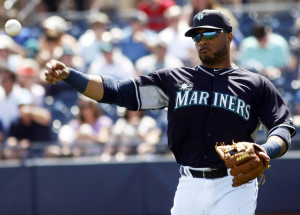 Welcome back to baseball, Major League style. Spring training is over, the games that matter (all 162 of them) have begun, and the Mariners find themselves at .500 going into today's series finale with the Rangers.
Starting the season in Arlington Monday, the Mariners had a nine-year Opening Day win streak on the line. Unfortunately, despite a one-hitter from Felix Hernandez, the Ms lost 3-2. The King issued an uncharacteristic five walks in six innings, and was hurt by two Mariners errors, both in the fifth, which led to the Rangers' three runs. This was the first time since 1913 when a team lost a one-hitter on Opening Day. Sometimes it feels like the Mariners are apt at being first in categories where one really would rather not lead.
Fortunately, the middle game of the season-opening series with the Rangers had a much better outcome. FOUR Mariner home runs (following two on Opening Day), including a Nelson Cruz #boomstick shot in the fourth, and three (that's right, three) in the eighth inning off former Mariner Tom Wilhelmsen.
The eighth also featured the Mariners, including new manager Scott Servais, coming out of the dugout after Wilhelmsen appeared to intentionally hit new Mariner catcher Chris Iannetta. Wilhemsen wound up giving up five runs to as many batters in that inning, so he must have been frustrated. But the real story here was the quick response from Mariners players and Servais, who were quickly out of the dugout and yelling at the Rangers. Sure, baseball isn't hockey, and no punches were thrown, but the passion and fire on display were a welcome contrast to some previous Mariners teams.
Other good stuff: Luis Sardinas hit his first home run yesterday. Robinson Cano now has two home runs, including a monster first-pitch solo shot off Wilhelmsen yesterday.  And the Mariners bullpen threw four innings of one-hit ball, holding the Rangers scoreless after Iwakuma's exit at the end of the fifth inning.
I told some guy who keeps nagging me about writing Mariners articles here that I think two keys to the season are how 1) Cano comes back from his injuries last year, and 2) how the bullpen performs. It's very very early going, but so far both of those things look good.