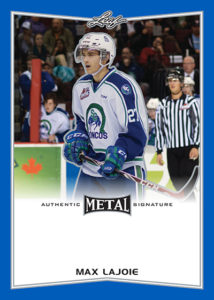 Not so long ago, I was tapped by Leaf Trading Cards to shoot photos for their junior hockey series.
I have dozens of dynamic action shots I'm super proud of, but the first one that got picked up for a set is this rather pedestrian still shot of draft prospect defenseman Max Lajoie. There are three more pics that are coming in a subsequent set, including two of Vancouver Giants Ty Ronning and Ryan Kubic; this one, however, will always be my first trading card credit.
Thanks, Leaf, and thanks, Max Lajoie!