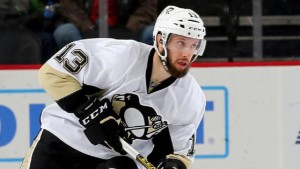 Don't let the weather forecast fool you. There's a cold wind blowing in Pennsylvania these days, and it's guaranteed to land the Stanley Cup right into Pittsburgh for the fourth time in franchise history. Here's why:
1. Well, duh. They won Game One.
If NHL.com can be believed, the team winning Game One of the final has gone on to win the Cup over 78% of the time.  To be exact, since the best-of-seven format was adopted in 1939, 54 of 69 teams have followed a Game One win with a championship parade.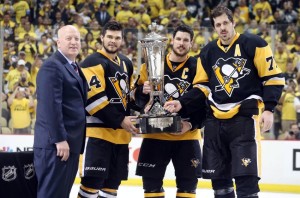 2. The Pens are bloody fearless.
When Pittsburgh waved buh-bye to the Tampa Bay Lightning after Game Seven of the Eastern Conference Finals, captain Sidney Crosby didn't hesitate to touch the Prince of Wales trophy. Where others quail at the prospect of physical contact with a silver bowl not named Stanley, Sid skated right up to Bill Daly and grabbed hold of that bad boy and passed it around like a dog-eared copy of Atlas Shrugged at a young Republicans convention.. Don't get me wrong: Crosby is hella superstitious; nobody on the team touched the Wales trophy when they advanced to the final in 2008. After losing to Detroit, however, they decided to switch it up the following year. In 2009, Crosby & Co. hoisted the bejesus out of ol' man Wales, and that's when they won their third Cup. A new tradition was born.
3. Nick Bonino
The Anaheim Ducks wrote him off, and the Canucks tossed him overboard. Hell, even  in Pittsburgh, Nick Bonino only had 29 points this season. But in the playoffs so far, he's racked up nearly a point a game and ignited Phil Kessel on perhaps the best third line in this man's NHL. His game-winner on Monday night wasn't the prettiest goal you'll ever see, but young Saint Nick picked a damned good time to put a dagger into the San Jose Sharks.
We'd be remiss if we didn't include this outstanding call of that GOLAZO by Hockey Night in Canada's Punjabi play-by-play crew:
*Blesses your timeline* #BONINOBONINOBONINO@IceSinghHNIC @RandipJanda @HarpPandher @BhupinderHundal pic.twitter.com/07TXfKje21

— Hockey Night Punjabi (@HkyNightPunjabi) May 31, 2016
He's not known as a shooter, but he rifled a wicked wrister through Martin Jones with three minutes left in a tight contest. Bonino's gone from also-ran to core player in a remarkably short period of time in Pittsburgh. Look for the man Raffi calls Boninophone to win whatever Unsung Hero award they give away in Pens land after the lift Lord Stanley's greatest beer mug.
"@passittobulis: BONINO SCORES KESLER DOESN'T CANUCKS WIN THE GAME AND THE TRADE OMGGGG" #Boninophone 🎵

— Raffi Cavoukian (@Raffi_RC) November 10, 2014
4. The Pens play a deadly north-south, firewagon brand of hockey.
Sidney Crosby and Evgeni Malkin are able to play on the wall — Glenn Healy is fond of running film that shows off Sid's low centre of gravity and upper body strength — but they much prefer to skate the puck up the middle of the ice.  When they're on, boys and girls, these two can create magic out there. Crosby is hungry right now. He knows a Cup this year will cement his legacy as one of the truly great leaders of this generation. It's a banner that's drooped since Jonathan Toews and Drew Doughty have put the Blackhawks and Kings on their backs over the past few years, so Sid is doing everything in his considerable power to shuck the "not a playoff performer" label he's managed to acquire since consecutive final appearances in '08 and '09.
As long as the puck is moving back and forth, the Pens will scrub the Sharks into scoreboard submission.
Prediction: Pens in 6.
Coming up tomorrow: San Jose will win the Stanley Cup.