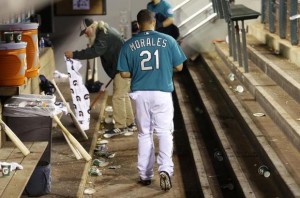 Ouch.
My wife and kids watched two Mariners games this weekend. Both went into extra innings. Both ended as Mariners losses.
I only sat through one, Sunday's 10-inning 3-2 affair. The Ms put up ten hits but could not bring a man across the plate when it really, really counted. Kendrys Morales (and yes, it's only a small sample size) is 1-for-10 in his return to Mariners blue. Twice Sunday afternoon he came up with runners on, and did absolutely nothing productive either time. Unfortunately he was not alone in this predicament.
Talking with an old friend earlier today, I realized that part of me just wants the team to tank, go on a 15-game losing streak and erase any possible hope at the playoffs. The certainty of suckitude, in some ways, is better than the ping-pong teasing of having a wild card slot and then losing it. Yes, there is still a chance the Ms can take that wild card slot back – but this weekend did not help that chance.
There are still a few more days left until the trade deadline Thursday. It is certainly possible that this Mariners front office, famous for not leaking word of moves until they are actually being made, has some great news coming for us. This would be a very good thing.
It is still clear that we need a bat (and probably more than one). Watching Adam Jones hitting for the Orioles Sunday was a knife wound; imagining him playing the Safeco outfield a bitter frustration born of what could have been. Bill Bavasi's legacy continues to hang over this Mariners team.
Silver linings department: Chris Taylor looked very good at the plate, at least what I saw on Sunday. King Felix was King Felix Friday night, and that is always a good thing, even when not enough offense can be found to help him out. Did I mention the Ms had 10 hits on Sunday?
The weather is gorgeous, August is almost upon us, and there are plenty of other things to do besides watch/listen to/be frustrated by the Mariners. And the season is not over yet. But this was a tough series.