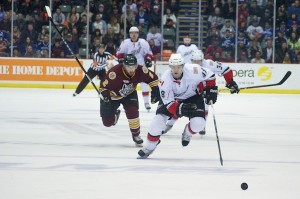 Pucked in the Head is happy to have the one and only Kennedy Goodkey guest posting for us this evening. Please hold your applause until the end of the introductory paragraph. Mr Goodkey has joined us for a couple of podcast episodes in the past, most notably in Top 7 Canucks Nicknames, Part I & Part II.
This marks the first time he has trekked up the road to an Abbotsford Heat AHL game, and it happened to be on the very day that NHL hockey was officially announced to be coming back from the lockout. He decided to record a running commentary of the evening as he went, warts and all. By 'running commentary', I mean just that. He goes from folk rock to sports aha-moments to popcorn in, dude, mere seconds. And by 'warts and all', I mean 'complete with double spaces after periods, like some retired receptionist who still thinks Robert Goulet is just the dreamiest. I can say that because I am, in fact, Robert Goulet.
Not to take anything away from Kennedy's usage of the word 'antipodal' — which is awesome, by the way, my favourite part is when he writes, "I must be some kind of elitist hockey-jerk." But don't let me spoil everything for you. Have a gander after the jump, and enjoy! Just remember that Mr Goodkey's opinions are entirely his own, and with the exception of his loathing for the song Cotton-Eyed Joe, they do not reflect the deep, inner love and respect for all human life levels of hockey that Chris Withers and I hold dear.
— Jason Kurylo, who is, like, totally bogarting Kennedy's opening
A Little Bit of Id Salad, by Kennedy Goodkey
Or, "Chicago Wolves 1, Abbotsford Heat no score"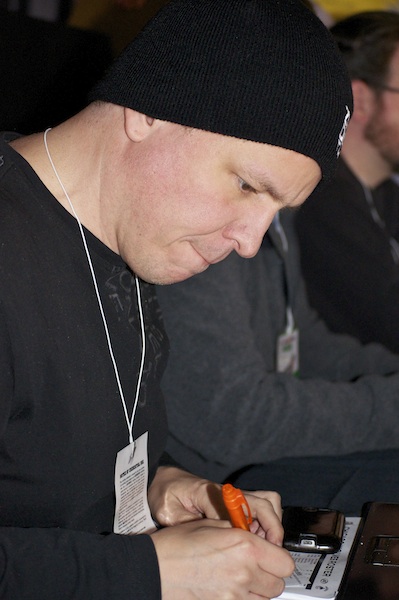 I'm doing penance as a bad hockey fan. I'm not going to make excuses. It happened. I'm fairly well known amongst friends as devout hockey fan. Mostly Canucks, but not exclusively. The only time since 1994 I've missed the Stanley Cup getting lifted was when Sidney Crosby did it. I was stuck on a late ferry. I used to maintain an encyclopedic recall of major Canuck's trades – but I can't do that these days, I'm just not that rabid anymore.
And perhaps this whole lockout business has provided evidence of me slipping further. Rather than fill the gap in my NHL viewing with anything hockey, I've spent my time catching up on Sons of Anarchy and playing puppets with my daughter. I haven't gone to a Giants game. I didn't watch a minute of the World Juniors (which was aided by the nearly antipodal location of the tournament this year.) The ONLY hockey I saw was a handful of old highlight reels on YouTube that I watched with the previously mentioned sprog – just to remind her that she was born a "'C'-nucks" (her term) fan.
Nonetheless, I was delighted when Jason invited me to come out to Abbotsford to watch a Heat game as they took on the Chicago Wolves – the Canucks' AHL affiliate. Better yet, I got to come under the Pucked in the Head banner as (ahem) media. Right on. I get to go and see the Canucks prospects and up'n'comers I'm curious about! Twelve hours after I accepted the invitation, the news came – the big show was back on. Training camps start tomorrow – the NHL is going to be back next week.
WAIT A SECOND! Training camp starts tomorrow? Shit. The prospects for both the Heat and the Wolves all left for camp no later than this afternoon. I get the left-overs.
Okay, standing up and belting out our national anthem in a sold-out hockey arena always chokes me up. It is great to be watching live hockey again. Yesterday, the Wolves spanked a lacklustre Heat, who lead Chicago in the standings by four points and six places. Abbotsford's post NHL-prospect exodus squad wasn't intent to let that happen again, coming out aggressively in the opening five minutes of the game…. Who am I kidding? I could care less about the Heat, even though they are the most "local" to me. I'm here for the Wolves, and even then, with the prospect of the NHL being back soon, I'm not even that excited about their "not worthy of imminent NHL interest" also-rans. Where are the ice girls? I hope they play more Mumford and Sons. Mmmmmn, this popcorn is good.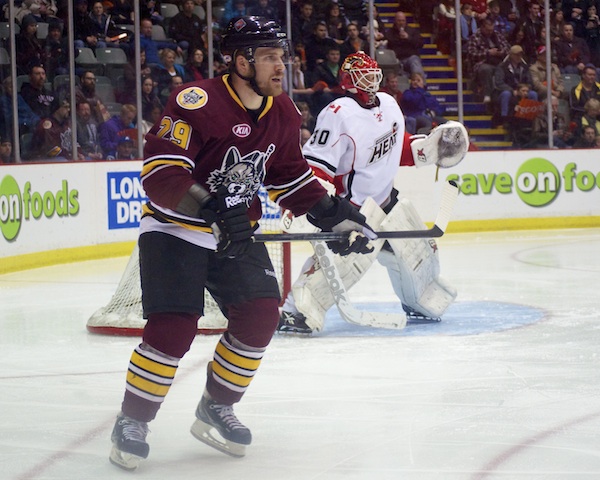 The fact of the matter is that the first period was pretty dull until the last minute featured a sloppy shorthanded Heat breakaway which Brett Olson failed to capitalize on, followed by a power play goal for the Wolves Andrew Gordon. At least the intermission gives us Timbits hockey with practically no dump and chase.
Is it fair to feel so entitled to a good game? No. It's not. Three hours of uninterrupted hockey. Excepting the 2011 Stanley Cup run, I haven't managed to find that much time in a week for watching hockey since I became a father. How dare I want good hockey? I must be some kind of elitist hockey-jerk.
Speaking of hockey jerks, what is with that guy sitting in the third row with the Bruins' jersey? I note nobody is sitting near him. Better that, I suppose than conducting a physics experiment with his face in a classic Mike Millbury style.
Halfway through the second and things are looking better. No change in the score, but Abbotsford has really turned up the… nope – can't do it – doubling Chicago's shots and despite some shaky execution, definitely a more exciting game. Don't let anyone ever tell you that you need goal-scoring for an exciting game – you just need skaters who play like there is something to lose.
Ah crumb – Cotton-Eyed Joe can take the shine off the best of situations. Isn't it time to retire that damned song after twenty years?
Second period. No scoring – much better period. I stand by my contention – you don't need scoring for good (or at least better) hockey.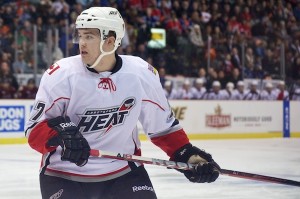 Somewhere in this next period, as a member of the "media" I'm going to be handed a ballot for the game-stars. How unfair is that? Not to me. I've got almost nothing at stake in having to make that decision. But is it fair to the players? Do they even care? I hope not, 'cause I'm just not familiar enough with the teams – I can hardly keep track with of such a bunch of strangers. At this point Gordon is an obvious choice with the only standing goal, but that could easily change. Matt Climie is working on a shut-out (Oh yes, I said it – gasp!) but that too is an easily changed quantity. Assuming no change, I'm still stuck for a third – perhaps the D-Man with the greatest amount of most productive ice time? Oh shit… they just handed me the ballot – I only get until six minutes remaining into the third period to base my choice on! Seriously, WTF!? How am I supposed to deem someone a "star" with nearly a quarter of the period to go?
Uh oh… they're replaying the first period again. Please, please bring on the excitement of the 50/50 draw. (Which I'll point out I never win half the time.)
Jason, my host returned from his photo-shooting duties at ice level for a bit and showed me some of his pics and we chatted about Stanley Cup riots… and I have to make my choices now. The most significant thing to happen in this period is Climie's SO continues, so he's my number one. I guess Gordon gets the nod for two and let's see… most ice-time is Callahan for Abbotsford, so I have an excuse to spread the love around.
Abbotsford goalie, Danny Taylor, mishandles the puck behind the net and gets lucky as a bad-angle shot from Bill Sweatt misses a totally untended net.
Oh for Chrissake someone score. Am I NHL jaded? Perhaps. Wait… oh my god… have I turned into an NHL fan – as opposed to a hockey fan? Naw – can't be. I'm still looking forward to Canada defending their gold in the 2014 Sochi Olympics.
Final score: 1-0 for the Canucks' player development system, it appears that the rest of the media used the same criteria for picking the game stars, and Susan from Abbotsford won $7200 in the 50/50 draw.