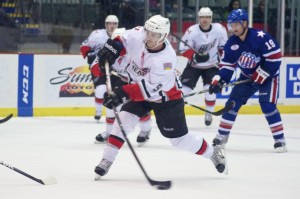 The Abbotsford Heat turned things around against the Rochester Americans, earning a split in their two-game set to open play in 2013 with a 3-1 win on Saturday night. The Americans won the first game of the weekend 5-2 on Friday.
Coquitlam native Ben Street had two goals and an assist in the win, while goaltender Danny Taylor stopped 17 of 18 shots. Here's the game sheet.
With the win, the Heat remain tied for fourth in the AHL Western Conference. Abbotsford, the Houston Aeros and Texas Stars all have 41 points in 34 games. In the North Division, Abbotsford sits four points behind the Toronto Marlies, who themselves beat the Rockford Ice Hogs 5-2.
The Abbotsford Heat have a pair of home games against the Vancouver Canucks affiliate Chicago Wolves next Friday and Saturday, January 11 and 12 at the Abbotsford Entertainment and Sports Centre. The puck drops at 7 pm on both nights.
More after the jump.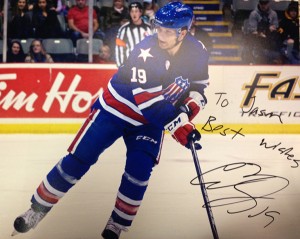 On a personal note, I played complete cheeseball after the game. After the media scrum, wherein I got a couple of good soundbites from Abbotsford's Sven Bärtschi and Rochester's Cody Hodgson for the podcast, I made a quick jump over the fence into fanboy territory. I pulled out an 8×10 print of a shot I'd taken of Hodgson the previous night, and asked him to sign it. He agreed, and asked to personalize it — fair enough, I suppose, as I'm sure these guys get tired of things like this showing up on eBay. Anyway, here it is.
Any thoughts on whether or not to ask for an auto if your job or your hobby happens to put you behind the scenes? Russell from the Heat reminded me of a time Petr Nedved took flak from media for asking Wayne Gretzky for a stick after a regular season game. Me, I don't see a problem with it. If you live and breathe hockey, which players do more than we fans or media, you would kill to have a game-used Wayne Gretzky stick on the wall in your den. David Pratt or Jason Botchford are lying to you if they tell you they've ditched fan allegiance to their favourite teams or players just because they get paid to voice their opinions.
Me, I'm a blogger who dabbles in photography — speaking of which, photo galleries of this weekend's games can be seen here and here — and I use my common sense to avoid getting in the way of people while they're busy. As long as I'm not hawking around the dressing room or demanding guys sign five things while the bus is inching out of the parking lot, is there harm in it?