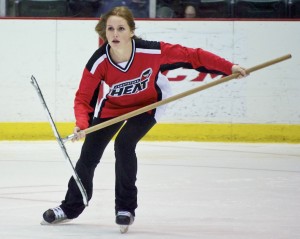 The Abbotsford Heat earned a split in their back-to-back set against the Rochester Americans with a 3-1 victory on Saturday night. After the jump, grab a gander at some images from the contest. Or just read about it here.
Either way, give a guy a hand with some fundraising for the Ride to Conquer Cancer.

Don't hate me because I'm beautiful. (Mainly because, well, I'm not.) Instead, hate me because I get to stand rinkside and snap photos like these bad boys. Oh, and these other ones from Friday as well.