This was a dominant performance. The Vancouver Whitecaps took vengeance down the I-5 and spanked the Seattle Sounders 3-0 this weekend, and in doing so moved back atop the Western Conference standings.
Pa Modou Kah, he of a single goal during his respectably long MLS career, put a brace into the back of the Seattle net, and stirred up considerable ire among Flounders fans, players and scribes with his post-game giggles on the Century Link pitch. Kah earned a spot on the MLS Team of the Week for his efforts. Not bad for an ageing defender more famous for big gaffes than big goals.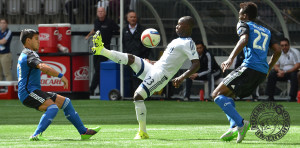 It was a text book, solid performance by the visitors. David Ousted got the clean sheet by wasn't really tested, if we're being honest. Kendall Waston earned his obligatory yellow card for little more than being a large man. Pedro Morales scored a beauty of an insurance goal on a free kick from distance.
Over 53,000 fans took in the spectacle. It marks seven losses in eight games for a Seattle team that has all the parts to do damage. This Sounders squad doesn't know what to do with itself right now. Defence? Atrocious. Passing? Loose and irresponsible.
Vancouver is happy to take advantage — these three points mean another Cascadia Cup is just a draw away. Before that, look for heated challenges and not-so-gentle tackles to rule the day when these two teams square off on Wednesday at BC Place in Champions League play. And don't be surprised if Kah is even more trash-talky than usual after this two-goal performance.
Highlights, even if the preceding ad's depiction of a Vancouver fan practising in deep snow is particularly galling. Have any of the MLS staffers even been north of 49 before? This is a league where 15% of franchises exist in Canada, but they only play the Star-Spangled Banner before the All-Star Game. Vancouver has snow on the ground occasionally — about as often as MLS brass makes sense, but we would never suggest logic as being one of their defining traits.