Saturday saw the 2013 edition of Five Hole for Food wrap up in Vancouver with a festival-like atmosphere. Tunes played all afternoon, free snacks and water bottles  roamed the city block  of Granville Street between Robson and Smithe, and hundreds of people gathered to play ball hockey. Let's not forget the main aim of the event: participants and sponsors combined to donate over 70,000 pounds of food to the Vancouver Food Bank. In just four short years this campaign has turned into a frickin' juggernaut of charity goodness.
Their impressive run is one of the reasons we're proud to partner with them to introduce the inaugural Vancouver Table Hockey Extravaganza on September 20-21 at Robson Square.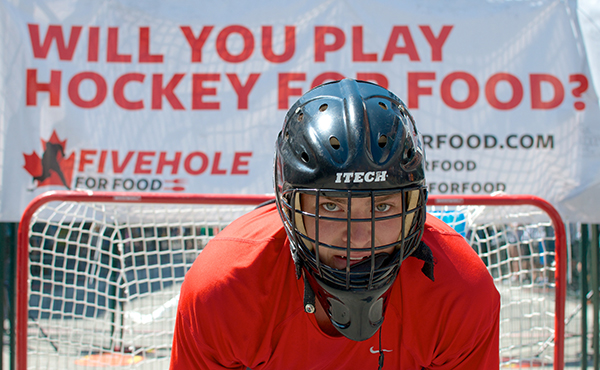 Let's put this in perspective, shall we? In 2010, Year One of FHFF collected 6,000 pounds of food in nine cities over 11 days. Pretty good for a couple of college guys looking for an interesting alternative to the traditional summer break road trip.
Well, Vancouver's intake of well-wishing this year has beat that year's entire tour twelvefold. In all, not even including warmup events in northern BC and as far south as New York City and Autin, TX, Year Four  hit 13 cities in 17 days and collected a whopping 300,000 pounds of food. That's over 135 metric tonnes going to regional food banks across the country.
More after the jump.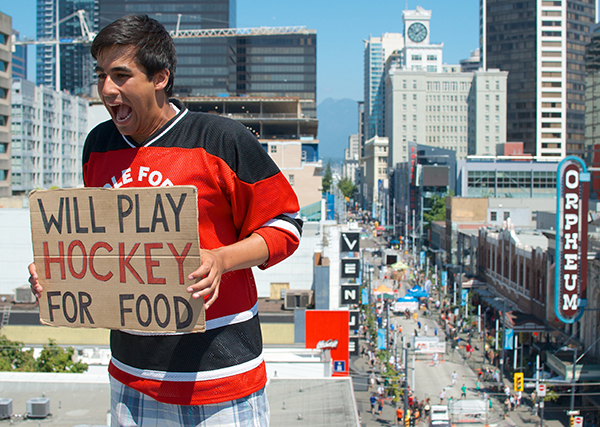 This year's tour garnered video cameo appearances from such hockey notables as Trevor Linden and Roberto Luongo. Kyle Turris showed up to play in Ottawa. BC Premier Christie Clark recorded a lengthy video in support of the tour, and July 17 was proclaimed Five Hole for Food Day in Edmonton. Saturday's finale, like past years, featured Vancouver Mayor Gregor Robertson playing in the opening game; it also received drop-in support from recognizable faces like YVR-based singer Bif Naked.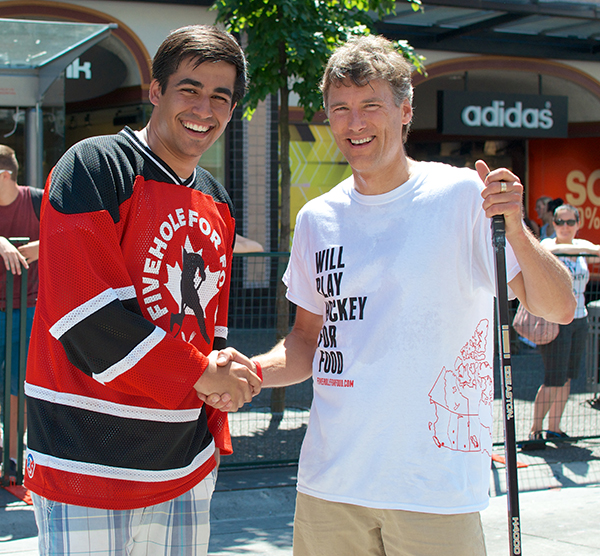 Groups ran the gamut from representatives from sponsor companies (like London Drugs, ING Direct, Boston Pizza and Nature's Path) to BC's vibrant mining community — warning: these mining folk play some serious hockey. There were also appearances by smaller community organizations such as the Vancouver Facial Hair Club. As for Vancouver's active media culture, we counted dozens of broadcasters, scribes, online writers and photographers who came down for at least part of the day. Best voice? Fred Lee from CBC. I'd recognize that generous laugh anywhere. Best Ugly Jersey? None other than Chris Withers, with the Hallowe'en Wolfsburg Grizzly Adams special that I gifted him last year. Best shootout move? Harrison Mooney, whose forehand-backhand-top shelf beauty would've made Alex Burrows cry.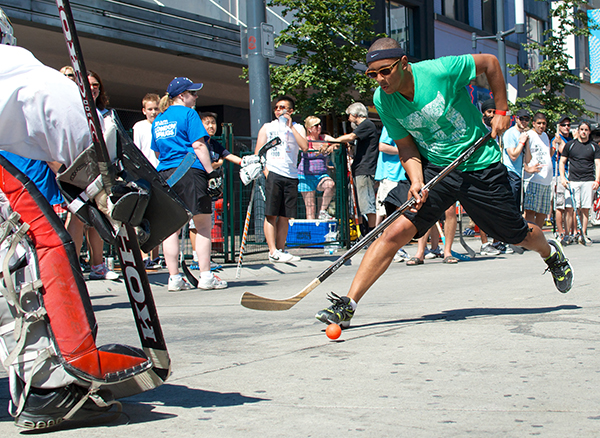 So yeah, if you haven't donated to Five Hole yet, head over to the Table Hockey Extravaganza website and register for the September 21 tourney. Or drop non-perishable food items off at any ING Direct café location & tell them it's for Five Hole. Or go directly to the Food Bank in your neighbourhood with a few tins of veggies and a couple of packages of Shin Ramyen. Whatever you do, make like Harrison and his Nike headband above and just do it.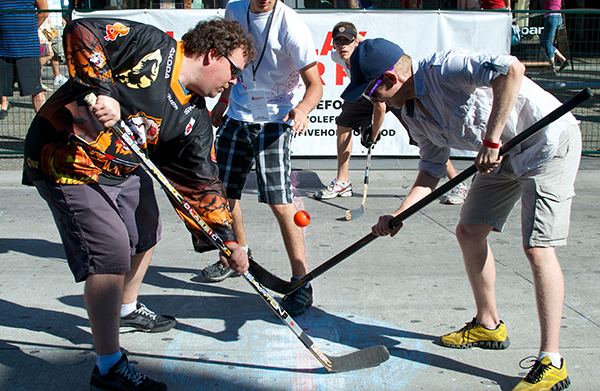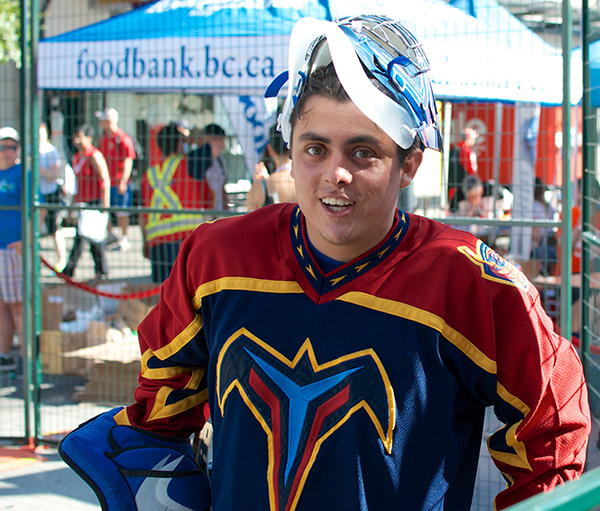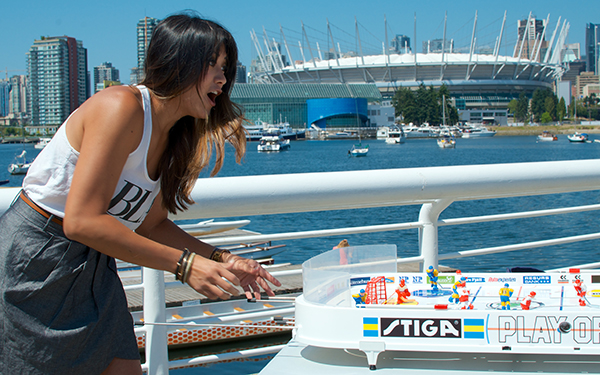 And you want video, you say? We've got that too. If you scrunch your eyes up real tight, you'll catch yours truly sitting cross-legged snapping pictures behind the net at the 1:28 mark as the Boston Pizza guy comes in for his shootout attempt.