Update: We did it, baby!
When Dom Hasek and the Czechs played for the shootout in the 1998 Winter Olympics, something clicked in this country. Canadians of all stripes called for heads on platters and executives on ice. The consensus? This is our game, damn it, so fix it and bring home the gold medal. Enter GMs Wayne Gretzky and Steve Yzerman. Enter heroes Joe Sakic and Sidney 'Golden Goal' Crosby. Enter come-from-behind goaltenders Martin Brodeur and Roberto Luongo.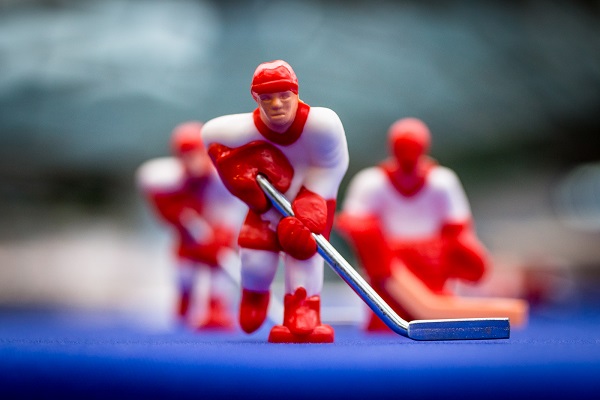 A few months ago we found out that the Guinness Book of World Records recognized a group of eight Czechs for the longest continuous table hockey game, a 26-hour, 16-minute affair by Martin Ženíšek and seven friends in 2008. We at Pucked in the Head believe that this is our game, damn it. So we fixed it. We brought home the record.
More after the jump.
Six Canadian men stood at the centre of Robson Square ice rink this weekend to claim the record, raising awareness, money and food for Canuck Place Children's Hospice and Five Hole for Food. Jason Kurylo, Chris Withers, Dr Rob Tarzwell, Brent Corba, Derek Macdonald & Jamie Macdonald played from 1pm Friday until 7pm Saturday, breaking for just five minutes at a time as per Guinness rules. The final tally, 30 hours played, 4,840 goals scored, twenty-four blistered fingertips.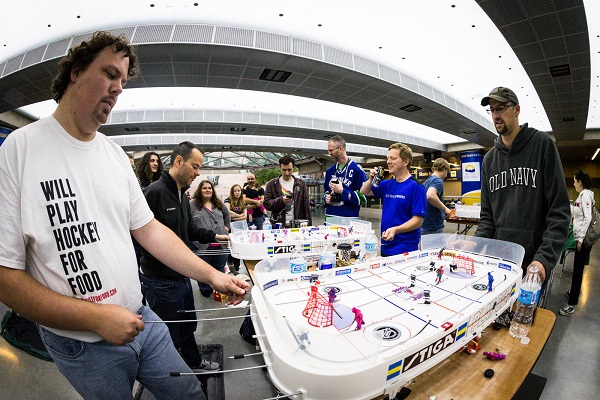 We'd like to thank a whole raft of people and organizations for helping us get there. First and foremost, Andrew Delbaere, he of the Surrey Eagles and SFU men's hockey program, who did the heavy lifting — sometimes literally — to get this event running on event day. I won't embarrass myself by publishing an incomplete list off the top of my head right now. (My brain is still recovering from the sleep deprivation this weekend, after all…) There were a couple dozen volunteers who put time and energy into making this happen.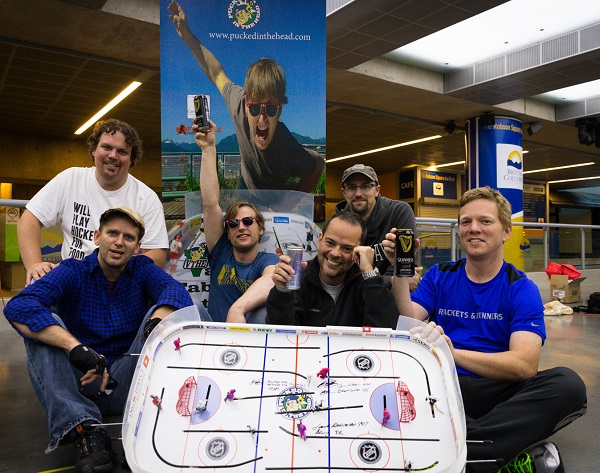 That said, I can give shout outs to ING Direct, Booster Juice, the Southsiders, Fitness Science, the FanZoo, Vancouver Canucks social media, Salt Spring Coffee Company, BC Floorball, Lions Gate Hospital, Beaver Buzz, the Vancouver Giants and let's not forget the good people over at Rackets & Runners on Oak Street. Without all of these people, our wee event could not have taken place. We humbly thank you.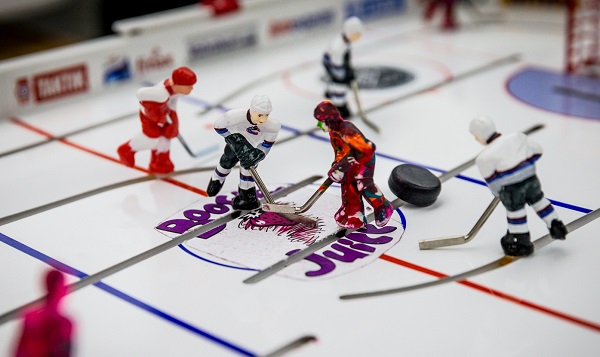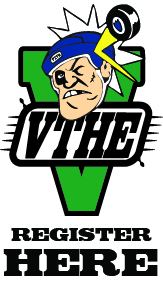 Update 11:30pm September 20th.
Going strong at Robson Square, we've just entered our 11th hour of table hockey, with under 20 remaining.
You can watch us live streaming at http://ustre.am/14Aul.
On Saturday, September 21 in Vancouver's iconic Robson Square, Pucked in the Head is hosting a table hockey tournament to celebrate all things hockey and the social aspect of real-world gaming. You can register for $25, with proceeds benefitting our partner charities, Canuck Place Children's Hospice and Five Hole for Food. You could win a Stiga table hockey game signed by a dozen Canucks players!
Beginning at 1pm on Friday the 20th, eight of us will attempt to set the World Record for the longest table hockey game in history. Come down to cheer, jeer or otherwise keep them awake — they'll play 30 consecutive hours, until Saturday at 7pm.

How would you like to play alongside our World Record setters for their final few hours? You can register for Saturday's 1 pm tournament here. All registrants will receive a bag of goodies and five guaranteed games in the tournament before the playoff round is set. The tourney will take place alongside the World Record table hockey players as they vie for their spot in the history books!

Think Robson Square. Think community. Think prizes, and laughter, and fun. Think World Record. Think table hockey.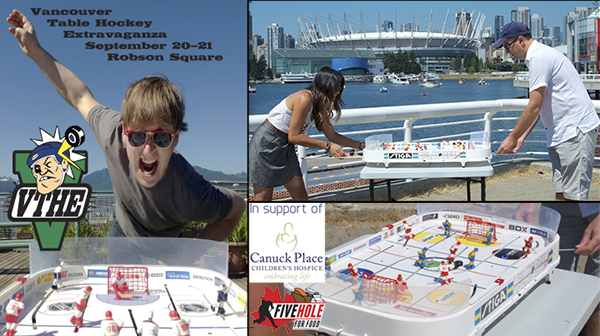 Hundreds of people will gather in Robson Square to play table hockey on Saturday the 21st in the afternoon. Registrants will vie for bragging rights and prizes, but mostly to see who can have the most fun for their $25. We'll also have a demonstration by the good people at BC Floorball, freebies, music, food and bean bag tosses.
Starting on Friday afternoon, eight sturdy folks will settle in to break the world record for the longest table hockey game. Sponsors and donors are able to get in on the action, sure, but everyone is welcome to come on down to watch these sturdy fellows stare each other down over little plastic hockey players for 30 consecutive hours. Our goal is to raise $30,000 for our partner charities: Canuck Place and Five Hole for Food. That's $1K for each hour in the World Record attempt. So bring a few bucks and a bag of non-perishable food items — but whatever you do, bring a smile and hunger for a good time!
Friday afternoon will also feature Whitecaps FC anthem singer Marie Hui singing O Canada to start the World Record attempt (1pm start), as well as a media challenge mini-tournament (2pm start) and a social media maxi-tournament on Friday night (6pm start).
Rough schedule for the Saturday tournament — September 21
1pm round robin start4pm playoff start
7pm champion crowned!
Years ago, every house had a game room. You know, with games in it. Board games. Card games. Table games. Social games. Today homes have TV rooms with multiple video game consoles.
Inspired by Five Hole for Food's cross-Canada campaign to play ball hockey for local food banks, Pucked in the Head is proud to introduce an event aimed at getting people back into the social nature of true gaming and gamesmanship.
The Inaugural Table Hockey Extravaganza invites people to talk, to share, to play around all aspects of our great national love, hockey.