It's Christmas Eve, and you still haven't gotten that damned hockey fan in your life something for the big day.
So why not go digital? In particular… well, you'll find out after the jump.

4. A digital download of the classic animated short, The Sweater.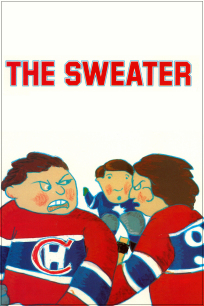 Roch Carrier is a wildly popular children's writer in Quebec, and many of his stories have made their way via translation into English Canadian schools as well. Far outreaching all of his other works is The Sweater, translated from his French classic Le Chandail. I admit, it's a story about Leafs fans and Habs fans, but Mr Cohen doesn't pay a dime (as far as I know) to the NHL or its teams, and neither does the National Film Board of Canada, who distributes the animated cartoon. Please let me know if I'm mistaken — if the NHL gets royalties from this video, or this book, then I'll remove it from the suggestion list.
The NFB has thousands of videos available for streaming, and many of them are also on tap for digital downloads at very reasonable prices. An HD version of The Sweater is just $5.95 in British Columbia, with its regular D version two dollars cheaper. DVDs for Canadian customers are an entirely reasonable $12.95 — of course, you won't be getting that in time for stockings in the mornin'. (Sorry, I don't know the prices or availability in the States or overseas.)
Gift your favourite pucknut this movie, and he or she will love you forever. Or at least for ten minutes and 21 seconds of animated bliss, anyway. Afterward, they might need to collect themselves from their reverie, remembering what a colossal clusterbleep Gary Bettman and Co. have whittled the league into.
Look for more Last-Minute Gifts for the Family Hockey Fan over the next few days.
Part 1 – Ken Dryden's The Game, can be found here.
Part 2 – Dave Bidini's Tropic of Hockey, is here.
Part 3 – Tickets to games in the AHL, CHL, college, etc. is here.