Using techniques developed by my wife's Mayan ancestors, including sacrificing several bulls under this week's blood moon, I have determined beyond a reasonable doubt who will win the 2014 Stanley Cup. Unless the sun implodes and Stephen Harper finally reveals that he is now, and always has been, an Amway representative, the San Jose Sharks will leave greasy playoff beard residue on Lord Stanley's mug.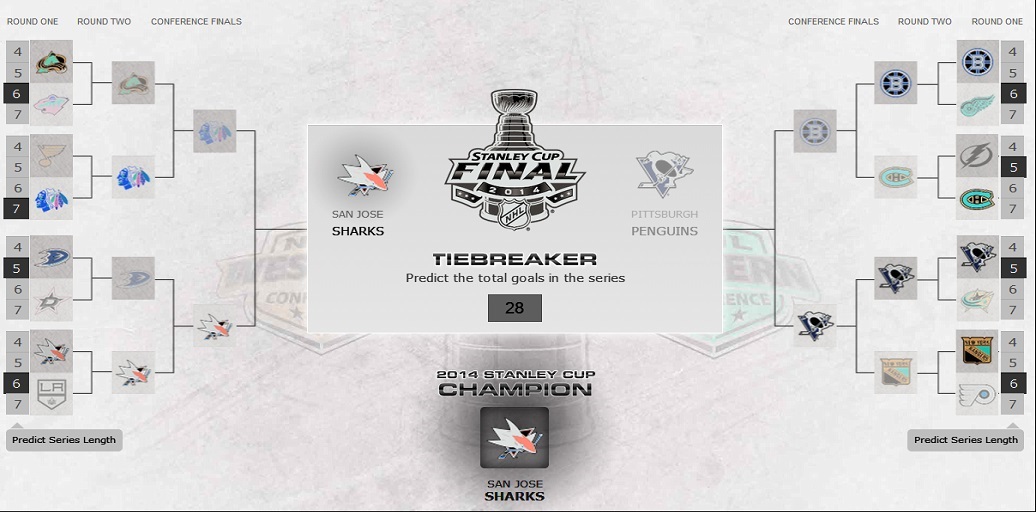 Western Conference predictions – click here.
Eastern Conference
Boston Bruins vs Detroit Red Wings
Who doesn't love best-of-seven hockey between Original Six teams? The always dangerous Wings are in their thirty-seven millionth consecutive post-season, but Boston Strong is going to prove just too much for Motown this time round. The Bruins, largely on the back of a resurgent Jarome Iginla,  have found a happy middle ground between the bullies who wrested the Cup from Vancouver in 2011 and the bullies who finessed game seven from Toronto last season.
Bruins in 6.
Montreal Canadiens vs Tampa Bay Lightning
Hey. I like this Stamkos kid. But the Habs have a whole country behind them. Can you imagine the passive aggressive apathy oozing from Canada if the only True North team to make the playoffs got bumped by a team that traded away Martin St-freaking Louis? Sorry, it's unfathomable. Carey Price and PK Subban ride their gold medals into the second round.
Habs in 5.
Pittsburgh Penguins vs Columbus Blue Jackets
Aww, isn't that cute. Columbus made the playoffs! One day, they'll tell their grandchildren they skated with Sidney Crosby and Evgeni Malkin. Hey, let's give them a game just for Marc-Andre Fleury's sake.
Penguins in 5.
New York Rangers vs Philadelphia Flyers
This is a hard series to call. The Rangers have potentially the best goaltender in the world in Henrik Lundqvist, and the Flyers have… wait, am I reading this right? They're starting Ray Emery? The Blueshirts have a tradition of disappointing in the playoffs, while Claude Giroux has a history of playing his way out of a guaranteed Olympic roster spot. New York has Alain Vigneault behind the bench — he of the multiple playoff runs  in Vancouver (and admittedly, multiple playoff disasters as well). Philadelphia has Craig Berube, who has precisely zero playoff games on his head coaching resume. Give the edge to the team with Martin St Louis.
Rangers in 6.