Fans in Vancouver are predictably blasé about the NHL playoffs; the Canucks have missed the post-season for the first time since 2008, and YVR hockey fans aren't exactly renowned for loving the game so much as their team. (Case in point: the Abbotsford Heat are shutting up shop at the conclusion of their playoff run after years of decreasing returns in the Valley. People out thisaway are so scared of Calgary Flames cooties they've refused to see professional puck for $20.)

We at Pucked in the Head believe in celebrating the game, even when our local team comes up lame. Here are Jason's picks for this year's post-season. He's so concussed by the ascension of Zack Kassian and the retirements of Teemu Selanne and Ryan Smythe — not to mention the bizarre first-round matchups determined by the NHL's new wild card system — that he's thumbing for Stanley Cup supremacy…  the San Jose Sharks (!?!?!?!)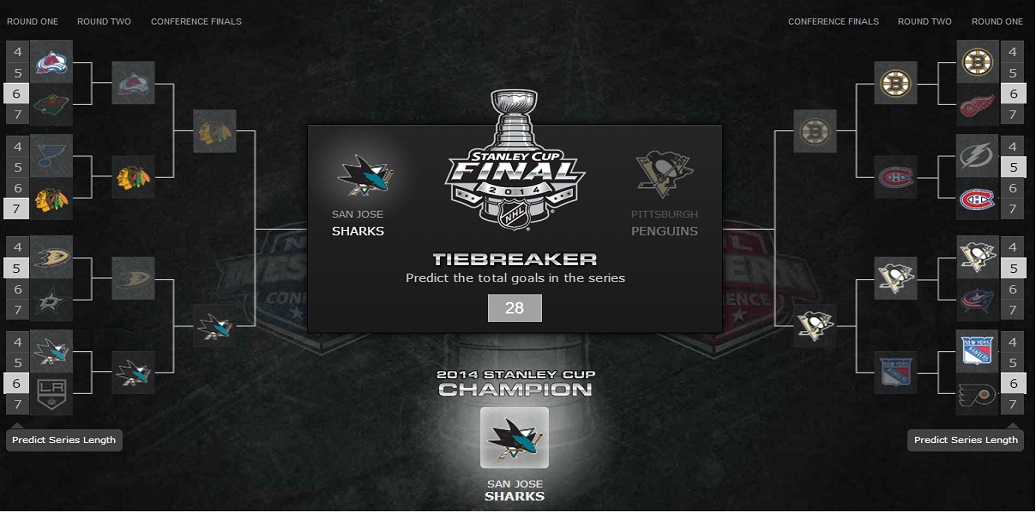 Eastern Conferece – click here.
Western Conference
Colorado Avalanche vs Minnesota Wild
The Avs and Wild have very similar home records this season, each notching 26 wins in their own building. The 14 point-difference in the standings, then, comes from play on the road. Patrick Roy has his group putting in equal performances at home and away, where Minnesota is decidedly not wild about hotel food. Sure, the Avs have a couple of injuries to contend with, but they finished the season with seven wins in their last ten games and look to make their first post-season appearance in four seasons count for something.
Avs in 6.
St Louis Blues vs Chicago Blackhawks
Ooh, this one's gonna be fun. The Blues have played hardscrabble, defensive hockey all season, and put the fear of stink into just about every team they played. If the playoffs had started a month ago, I'd have picked St Louis; sadly for them, they've gone cold, losing six straight to wind up the regular season. The Blackhawks, on the other hand, have won two of the last four Cups, and when all guns are firing, score it up with the best. Patrick Kane has started to come out of the funk inspired by his father's passing, and Marian Hossa is once again a formidable piece of the puzzle — until he gets hurt again, of course.
Hawks in 7.
Anaheim Ducks vs Dallas Stars
Look, I'm just as much of a Tyler Seguin fan as the next guy. When he's on his game, he's a beastly beasty beast. But no matter what Chris Withers says about 'em drifting to earth eventually, the Ducks have consistently put win after win after win on the board for a couple of seasons now. Only Chicago scored more often than Anaheim this season, and the Ducks only lost eight times at home all season. Add Selanne's swan song to the mix, and Dallas's Stars will fall to Anaheim's stars in no time flat. Give the Benn brothers a win just to be nice:
Ducks in 5.
San Jose Sharks vs Los Angeles Kings
As much as this battle of California should entertain — one recent Cup winner with an MVP goaltender vs a perennial regular season powerhouse full of vets hungry for post-season success — I fear it's going to be a festival of knuckledragging, dump-and-chase, strategy hockey. LA allowed fewer goals than any other team in the NHL this season, while San Jose was third-best in the West defensively themselves. Give the edge to the Sharks, who can actually put the puck in the net from time to time; the Kings had fewer goals than any other playoff team this year.
Sharks in 6.