Finally. After 301 days, 1230 games and eleventy billion unfunny Vancouver riot jokes, Wednesday will bring the return of NHL playoff hockey. Having learned absolutely nothing from the annual debacle of our regular season predictions — Leafs sneaking in, bah. Sabres winning the East, HA! — Pucked in the Head presents 2012 NHL Playoff Predictions… because dammit, that's what loudmouthed fans with self-published blogs do.

1 Vancouver Canucks vs. 8 Los Angeles Kings
What Jason thinks: The Canucks have a 16-point lead in the standings, an edge in the season series, and even without the concussed Daniel Sedin, a depth chart the Kings couldn't match if they grabbed Marcel Dionne, Rob Blake and Bernie Nichols out of retirement. Vancouver comes in hot, having gone 8-1-1 in their last 10, compared to 5-2-3 for LA. The only way the Kings win this series is if Jonathan Quick adds to the 10 shutouts he posted this season. Possible, but I predict Vancouver's power play flies high, & Roberto Luongo sticks the landing: Canucks in 5.
What Chris thinks: The Canucks may have gotten lucky with their first round opponent. Though they won the Presidents' Trophy for the second straight year, this team looked considerably less dominant than the 2010-11 edition. The lethal powerplay of yesteryear hasn't been seen in these parts for months, and Vancouver has taken to winning tight 1-goal games down the stretch. Fortunately, they meet a Los Angeles team whose offense is even more anemic. Their 2.29 goals per game was good for 29th in the NHL, besting only the lowly Minnesota Wild. LA's saving grace is their defense. Only St. Louis allowed fewer goals than the Kings. This is going to be a tight series, but when you can't score, you can't win. Canucks in 6.
2 St. Louis Blues vs. 7 San Jose Sharks
What Chris thinks: In four meetings this season, San Jose got shut out twice and managed  a measly three goals against the Blues. Despite St. Louis struggling down the stretch, eventually coughing up the number one seed, there's no reason to think that the Blues' NHL-leading defence is about to let up any time soon. The Sharks will not score a lot of goals in this series, which will force them to rely on the overrated Antti Niemi, and a defense corps that gets awfully thin after Dan Boyle and Brent Burns. Combine that with the Blues' dominant home record (6 regulation losses all year) and this will be a short one. Blues in 5.
What Jason thinks: Like the Kings, San Jose's alarm clock didn't go off until sometime after Christmas, and they nearly missed the playoffs because of it. The Blues, on the other hand, rode obscenely strong goaltending to the best defensive numbers in the league. Brian Elliott broke Glenn Hall's single-season franchise shutout record, for crying out loud. GLENN HALL! As in Hall of Fame? Anyway, the Blues work hard every game, but the Sharks have something to prove & the experience to manufacture the win. Sharks in 6.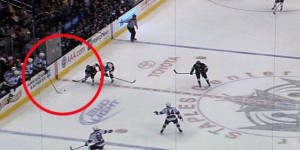 What Rick Brewer (@Noctro & contributor for Fear the Fin) thinks: It seems the Blues had the Sharks' number this year, and indeed they may have — on the powerplay, anyway. Keep in mind that St Louis scored only one even strength goal vs. San Jose in the last three games of the series. The key to playoffs success for the Sharks? Exactly what they've done since acquiring Daniel Winnik and TJ Galiardi: run four valid scoring lines, avoid the penalty box, and do everything possible to generate scoring opportunities (Well, almost anything: don't do that, Mr Clowe. It's not allowed.) These Sharks are stacked with the talent and scoring depth they need to make regular season losses to the Blues a distant memory. Games will be very close, but Sharks in 6.
3 Phoenix Coyotes vs. 6 Chicago Blackhawks
What Jason thinks: Not too long ago, the West was built upon fast skating, firewagon hockey. No longer. The Phoenix Coyotes, much like the Blues and Kings above, are in the post-season for defense – not because they score more than the other guy, so much as they keep the puck out of their own net more than the other guy. Mike Smith should have a street named after him in Arizona – or given how many people there watch hockey, maybe an alleyway somewhere. A shrub, or something. Hawks in 5.
What Chris thinks: Jonathon Toews is miraculously ready to go, despite rumours he's still suffering from his concussion. That Blackhawks core is deadly, but the supporting cast that took them to the Cup two years ago just isn't there anymore. Corey Crawford remains a question mark in goal, and Phoenix's Mike Smith is at the top of his game. I think the Blackhawks firepower wins out, but it won't be easy. Hawks in 7.
What Cheryl (@HockeyBroad) thinks: Regular season games between these two shouldn't be a guage for how they'll do in the playoffs. The Blackhawks haven't played well against Phoenix lately, but I wouldn't categorize any of those games among Chicago's better efforts this season. Historically, certain players on the Hawks find a new, higher gear in the playoffs, and the team is about to get Toews back, too. Smith can steal games for the Yotes, but if shutouts are an indicator for that, well, Crawford/Emery haven't had one. Hawks in 7.
4 Nashville Predators vs. 5 Detroit Red Wings
What Chris thinks: I was skeptical that Nashville could compete this year, given the players they lost in the off-season. I remain skeptical they can compete long term. But the moves they've made this season, coupled with the return of Alexander Radulov, make the Preds a force to be reckoned with. If any team can reckon with that force, though, it's their nemeses from Michigan. I want the Preds to do well, but Lidstrom, Datsyuk and Howard are going to break some Tennessee hearts. Wings in 7.
What Jason thinks: During the pre-season, we had Preds on the Glass host Buddy Oakes on the podcast (see below). He predicted Nashville would have a helluva season, and challenge for a Cup. Chris and I made fun – but we ain't scoffing any more. This is a dangerous team at both ends of the rink, ready to build on their first-round win over the Ducks last year. Pekka Rinne is as good a goalie as you'll see, and these boys actually score this year (and now they've got Radulov? Are you kidding me?). The Wings are a great test, but methinks Shea Weber might be in for a run. Preds in 7.
What Buddy Oakes from Preds on the Glass thinks: The Predators have always used Detroit as a measuring stick, and finished ahead of them for the first time in franchise history. Nashville finally appears to have the upper hand. The regular season series was a stalemate, but Nashville added Hal Gill, Paul Gaustad, Andrei Kostitsyn, and the crown jewel Alexander Radulov at the end of the season. Nashville's 4-1 win in Detroit two weeks ago could be a preview – this year's Wings have been very "unWinglike" at times, and have not fared well on the road, either. Preds in 5close games. (Bonus: They'll play another Central Division rival in round two. You do the math to figure out what that means for other series.)
1 New York Rangers vs. 8 Ottawa Senators
What Jason thinks: With Brad Richards and Marian Gaborik, Michael Del Zotto and Ryan Callahan, and Brandons Prust & Dubinsky,  the New York Rangers can play it any way you like it. Ottawa may boast Jason Spezza, Daniel Alfresson and Erik Karlsson, but the blueshirts have King Henrik Lunqvist between the pipes and a raucous home crowd along with home ice advantage. The Sens surprised everyone this year, but they'll go home quickly unless they take advantage of their strong power play. This pundit says John Tortorella keeps his boys out of the box. Close games, but Rangers in 4.
What Chris thinks: Cinderella has a couple of dances left in her. The Sens, whom many (yours truly included) thought would finish last in the east, took 3 of 4 from the Rangers in the regular season, shutting them out once. Their lone loss was by one goal. The Senators, though, will be susceptible to playoff officiating and one of the better penalty kills in the league. Ottawa will tease their fans with a couple of wins, but the Rangers depth and superior goaltending will ultimately win out. Rangers in 6.
2 Boston Bruins vs. 7 Washington Capitals
What Chris thinks: Washington has a middling offense, a bottom-third defensive record and their two best goaltenders will miss at least the start of the series. Boston has a balanced and deep offense, solid defensive numbers and a backup goalie who's probably going to replace the 2011 Conn Smythe winner as the number one come season's end. Ovechkin will raise his game for the playoffs, but it won't be enough. Bruins in 4.
What Jason thinks: Believe it or not, I'm cheering for the dirty rotten Bruins to spank the overpaid Caps. Alex Ovechkin is a spoiled prima donna, and more early tee times just may convince him to change his coach-killing, team-sabotaging, dopy, mopey ways. Since March 1, OV8 has 12 goals in 19 games, but his 65 points this year is the lowest total in his seven NHL seasons. When the going gets rough, he quits – and the Bruins are as rough and tough as they come. With Thomas Vokoun out, the goaltending matchup is Tim "Conn Smythe" Thomas vs Braden "Who?" Holtby. Bruins in 5.
3 Florida Panthers vs. 6 New Jersey Devils
What Jason thinks: Kudos to Florida, who managed to surprise even more people than the Ottawa Senators win their first-ever division title this year. This team of cast-offs and spare parts took full advantage of the underachieving Washington Capitals and Tampa Bay Lightning to win the Southeast Division. Good on ya, Panthers, but between Ilya Kovalchuk, Martin Brodeur and… Steve Bernier?!?!?!? the ol' Turnpike is going to host a second round. I mean, come on, the Panthers '94 points would have garnered a ninth-place finish in the west. Book your caddies early & often in rat trick country. Devils in 5. 
What Chris thinks: The Florida Panthers won their division and earned the 3rd seed in the East on the back of an NHL-leading 18 Bettman points (those are the ones you get for overtime and shootout losses). They may play close games, but the Panthers don't have the top-end talent to win outright all that often. New Jersey should close this one out quickly. Devils in 5.
4 Pittsburgh Penguins vs. 5 Philadelphia Flyers
What Chris thinks: Battle of Pennsylvania? Yes please. All year long, these two teams played entertaining, aggressive and high-scoring games. They both have a good mix of offensive firepower, defence and agitators. Evgeni Malkin is going to win the Hart trophy this year, while Claude Giroux is a possible finalist. The coaches even hate each other, nearly coming to blows in the last regular season matchup. This series is going to come down to the vastly overpaid Ilya Bryzgalov getting ventilated by the likes of Malkin and Sidney Crosby. It should be damned entertaining hockey.  Penguins in 6
What Jason thinks: With Crosby, Malkin and James Neal on one side, and Giroux, Jamomir Jagr and Danny Briere on the other, Pittsburgh-Philly should be a lightning fast dangle-fest that leaves goalies Marc-Andre Fleury and Bryzgalov's heads spinning. Instead, if the last two regular season games between these fellows is any indication, this series is likely to be a long, drawn-out street fight with more penalty minutes than the other seven series combined. Pennsylvania will be bathed in blood by the end of round one. Pens in 7.
What Kim Swartz (@Penucks_fan) thinks: This series will be a full out battle, as the teams do not like one another. I picked Pittsburgh to win because they have momentum going into the series, as they were finally able to beat the Flyers at home. However, the Flyers will not back down, so I see the series being drawn out over 6 games. The Penguins will be victorious due to the post-season experience of the majority of the team and the solid goaltending of Marc-Andre Fleury. Pens in 6.
If you've gotten this far, may I suggest you give Jim Chliboyko's Playoff Predictions from Winnipeg a long, hard read? (If for no other reason than I've gone to the mental and manual trouble of spelling his name correctly EVERY. SINGLE. TIME.) Also, it's hilarious.