The Vancouver Whitecaps 2015 season was a great story that never quite materialized. If it wasn't for them goals that never came, they coulda been contenders. Instead of a bunch of bums, which is what they were, let's face it.
That's harsh. I know that's harsh, but I always liked that Brando line, and it was painful to watch a club who was odds-on for the Supporters' Shield in September sink out of the race and get bounced without so much as a whimper in their first home MLS playoff game. By the hated Portland Timbers, no less. A stellar defence undone by a lack of any consistent offence, and a plague of injuries. Oh, what could have been. Anyways, they've fixed all that now, and they're totally going to win all the trophies this season. End of preview.
Ha! Look at you still reading, you keener. Fine, you caught me. The article isn't finished. Against my better judgement, I will now prognosticate. Make sure the kids don't see, and maybe avert your own eyes too.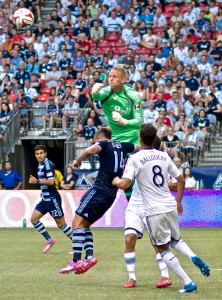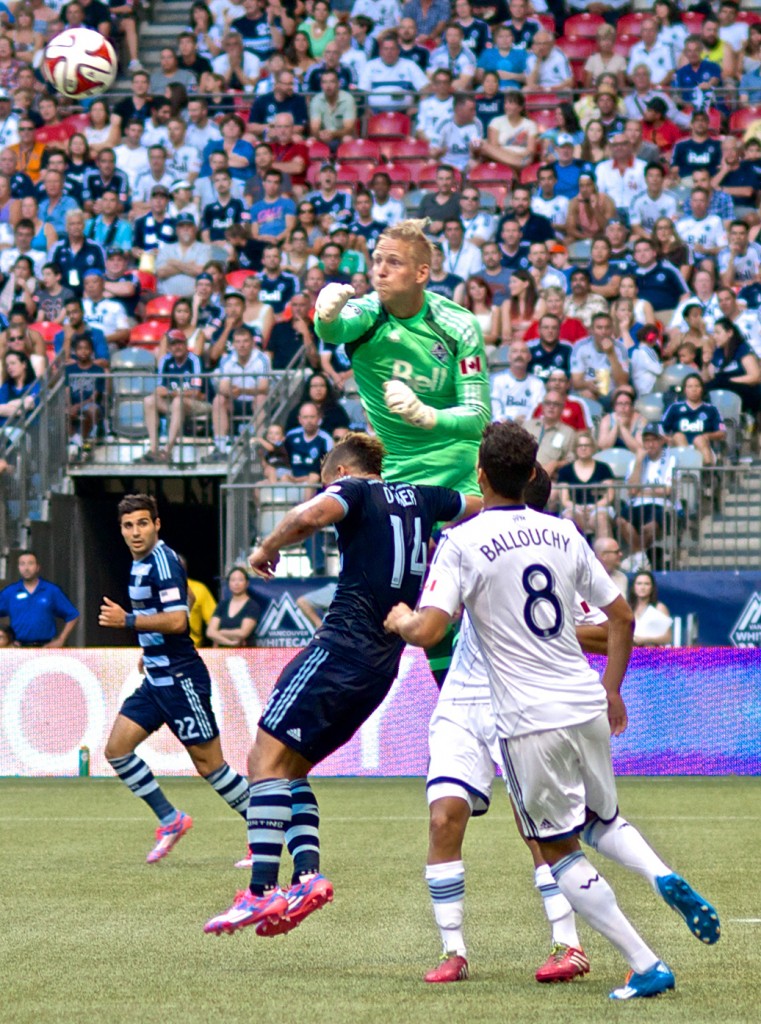 Goalkeeper
Who's In: Nobody yet. Paolo Tornaghi is on trial.
Who's Out: Paolo Tornaghi, except he's on trial.
What, if anything, do these changes mean: [PHILOSOPHICAL TREATISE ON SOMETHING THAT SOUNDS REALLY DEEP GOES HERE]
I have no comment on the Whitecaps goaltending situation, except to say that Ousted was robbed of goaltender of the year.
Defence
Who's In: Fraser Aird, Cole Seiler
Who's Out: Steven Beitashour, Diego Rodriguez, Ethen Sampson
What, if anything, do those changes mean: the right flank could be more exposed.
Jordan Smith and Fraser Aird might be fun to watch as defenders. All things are possible. More likely, they'll be fun to watch as attackers, and defending will be something of an afterthought. Both of them possess athleticism and a certain measure of attacking flair that was missing during Beitashour's time with the Caps. Neither is particularly positionally sound, and there is the distinct possibility of regular, shriek-inducing opposing counter-attacks, with only Matias Laba, two excellent centrebacks and the deserved goalie of the year between our foes and the back of our net. Ok, when I type it out, that doesn't sound so bad, but expect teams to put pressure on that side of the pitch.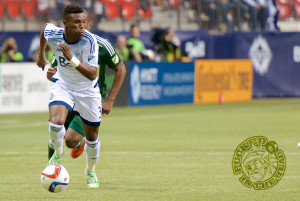 The left fullback should see another healthy battle between young Canadian Sam Adekugbe and grizzled veteran Jordan Harvey. If I were a betting man, and I kind of am, but I think I have to not be in order for this expression to work properly, I would bet on Harvey to take the starting job out of camp. Not because he's appreciably better than Adekugbe overall, but because he's the better defensive option. When, inevitably, Carl Robinson orders "damn the torpedoes, all fullbacks ahead," and plays Aird and Adekugbe, the less valiant among us may be left curled in the fetal position in the pews of BC Place each time our seven attackers turn the ball over.
In the middle of the defence, 2016 should start as 2015 ended, with Kendall Waston and Tim Parker clearing crosses like… erm… sorry, I haven't written much lately and my simile game is soft. Whatever. Parker good. Waston good. Central defence good. Expect Pa-Modou Kah and Christian Dean to see action in Cup games and absences of the starters only, barring an unexpected regression of sophomore Parker.
Midfield
Who's In: Christian Bolaños
Who's Out: Mauro Rosales, Gershon Koffie,
What, if anything, do those changes mean: the supporters are a little sad.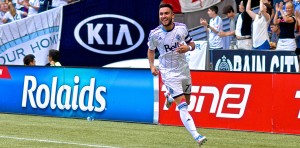 This is one area where, if all goes well, few changes were needed. Pedro Morales was once the newcomer of the year in MLS. Last year he was Bubble Boy, only with calf and back injuries instead of severe combined immunodeficiency. If he can get back to form and not throw his back out picking up a cracker, and if youngsters Kianz Froese and Marco Bustos can break into the first team, Vancouver will have significantly bolstered its midfield without spending a dime.
In one of the few changes that was needed, Mauro Rosales has been replaced by a true wide midfielder in Christian Bolaños, a player who's seen several fewer winters and has World Cup pedigree. Bolaños wears a headband, which I don't approve of, but he looks like an all right player.
If there is an area of concern here, it is between the foot and the calf of Kekuta Manneh. In his last competitive game, Manneh suffered a high ankle sprain. Because he's young and stupid — or possibly because the Whitecaps elite training staff told him not to — he chose to let the ankle heal on its own, instead of having surgery. This process is not complete, and it's been obvious in preseason. The explosiveness that forced teams last year to game-plan around him just wasnt apparent in preseason. It's just as well then that the signing of Bolaños will likely relegate Manneh to a spot starter and super sub role. Hopefully he can be effective in 20 minutes a night, as he was a couple of years ago.
Forward
Who's In: Masato Kudo, Blas Pérez
Who's Out: Robert Earnshaw
What, if anything, do these changes mean: fewer backflips.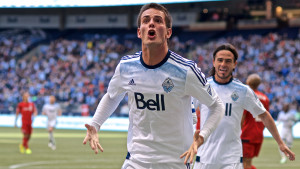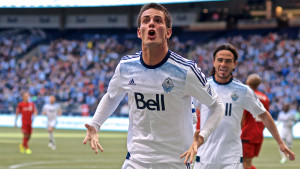 It is a well-established tenet of soccer mythology that whenever a striker takes one touch too many and turns a golden opportunity into a paltry half chance that's easily blocked or saved by the keeper, a soccer angel dies gruesomely. This is why Octavio Rivero looked progressively more terrified as 2015 wore on; he knew he was being indicted on genocide charges in soccer heaven's version of The Hague.
Rivero's struggles were frustrating as much because of his irreplaceability in the lineup as his actual lack of production. The young Uruguayan ran his ass off for the club day in and day out. He held the ball up, he frequently got back on defence and cleared corners, he put pressure on defenders, leading to hurried punts upfield that allowed the Caps to recover the ball and transition. Then the transition failed because our forward kept not doing the thing with the ball and the kicking and the net.
Enter Masato Kudo and Blas Pérez, two players who begin their Whitecap careers at opposite ends of fan opinion. One is a jovial Japanese striker with a good record in the J-League and a winning smile. The other is a prick. I suppose at least now he's my pr–ok that doesn't sound right. Whatever. We have strikers now, one of whom has a proven MLS goal scoring record. Yay us.
Tactics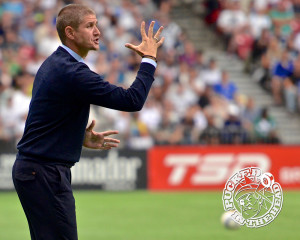 Finally, Carl Robinson has a little bit of flexibility in his tactical options! No, really. We mean it this time. I know last time we all said the Caps were deep, and Robbo could throw ALL THE DIFFERENT LOOKS at the opposition to confound them, befuddle them, perplex them and *consults thesaurus* discombobulate them, but this time he really, really can!
Ok, he's ostensibly lined up most preseason games in his go-to 4-2-3-1, but this time the formation's got PANACHE! It might look like a 4-2-3-1, and get reported as such, but it's often ended up looking like a 4-1-4-1, with Laba the lone holder, or a more traditional 4-4-2. Morales in a holding role? Sure! Pérez as a withdrawn striker/attacking midfielder? You bet your ass! Laba advancing past the midfield stripe? Whoa, son! You settle that ass down now. That's just crazy talk.
Seriously, we actually have options this year. I promise. We might not use them, but they're there.
Predicted XI
Ok, here's where you get to laugh at me. I know the lineup for Montreal, and the lineup is… *drum roll*
Ousted
Aird – Parker – Waston – Harvey
Laba – Froese
Bolaños – Morales – Techera
Rivero
Some caveats here. This is my predicted lineup for the home opener against Montreal, not my ideal Best XI. I think Aird has done more than enough to earn the starting right back spot out of camp, but Smith should continue to push him. The defensive weakness of our RBs gives Harvey the edge. The spine of the defence is locked in, from Ousted through the centre backs to Laba. Due to a cap crunch that saw Gershon Koffie traded and a pre-season injury to Russell Teibert, Kianz Froese gets the second holding role, and it'll be his to lose. Bolaños was destined to displace someone, and it will be Manneh, not Techera, thanks to that sore ankle. Up front, Rivero will get first crack at forward thanks to an undisclosed medical condition that kept Kudo out of much of the preseason. Pérez showed well — [INSERT JOKE ABOUT SHOWING MY PRICK HERE] — but Robinson likes to have game-changing options off the bench, and that's exactly what Pérez can be at this stage of his career.
My ideal lineup is not really that far off. I think it's time to give Sam Adekugbe the left back reins, and I think the lineup we threw out against Minnesota in our final tune-up, with Morales in the second holding role, and Pérez behind Rivero, was the most dangerous this club has looked on attack in quite a long time. Granted, the opponent was weak, but damn was it fun to watch. I hope we see that  at some point this year.
Trophies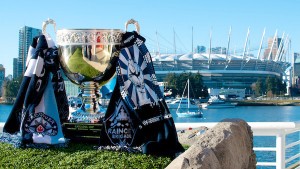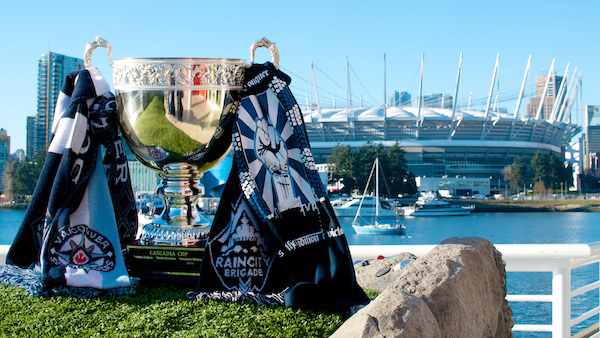 I said at the beginning that the Whitecaps were going to win ALL THE TROPHIES. I stand by that. Sort of. I think they might fall short of a CCL championship, but this team looks built to win. The major deficiencies of last season appear on paper to have been addressed, without sacrificing too much. Vancouver should contend for the Supporters Shield this year, as they did last year, and a trip to the MLS Cup Final should be within their grasp.
Cascadia Cup: Vancouver reclaims the Cup from Seattle.
Voyageurs Cup: A repeat, this time over Toronto.
Supporters Shield: Vancouver finishes at least top three.
MLS Cup: A semi-final appearance should be the bar.
Champions League: Advance to the knockout round, as long as they aren't drawn against a Mexican team in the group stage.
Three sleeps!