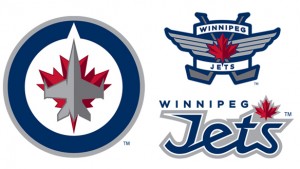 By Jim Chliboyko
Yeah, the double rainbow is an old meme, but for fans of the Winnipeg Jets this whole season has been like one big double rainbow (full-on, all the way), right from that May 2011 announcement at the Forks that let us know that Winnipeg was back in the hockey business, baby.
But there have been other, more fleeting moments of awesomeness in this first full season of reborn Winnipeg NHL hockey. (Welcome back, Teemu.) So, what we're looking for here aren't the main milestones, like the very first goal in the pre-season (courtesy of either Paul Postma, or Evander Kane, depending on your time zone, in one of those weird split-squad games). We're not even particularly interested in their very first regular-season goal, a futile, greasy one scored by Nik Antropov on Carey Price back in Game #1, or their fastest goal, Wellwood on Pittsburgh's Fleury in eight seconds back in October.
Mention could be made of one thing that never happened–the first goal Rick Rypien would have scored for the Jets–as well as the first Jets hat trick, which hasn't happened yet. And mention also could be made of the two made-in-Manitoba goals scored by a bona fideManitoban, which were, unfortunately, Eric Fehr's only goals of the season (thus far). I was also hoping for a true blaxploitation goal: Kane, from Byfuglien and Johnny Oduya, P.I., or double vice versy, but I'm too lazy to check to see if that ever happened.
And, off-ice business doesn't count, either. Signing Prairie boy Tanner Glass, Chris Mason getting his new pads and unveiling the jerseys at an air base back in August are things of subtlety, best appreciated over time.
So, here is a completely subjective list of the seven niftiest moments the Jets have had this season, the ones we'll be thinking about in the yards of our affordable houses and down at our family cottages (of which there are many) over the summer.
1. The nine-goal flurry against Philadelphia.
It was a game choreographed by Cirque du Soleil, if Cirque du Soleil began specializing in defensive lapses and fat, acrobatic rebounds. One could spend an entire article dissecting the game on October 27, one which inspired Flyer goalie Bryzgalov to exclaim "I lost in voods." But something truly amazing happened that night; Winnipeg came back against a mighty team who had come back themselves: It was a comeback within a comeback. The Jets had been ahead 6-2, before briefly imploding, allowing five goals in just under seven minutes of playing time. Then Kid Russia, Alex Burmistrov, tied it and Mark Stuart scored the go-ahead goal. Even Randy Jones (1 goal this year) scored that kooky night in Philly. The Flyers then went on to have a decent season, even with losing Chris Pronger, but the Jets, ever since Ladd scored the 17th goal of that weird evening, have had their number since, losing only once to Philly.
2. Pavelec's save versus Philadelphia. 
Speaking of which… The Flyers were sick of losing to the Jets all season and were pressing hard in the third period in Winnipeg on February 21st, when the puck fell to Pavelec's left side. Pav was at the top edge of his crease, hemmed in by players of both teams and, seemingly, at the mercy of Jakub Voracek, who had a free puck, an empty net and enough time to eat a sandwich.
Voracek got his stick on the puck, which knuckleballed its way casually but confidently to the goal line, when who should emerge from the knot of humanity at the top of the crease but the boy from Kladno. Pavelec had no business saving that puck, but he got his glove on it, pouncing on it from both above and behind. If you've ever watched footage of an Arctic fox hunting voles in the deep snow by pouncing on them from above, that will give you an idea of how sick the save was. If you've ever watched footage of an Arctic fox hunting voles in the deep snow while being surrounded and battered by huge fox-hating Philadelphia Flyers, you may have an even better idea.
Honorable mention: Pavelec's save versus Tampa Bay. Eleven seconds in, at the very next game on February 23rd in Winnipeg, the Lightning were pressing, nanoseconds into the game, and were that close to scoring, until Pavs unleashed his baby-rolling-out-of-bed save. Flat on his back, legs kicking in the air, the goalie, once again, managed to set the tone for the entire game, within the first few seconds. (Full disclosure: Actually being at the game, meeting Pavelec and getting his autograph that night had nothing to do with this decision.)
3. The Flying W
The Disney writers came up with the idea of the Flying V for the movie The Mighty Ducks III because anything else–like a Flying W, say–would have been just stupid.
But on March 1, versus Florida, in Winnipeg, the Jets were nursing a 3-0 lead in the third period, traditionally their offensively worst period. There was heavy pressure in the Jets' zone, when suddenly surging star Blake Wheeler made a Globetrottery move (a move most highlight shows missed) to spring the puck, essentially passing it behind his own back to himself, and the boys started up the ice. All of them.
And, by "all of them," I mean the whole team. All five players on the ice. Ondrej Pavelec conservatively decided to play the stay-at-home goalie. And, he had much Floridian company; somehow, the four other Panthers were left puckless in the Jets' end as Wheeler, Little, Ladd, Randy Jones and Mark Stuart advanced upon Erik Gudbranson and Jose Theodore, in a tidy W. (W for Winnipeg.) It was like a tribute to Cassiopeia. Jay Onrait almost wet the SportsCentre desk whilst showing the highlights later. Tic-tac-toe, Bryan Little scored and Randy Jones had his second point all season (see Item #1).
4. Chris Thorburn & Blake Wheeler vs. Buffalo 
Jets were in a race for a playoff spot and needing a win over the up-n-down Buffalo Sabres, in Winnipeg, on a Monday in March.
It was tied 1-1 in the third when Bryan Little fed Blake Wheeler a darning needle of a pass, which sent him on a breakaway. Wheeler, who resembles a praying mantis when he achieves full speed, hurtled in towards Ryan Miller. The shot was taken in silence (as my faulty memory serves) followed by the 'bink' of vulcanized frozen rubber on crossbar, whereupon the puck went in the net. The MTS Centre then lost its roof, much like what happens to the Flintstones' home when Wilma spends too much money at Macyrock's and Fred gets angry.
Within three minutes of that, Chris Thorburn, part of the GST checking line (the only checking line in the league that has its own commemorative t-shirt), and a player who took about 50 games to score his first goal this season, bore down on a puck in the Buffalo zone like a downhill skier, knees bent, gaining speed. He blew past Robyn Regehr, and dipsy-doodled, Datsyuk-like, around the sprawling pads of Miller, to calmly send the puck into the net.
They were two of the sweetest Jets' goals of the year in three minutes of crucial third period action. The game was evidently shown on cable channels in the States, and, as if it is any indication, Thorburn and Wheeler were both, and separately, trending worldwide on Twitter that evening.
5. Byfuglien's first minute on ice as a Jet.
It was versus Columbus at home, and Dusty (don't call him that to his face) was dressed in the white away jersey of the Jets for some reason, for the first time ever. He was lined up for the opening face-off on D and, within the first minute, and after a thoughtful pause, he knocked flat two Blue Jackets, Kubalik and Calvert, and capped off his first shift by rag-dolling Cody Bass and ending up sitting proudly in the penalty box. The crowd, as they do, went nuts-o.
What did the Blue Jackets do to deserve this treatment? For one, Calvert was criminally skating over centre while Kubalik blocked #33's first-ever attempted shot on net as a Jet.
Byfuglien's had an up-and-down season, but this first minute showed Jets fans a hint of the power we'd harnessed by acquiring the Thrashers. It was like that moment in The Sixth Sense when Toni Collette realizes what the deal is with Hailey Joel Osment and dead people. But take out the psychic little boy, and replace him with an angry, zaftig tornado.
6. Wellwood versus Florida
The first month of the season hadn't ended yet. The Jets spent Halloween in Florida, and earlier had the misfortune of watching Jack Skille interfere Tobias Enstrom into a broken collarbone. (I watched the game through various living room windows whilst escorting my daughter trick-or-treating; sure, it's creepy–it's Halloween!)
Winnipeg had taken an early lead, 2-0, before the Panthers scored three unanswered goals, despite having professional sportsdom's most God-awful logo. Evander Kane scored a disputed cricket-bat goal with under a minute left, overtime solved nothing, and the Jets had their first ever shootout to decide a game. At this point in the season, the Jets had stumbled out of the gate, and we weren't sure who our snipers were.
There were five shots in the shootout, three misses. Stapleton missed; Ladd scored; Santorelli missed; then it was Kyle Wellwood's turn.
Wellwood was signed at the start of the season, after being spotted outside of MTS Centre holding a sign reading "So Hungry" (with some of the letters written backwards). The unlikely athlete, whose baby neck can barely support the weight of his own head at times, spun in on Theodore as if he was rappelling down the ice vertically, faked to his left, put it past Theodore on his right. Dirty. And affordable. (Wellwood actually makes $700,000, which is essentially hockey minimum wage, and is on pace for a 50-point season.)
After that, the Jets suddenly knew they had at least one sniper.
7. Becoming the loudest, most enthusiastic crowd in the league (whether we are or not)
It's like hockey's 6th man on the ice, or adding an old-timey "rover" position. Folks in Winnipeg have been told that we have the liveliest barn on the circuit, and no one here is going to argue. The Jets thrive when they play in Rupertsland; at one point late in the season they enjoyed the single highest at-home power play success (25%) in the league. And, we have both Dancing Gabe and that dude that dresses like the queen.
And the ululations: whether it's chanting "silver medal" at Ryan Miller or screaming "GST" for their favourite checking line (Glass, Slater and Thorburn), or telling Ovechkin that "Crosby's better," or Eric Staal that "Jordan's better," the non-corporate crowds at MTS Centre appreciate the chance to vocalize, especially compared to the audiences in other Canadian cities that are about as lively as the cross-eyed extras in those xylophone-y Moxie's commercials.
The folks seated around you may also appreciate what you have to say. My patented "first of the season" shout-out whenever Ron Hainsey has the puck at the point hasn't yielded many (any) goals to this point, but it gets me some high fives, and, like the rest of the Jets crowd, we're hoping that particular double rainbow will touchdown at the corner of Portage and Donald sometime soon. Full-on, across the sky.