Sleepless in St. Boniface; NHL lockout rankles Winnipeg
By Jim Chliboyko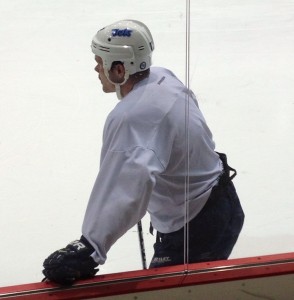 There's a Twilight Zone story in here somewhere, submitted for your approval:
Picture, if you will, a city… a city that's been abandoned, then embraced again, by the same organization that had previously abandoned it. The organization returns just long enough for the city to get a taste of its presence for one triumphant year, until the league… erm… self-destructs, the Martians' book is actually a cookbook, the librarian at the end of the world sits on his own glasses and it turns out that the demon on the airplane wing is real! Or something twisty like that.
In short, Winnipeg loses the Jets in the '90s, the city waits a decade and a half for them to return, and then once they return, almost within the year there's a league-wide NHL lockout. Especially since the former Moose (current Ice Caps) are still playing in Newfoundland. Unfair!
Okay, maybe it wouldn't make Rod Serling's shortlist, but the irony is there. In survivalist parlance, this is known as the "worst-case scenario." If you had told someone that this was the fate of the Jets in the autumn of 2012, as well as the rest of the league, said person would have laughed, then punched you, being careful not to get blood on their Pavelec-autographed jersey. And like most worst-case scenarios, this one was entirely avoidable, totally regrettable and has left a trail of damage in its wake. In this case, it's mostly been economic damage.
More after the jump.

The bar with the gross name (4play) just across the street from the MTS Centre has closed and is turning into something called a supper club. Other bars, restaurants and services across the city, the ones that sank money into things like party buses, noted losses across the board. People, we're told, lost their jobs, like so many in the cities represented by NHL teams. Meanwhile, the arts organizations that realized a bit of a dip in their profits during the winter of 2011-12 (which some attributed to the newfound presence of the Jets), hadn't benefitted from any rebound in their fortunes, either. Winnipeggers, it seemed, had been sulking in their bedrooms all autumn.
Or, rather, Winnipeg was like Cliff Robertson in Charlie (or Flowers for Algernon), a formerly Forrest Gump-y "developmentally delayed" patient who was given a drug that made him feel smart and super-alive, only to witness and be smart enough to notice the effects of the drug wearing off. This showed itself many aspects of city life. (See also de Niro, Robert, in Awakenings.)

For instance, the town's sports media landscape had improved quite a bit since the Jets returned with the presence of TSN 1290, Winnipeg's new all-sports radio station. 1290 used to be known as CFRW, and played tired old hits of the '60s, '70s, '80s and '90s. On the AM dial. Which is sort of like watching an Imax movie on a Viewfinder. Your grandmother used to listen to it. But in the fall of 2010, six months before the Jets returned, the station very quietly became the town's only all-sports radio station. It didn't have too much of an identity at first, playing a lot of syndicated stuff (Jim Rome, etc.) out of the States, shows during which  the hosts and guests talked a lot about things like college football and some sport they called basketball.
The station slowly improved after the Jets returned, with the emergence of local on-air talent, and locally produced shows, like The Illegal Curve Hockey Show, which consisted of the three Jewish guys trashing each other, and ruminating about the minutae of hockey, for three whole hours every Saturday afternoon. But, with the Jets gone, the commentators resorted to talking about basketball (of all things) and otherwise sounding like Eeyore after Piglet's home had been demolished.
Yet, every once in a while, there'd be a sign of life. Just before Christmas, Evander Kane tweeted a picture of himself on a Las Vegas balcony, holding massive bundles of cash, including one he carried like a cell phone to his head. Apparently, Kane was unaware of the phrase "nature abhors a vacuum," because the hockey-less vacuum was suddenly filled with anti-Kane invective. It turned out to be an old picture, but with so many people economically hurt by the strike, it was a "bite my thumb at you" moment (see Romeo and Juliet) that the blue-collar town didn't find funny at all. Not at all, young man.
Then in November, there was the story which played with Winnipeggers' loyalty to their team, one that nicely displayed the local internal conflict of the lockout. Hockey fans showed equal amounts of hate for either the owners or the players, or both. Yet, Mark Chipman, one of the ones who brought the NHL back to Winnipeg in the first place, and who will probably end up on some commemorative coin some day, was put on the defensive when it was reported in November that a "Jets representative" in some tiring meeting room or another said he didn't want this lockout to be long and damage the momentum of newly returned team.
According to "Bruins Insider" Joe Haggerty of CSNNE, "Bruins Principal Owner and Chairman of the Board of Governors Jeremy Jacobs answered by reprimanding the Winnipeg representative as one of the "new kids on the block" and informed him that he would know when he was allowed to speak in the NHL board room."
Well, then. Suddenly, things were getting complicated. We're supposed to hate the owners, but we have cool owners, right?
Eventually, Chipman was invited to another meeting, a mini-disaster in the first week of December, consisting of more moderate ownership types. The word is that Don Fehr pulled a Devon Banks-like power play (See 30 Rock), reportedly making moderate-owners group wait five hours to make his appearance. By that time, the writing was on the proverbial wall, and Chipman had left for Winnipeg three hours in; it became apparent that nothing was going to happen that week. But the subtext of that episode was that the Jets owners–a group that includes superwealthy dude David Thomson–at the very least, weren't a bunch of dicks.
Fast forward to Tuesday, January 8th. About 72 hours after the lockout had been resolved, at the MTS Iceplex, the fancy new arena complex on the outskirts of town where the Jets sometimes practice (that's not being catty; they also practice at MTS Centre, too), there were six Jets present: Ladd, Slater, Enstrom, Little, Thorburn and one of the newest Jets, Ollie Jokinen, formerly of Calgary, Phoenix and Florida. (The practice was being run by Manitoba boy and retired NHL journeyman J.P. Vigier, who was playing in his old Thrashers' helmet and gloves.) There were also about six fans present (!) and an equal number of media.
Meanwhile, Kane, and his $31.5M contract had yet to show up for camp, even with an impending blizzard and howls of criticism. In a weird turn, Winnipeg media got criticized for criticizing Kane (See Puck Daddy), yet this was on a day in which, 2000 miles to the east, every New York Ranger was on the ice. Let's see who ends up on top in 2013.
And yet, there was Ollie, camped out in Winnipeg despite not yet having received a cheque signed by the Jets organization.  Jokinen, who by my account, hasn't been seen with a proper Jets jersey on yet (but who will sport #12), finally broke his lockout silence with the media that Monday. The former Flame had moved from Calgary to Winnipeg in the off-season, decided to stay, even with no hockey, and came to the Iceplex to dutifully practice almost every day. After he spoke, every local news org carried his comments that Tuesday morning, including the shocking revelation that he really, really likes it here. His was a moment that showed that despite the rust, unlike with Kane, the lockout hadn't deprived some players of their better moves.
Indeed, some had no difficulty in remembering how to play the game at all.
Jim Chliboyko has compartmentalized his anger over the lockout, in Winnipeg. His career as a writer and editor is now old enough to take an overage spot on a CHL hockey team. Jim's work can be found in numerous publications, including Canadian Geographic, Canada's History Magazine, and the Canadian Journal of Green Building & Design. Jim has contributed previous stories to Pucked in the Head, such as:
This Year's 7 Most Double Rainbow Moments
Playoff Predictions from Winnipeg