Darren Mattocks has been as divisive a figure as they come in Whitecaps MLS history. Okay, not Donald Chump divisive — maybe not even as controversial as Camilo — but darn it, Mattocks is up there. With every midfield giveaway, ol' Darren takes lumps like a mook in a Bugs Bunny cartoon. With every missed net, Southsiders scream at this guy with the relish usually reserved for casual fans who leave before the final whistle.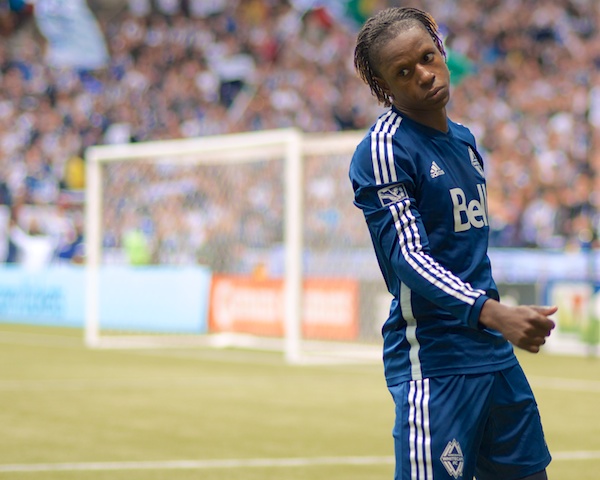 Mattocks has been linked to trade rumours and transfer talks ever since the 2013 off-season, when he announced on Jamaican TV that he would score 20 goals per season in the MLS, and that "every team in MLS wants me". My favourite quote: "Vancouver don't want Darren to leave as yet."
Well, buddy has scored all of 12 goals since then — he's never beaten his career high of seven, which he scored in his rookie season — and just about every Caps fan has begged Darren to get the hell outta Dodge at some point. He's been collecting close to $300K every season to underperform, sulk about less playing time and miss golden chances when he is on the pitch. So, uh, yeah. Today's rumour piece on VanCity Buzz is ripping up social media round these parts.
Now, he's been on the block before, and supporters have wound up stunned to see him outlast better players and favourites, like Camilo and Gershon Koffie. Our own Russell Arbuthnot was among the levelheaded pundits who saw the acquisitions of Blas Pérez and Masato Kudo this off-season as a slam dunk reason to cut the fricking cord, already. If he does finally leave the blue and white behind, the club is rid of a player with delicious speed, but also of a drama queen whose attitude has been little but poison the past four years.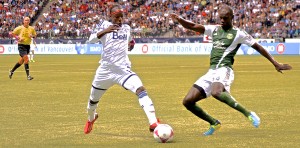 The only downside to Mattocks moving as per this rumour? We'll still have to see him moping on the bench a couple of times a season with the Timbers-heavy schedule MLS gives the Caps every year. Worst case scenario, Mattocks finally finds the form he displays for the Jamaican national side, and lights it up against Vancouver whenever Portland comes to town.
This deal hasn't been completed yet, but whoa Nellie, will there ever be some beer-flavoured sighs of relief in supporters groups if and when it gets done.